Fast & Furious 6 - User Reviews
Thank you for rating this movie!
Read your review below. Ratings will be added after 24 hours.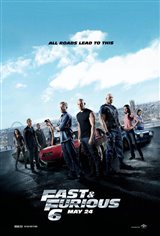 ---
Please rate movie 1 to 5 stars
Showing 1 to 50 of 84
January 11, 2014
1 word 2 words infact flawles action
October 18, 2013
Fantastic action movie
July 20, 2013
IF you're looking for an Oscar-worthy performance from any of the stars, then look elsewhere. IF you're looking for a couple of hours of suspended believe, hot cars, lots of speed and action, then buckle up, Fast & Furious 6 is going to take you for a heck of a ride! --- This is the type of film that can build a huge fan base, just like the few of us who love Elvis movies. On the surface, they're terrible movies, but HIGHLY ENTERTAINING.
July 08, 2013
Makes the JACKASS movies look clever.
July 08, 2013
BY THE 6TH movie.. you should know with all the actors and storylines that all become intertwined with vin diesel and jordan brewster... THAT IT IS FOCUSED ON DECKED OUT CARS AND STUNTS AND FAMILIA. these stupid people rating it one star, i promise you are indeed stupid or watching fast 6 as their first ff movie.
July 02, 2013
I love these movies to death. I'm a big car guy and seeing flash backs of some sweet cars is pretty cool. The story line is keeping me on the edge of my seat the whole time. Love the action scenes and car chases. Must say though, seeeing FAst and Furious 6 has me wondering where Toyko drift fits in the this series still.
June 20, 2013
Go for the action, stay for the romance!
June 20, 2013
I really Fast 6 is the best in the series so far!! Han and Gisele is definitely fan's favourite couple!!!! even more than Dom and Netty!!!!!
June 14, 2013
I thought this movie was great! For all you one star ppl complaining...SHUT UP!!! You are all idiots if you went to see F&F expecting an Oscar worthy performance!!
June 10, 2013
Exciting, Action Packed movie but can be very unrealistic at times. But I would Recommend it.
June 09, 2013
My husband and I really enjoyed this movie, moved along at a great pace, chase scenes were wonderful would recommend it to anyone.
June 09, 2013
If you are walking in the theatre to watch F&F.. you know what you are getting.. so I dont understand all the negative reviews. Sure there are places that are unrealistic, but its a freakin movie. Great action movie for the night out!
June 08, 2013
I get a kick out of those people who talk down a movie because it wasn't "realistic" or "believable". Seriously, it's a movie if it were realistic and believable you'd be watching home movies. As far as this movie is concerned I expected the the cheesy story and the stunt driving so I actually really liked it. In the same way I expected Star Trek to be about spaceships and aliens...
June 07, 2013
Its by far 1 of the best movies I ever watched!
June 06, 2013
Excellent! This Franchise Keeps getting better and better. Plenty of car chases, serious hand to hand combat -and not just between the guys, some twists and turns you don't expect. We lose some key players.....a disappointment but I guess they had to keep it somewhat realistic although some parts made you shake your head. Really looking forward to the next one but would have much more preferred Jason Momoa or Mark Wahlberg over Jason Statham as the upcoming bad guy for number 7. I think Johnson and Momoa would be an awesome combo in a movie like this. Someone cast these two together with a great script!!!!
June 06, 2013
Too many intense action scenes taken in night time so it's hard to follow what exactly they are doing that lead to the next outcome I still enjoyed it tho, the movie truly lives up to the title
June 05, 2013
AMAZING MOVIE!!!!I can't wait for the next fast and furious.
June 04, 2013
horrible, dumb movie. dont waste your time like l did!
June 03, 2013
Amazing movie best movie I have seen in a long time, I can't wait for number 7
June 03, 2013
The best movie (#6) in the series. HI NRG and entertaining, took my son, we both give it a 5/5.
June 02, 2013
Love Fast and Furious series but this one is a huge disappointment! Crappy story line and fake unbelievable scenes! They should have stopped at the 5th one.
June 02, 2013
Stupid beyond belief,dunno how this movie was given good reviews??
June 02, 2013
This movie was awesome, the best i watched so far 2013. My daughters even wanted to rate it thousand stars that's how much they enjoyed the movie.
June 01, 2013
Really liked this movie....Can't wait until the next one. As a woman... wish Vin Diesel knew how to kiss in his movies.... like kissing a mackerel.. :P
June 01, 2013
cheesy one liners by Vin Diesel, stupid story, not much tuner car action. Some parts were so bad the entire theater was laughing. Worst one of the series.
June 01, 2013
Big fan of Fast 5 but this one what a disaster, they build the characters up then they turn around and do something so out of character that doesn't make sense. Story was very weak compared to the rest, cars used for nothing, serious action scenes that left the audience laughing because of how stupid they were!
June 01, 2013
I am a fan of the fast and furious series. I thought this one was by far the worst, yes it offered lots of action, yes I really wanted to like it and be entertained but the action presented was so far fetched that I couldn't help but laugh and think how ridiculous it was compared to the rest Fast and Furious. The story was very weak and had many holes even by fast and furious standards...
May 31, 2013
I did not understand why they did any of the things they did in this movie and I hated it and left but had to wait for my for my friends. It was the most stupid movie I have seen in the last 3 years but also the theatre was almost filled. I rate it fake and stupid with bad driving and unexplained destruction and injures.
May 31, 2013
Awesome. Movie cool cars. Effects the actors did a good job go see this movie
May 30, 2013
I really like this one because:1. It answers some questions about Tokyo Drift 2. Its all to make the family whole again
May 30, 2013
This movie was good but not as good as the last one. i would love to see more car racing in this one but there was one car racing which it was dom and letty. i would love to see more car racing in the 7th one but it depends on the concept
May 30, 2013
The best, most thought-provoking American film since Ordinary People.
May 29, 2013
sick movie from beginning to end! make sure you pee before or after the movie.
May 29, 2013
AWESOMENESS! good story pack with action, nonstop trill from start to end! part seven here we go in a few years! haha
May 29, 2013
If you haven't seen the other films in the series (barring the one in Toyko, which is a stand-alone installment) you will be lost.
May 29, 2013
Amazing! Amazing! Amazing! This whole franchise is sooooo awesome! Can't wait for the 7th installment!
May 29, 2013
Pretty much a shot-for-shot remake of Smokey & the Bandit 3, so your enjoyment will hinge on how big a fan you are of that earlier (and better) film.
May 29, 2013
This movie was everything it was supposed to be. Fun. Nice cars. Action-packed. Had all the right characters and everything tied together.
May 29, 2013
Pretty intense...
May 29, 2013
If Shakespeare were alive today, he'd be writing Fast and Furious movies.
May 29, 2013
The movie of the millennium! Be sure to sit through the credits for a FF7 teaser!
May 28, 2013
JUST GREAT!!
May 28, 2013
If you enjoy action and being entertained, GO SEE THIS MOVIE! Awesome show, can't believe anyone could be bored watching this movie.
May 28, 2013
Amazing movie,action action and more action.. can't wait for part 7.