Father Stu - User Reviews
Thank you for rating this movie!
Read your review below. Ratings will be added after 24 hours.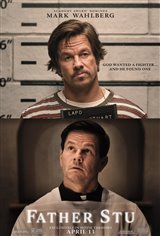 ---
Please rate movie 1 to 5 stars
Showing 1 to 47 of 47
March 29, 2023
True stories are always the best stories. Mark, Mel, Jackie, and Teresa did a wonderful job telling the story about the redeeming power of Jesus Christ. The profanity was not a problem because it showed us what the real world is like. Jesus was in this world, and he heard profanity. In order to help people come to Christ, we meet them where they are and lead them in the right direction. This movie was on point, and it helped me. I highly recommend it for any sinner that admits to themselves that they need help. We need more Father Stu's in this world. I am most happy that he was finally ordained.
September 09, 2022
I loved the acting, the story and everything about the movie!
August 17, 2022
Loved it.
July 27, 2022
Tried to watch this, got bored 7 minutes into it, could see how Jaysus would save him etc etc, boring, tuned out. Lots of shills I see; paid shills who "love" this POS.
May 21, 2022
The acting was superb. A true story, and well done. One of the best movies I 've ever seen. helping to show God's perspective. .
May 08, 2022
I loved the movie , I loved the story and I admire all the actors that made it, these were the people for the job. I loved em all.. the story, don't put off till tomorrow what you can do today.
May 06, 2022
Just the kind of movie that we all need in this day and age.
May 05, 2022
Fr. Stu learned to love the Lord more each day benefiting those he knew as well as those he only just met.
May 05, 2022
Loved the realistic portrayal of this man and his journey to the Lord in holiness. God used all that he had been through to lead others to Him. Inspiring
May 02, 2022
Based on a true story, very touching and full of emotion.
May 02, 2022
Absoluetly the best movie I have seen in a very long time!!!!! Hope this takes all the awards out there!! Mark did a great Job & I have new respect for his acting!! Highly suggest everyone go see this movie!!! I will be going again & again & again. Obviously I LOVED this Movie.!!!!!
May 01, 2022
while it was hard to hear some of Mark's lines the overall story was beautiful and left me feeling hopeful that viewers will see how God has a plan for each and everyone of us. More importantly, Hollywood walked away from the story a true story -- quite revealing as to Hollywood's motives
April 29, 2022
THIS MOVIE SPEAKS TO THE HEART. FAITH IN GOD IS A POWERFUL FORCE THAT SHEDS DYSFUNCTION AND SINFULNESS, AND BRINGS ABOUT SPIRITUAL HEALING AND REDEMPTION. THIRTEEN YEARS AGO i WAS LAYING IN THE HOSPITAL CONNECTED TO 7 MACHINES AND CLOSE TO DEATH, I WAS AS HELPLESS AS A BIRD WITHOUT HIS WINGS. BUT THE PRAYERS I RECEIVED AND THE VISITS FROM MY FAMILY MEMBERS HELPED ME GET MY STRENGTH BACK. AND MY FAITH IN GOD HELPED ME RETURN TO MY LIFE. WITHOUT GOD AND THE HEART SURGEON I WOULD HAVE BEEN A VERY DEAD BIRD. THIS MOVIE IS HARDHITTING AND RIVETING. FATHER STU HUMBLY FOUND HEAVEN ON EARTH FLAT ON HIS BACK IN FRONT OF THE CROSS.OF JESUS CHRIST, HIS SAVIOR..
April 28, 2022
Bring kleenex. Great movie.
April 28, 2022
Hard to understand whisper or quiet talking, that could be movie threater too.
April 27, 2022
I rated this 5 because of story, all the F bombs were ridiculous and not needed.
April 26, 2022
Very inspirational true story of a very real man finding his way to God and his understanding of suffering with Christ, which affected all those who knew him for the better. Great movie!
April 25, 2022
What a wonderful story about redemption. Mark Wahlberg used his own money because Hollywood would not tell the story as it was too religious. Perfect Cast with Mel Gibson as his alcoholic father and Jackier Weaver as his concerned Mom. Just a great story about a man who overcame obstacles to fulfill his try calling.
April 24, 2022
True story…great acting! Power of God at work!
April 24, 2022
An exceptional movie, inspirational and real. Fr. Stu's humanity comes through, and his growth in the wisdom of the Holy Spirit is obvious throughout the movie. Mark Wahlberg is great, and the supporting cast of Mel Gibson, and Sally Struthers is too! You seldom see a movie like this coming out of Hollywood...going to see it again with friends.
April 23, 2022
This movie was so inspirational and reinforced my belief that God never lets us walk alone in this world. This genre of movie teaches us that all of our lives have meaning regardless of our sorrows. I only wish more people believed it. I'm recommending it to everyone I know. It will change lives. Thank you
April 22, 2022
Wahlberg Never disappoints! Imagine- an inspirational true story! we could all use some inspiration and kindness!
April 22, 2022
I like a true story, and Mark Walberg did a great job!
April 22, 2022
You laugh you cry you will feel the presence of Jesus🥰
April 21, 2022
No one is beyond redemption!!
April 20, 2022
It inspired me to strengthen my faith. I have severe Arthritis as well as other issues and take care of a husband who has had two strokes. None of us gets through this life without some kind of suffering and my faith is what gets me through each day
April 19, 2022
Based on a true story, Stu is an unlikely person you'd think would enter the priesthood. God works in mysterious ways! This movie shows you dysfunction through alcohol abuse, swearing, and family dynamics. BUT once God intervenes eventually it changes people and hearts. Regardless of your religious affiliation the major players are God, Jesus, and the mother of Jesus (Mary.) Will see it again!
April 19, 2022
This movie will make you laugh, cry and it is a great portrayal of a man who experienced a real conversion. You might say he saint. went from being a sinner to saint. Enjoyed it very muchcnm
April 18, 2022
A movie that really makes you think. And a movie that makes you feel.
April 18, 2022
Yes, it's a good story. Yes Christ fills the heart of a broken man and he's faithful. This in itself is a wonderful story that we all need. However, the filthy language, the continuing blasphemy is just too much. Ruined the entire experience. I don't talk like this and I don't affiliate with people who talk like this. They missed an incredible opportunity to tell a wonderful story.
April 18, 2022
Great movie and great acting. Loved it!
April 17, 2022
Great movie to see how God can use suffering, your own suffering, for the best of the people around you 🙏 😊
April 17, 2022
Weird flick about a boxer who becomes a priest when he decides he doesn't like box anymore.
April 16, 2022
Loved this movie ! I'm not a churchgoer so I wasn't sure if I would enjoy this but, I found it didn't matter . Very good acting by Mark and Mel . Lots of laughs and lots of tear jerking moments .
April 16, 2022
Enjoyed this real life movie based on a troubled young man who made a difference in a lot of peoples life's. I find it ironic all the so called "professional" critics give it low rating….that should tell u something.🧐
April 16, 2022
The story line and the acting. Mark Wahlburg should win an Oscar for his portrayal of Father Stu, and all of the other actors did a great job as well. I didn't understand why this movie got an R rating, but there was a lot of swearing showing the disfunction of Stu and his family before he became a priest
April 16, 2022
This movie kept me to the end. Excellent acting.
April 15, 2022
Acting-awful, dialog terrible, go see something else.
April 15, 2022
Best movie in a long time! We liked everything about the acting and the story content. Mona & Doug Cook
April 14, 2022
Strong acting by Mark and Mel . Many of faith can relate.hza
April 14, 2022
It's genuine, touched my heart.
April 13, 2022
Everything! True to life of God's Love and Mercy! He's the God of the Impossible if you're listening! Wahlberg and Gibson showed their true faith on this true story! I now pray to Fr Stu for his intercession for our Church, priests and unbelievers!
April 13, 2022
This movie will move your heart for sure. You will laugh and you will cry. You get pulled in so fast to his story...Bring your family and friends! It is a must see for Catholics, Christians, Atheists and Agnostics...it relates to every human being!!
April 13, 2022
Yes, way too many F-bombs, but I get it, as far as character development. Major dysfunctional family, but this beautifully shows God's amazing Mercy, and God's radicalness! I am Catholic and appreciated all the beautiful Catholic references. I love that Fr. Stu was a real person. When God calls you, He calls you!! Listen! My friend once told me she didn't think she could be a nun, because she cussed like a sailor! I'll definitely recommend this to her!
April 12, 2022
U have funny, drama and inspirational film. Thank U FINALLY for something worthy of seeing
April 12, 2022
Lots of dull spots, lots of swearing so the audience would get the point about Stu being a bad boy. We are not Catholic's - so we did not get the Catholic jokes. We had high hopes, but this movie fell Flat for us!