Focus - User Reviews
Thank you for rating this movie!
Read your review below. Ratings will be added after 24 hours.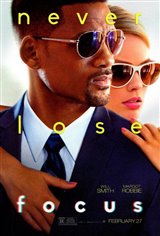 3.74 / 5
User Rating
Based on 1131 votes and 67 reviews
---
Please rate movie 1 to 5 stars
Showing 1 to 50 of 67
February 10, 2016
WILL SMITH STILL GOT IT, AND MARGOT ROBBIE IS INCREDIBLE.
August 31, 2015
Good movie....my boyfriend and i enjoyed it
August 31, 2015
Will Smith has done it again! Loved it
August 26, 2015
That Will! So smooth! A woman's man.
August 15, 2015
I loved it. The actors are amazing. The story is very well done.
June 28, 2015
Slow to start but a good movie
May 31, 2015
Really good movie. So nice to see Will Smith again! Loved the twists and turns. Leaves you guessing till the very end. I will watch again.
May 25, 2015
I was very entertained by this movie. Much better and more amusing than expected.
April 26, 2015
It was good....
April 07, 2015
Liked it very much. Good action. I like Will Smith.
April 01, 2015
it a alright movie, i would put it in my negative zone. Because it feel like a will smith making out movie. Story is good, didn't like all of the random make out scene.
March 31, 2015
Enjoyed the watching the slight of hand and cons, and rolled with it until the unbelievable "climax"??
March 26, 2015
Will Smith did some great acting as always.
March 26, 2015
I didn't care for this movie! The storyline is all about being a pickpocket!
March 21, 2015
Didn't really find the movie very funny! A little romance! A story about pocket-picking! Would advise waiting for DVD or download!
March 17, 2015
Just ok. Zero chemistry between the two main actors. Great idea for a storyline- could have been done much better. Good for a Tuesday cheap movie night.
March 15, 2015
Good chemistry between Will Smith and Margot Robbie. Good twists in the storyline.
March 15, 2015
Lame lame, lame
March 14, 2015
Great potential with the movie with the first half, but the end of the movie was sloppily put together. Still OK for an entertainment film.
March 09, 2015
great movie!
March 08, 2015
Great movie with lots of twists and turns. Both Will Smith and Margot Robbie were great! Fun and entertaining!
March 07, 2015
Really enjoyed this film. Creative with good twists.
March 07, 2015
THIS WAS THE BEST MOVIE OF THE YEAR
March 06, 2015
Nice one from Will Smith, it is very entertaining and I can recommend all to go and see it.
March 06, 2015
If we took out 280 make up 5 stars reviews, this movie only have 2 stars score. Shame on the guys who made up all these false rating.
March 06, 2015
I was really disappointed. This is the first Will Smith movie I've seen and not liked. It was slow paced and illogical.
March 06, 2015
WELCOME BACK MR.SMITH
March 06, 2015
I AM A BIG FAN OF WILL SMITH
March 06, 2015
MARGOT ROBBIE SOOOOOOOOOOOOO BEAUTIFUL
March 06, 2015
Will Smith has come back to what he knows best. Sexy comedy!! He is perfect as is his co star. Really good movie with twists and turns.
March 06, 2015
Great movie. Acting was great. Great story. Must see!!
March 06, 2015
Great movie! Love Will Smith! Loved how it kept you on the edge of your seat!
March 06, 2015
WOW!!!!! I LIKE THIS MOVIE
March 06, 2015
AWESOME POPCORN FLICK!!!
March 05, 2015
I LOVED THIS MOVIE 10/10
March 05, 2015
There was no chemistry between Will and Margot. The movie had some slow parts. It was just about pick pocketing. Boring.
March 05, 2015
How can anyone except Will Smith and his Agent possibly give this movie anything above 1 star. The story line was stupid as well as unbelievable. Will Smith stunk. I'd say it's the worst movie of the year. Don't waste your money
March 05, 2015
I loved Focus!!!' This movie was very sophisticated, I laughed, I almost cried a few times, I said to my self no please don't do that so many times as well. Will Smith and Margot Robbie are the best couple on screen! If you like movies that make you think and put you on the edge of your seat Focus is the one for you! Oh and Margot Robbie is so hot and the best Young actress in Hollywood right now!
March 05, 2015
AWESOME MOVIE, MARGOT ROBBIE WAS AMAZING IN THIS MOVIE
March 05, 2015
This film is for idiots who can't see when they're being offered a terrible movie with a script that's incredibly stupid. Why did Will have to get actually shot? If it's a con, you use a blank and a blood capsule, you don't actually shoot your fellow con. So stupid. If you want to see a good con artist movie, watch The Sting. Also, I was waiting for something to be a surprise, like, someone was conning someone else but it was all just as you saw. There was no surprise, no "ah-ha" moment. Pure drivel.
March 04, 2015
TWO THUMBS UP
March 04, 2015
Will Smith is always great! This movie has a cool suspense to it. You never know which character is a liar. Could have been better, but still enjoyable!
March 04, 2015
AMAZING MOVIE!!!!! 5 STARS
March 04, 2015
Yes, it's a trifle of a film, but it's a super fun one, like a magic trick that you know how it plays out but enjoy the show anyway
March 04, 2015
Margot Robbie is a beautiful girl, Will Smith did a good job once again, excitement and a few twists - fun girls night out!!!!!
March 04, 2015
A HOME RUN FOR WILL AND WHAT A PRETTY COSTAR!!
March 04, 2015
The actress did a great job very charming, great actress, funny. This movie for me was more a comedy, quite funny. I go to the movie to entertain myself, this definitely work for me.
March 03, 2015
A real disappointment. Expected better from a Will Smith movie. A lot of glitter with no substance.
March 03, 2015
This movie is very interesting and entertaining, it shows how easy is to rob people and how they all work together to make it work. Great cast; Will Smith and Margot Robbie are great together. Loved the twist in the story, it's unpredictable. You want to have fun, watch it.
March 03, 2015
Enjoyed watching Will Smith in a great movie like this one. The pace was good and the role was one of the better ones he's had for years!