Footloose - User Reviews
Thank you for rating this movie!
Read your review below. Ratings will be added after 24 hours.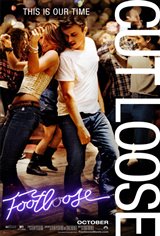 3.99 / 5
User Rating
Based on 1510 votes and 426 reviews
---
Please rate movie 1 to 5 stars
Showing 401 to 426 of 426
October 20, 2011
This is a fun movie faithful to the original with terrific dancing and updated music.
October 20, 2011
How can anyone rate a movie without see it? If you don't want to go the remake just say so but don't assume you can give it a rating without actually viewing to it. The remake has a few changes to the story that I think improved it. I did prefer Kevin Bacon's portrayal a bit more but I can't say this Ren was bad. I enjoy how Ren's family was done in this edition a lot more than in the original. It was worth seeing and interesting to compare.
October 20, 2011
This movie makes you want to dance. decent acting and great music and dance routines
October 20, 2011
Good music and good fun. Made me wanna dance.
October 19, 2011
This movie was fun and entertaining.
October 17, 2011
See this movie -- it defines a generation.
October 17, 2011
This is a great movie.
October 17, 2011
Love this movie. Great job.
October 16, 2011
Just as good as the original,loved the movie.
October 16, 2011
yes a wonderful story line explaining what happened before the first movie to have the laws set .. we wondered after the first movie ..
October 16, 2011
i loved this movie it was reallygood. I have never seen the origanal movie. But I know this movie was way better. Go see it right now
October 16, 2011
Cute movie, entertaining. I never saw the original so I have nothing to compare it to. Loved the dance routines.
October 15, 2011
Just saw Footloose, it is such a cute storyline with magnificent dance routines. So entertaining and fun to watch! All the acting was wonderful as well. Go and see it, you will not be disappointed. My husband and I just loved it, and we are in our early 70's...
October 14, 2011
It was better then the original! Sorry Kevin Bacon!!
October 14, 2011
I really enjoyed the remake...music was great and had you dancing in your seat. Wasn't as good as first one but loved it the same.
October 13, 2011
Almost makes the original look like a good movie.
September 11, 2011
The movie that defined a generation!
September 10, 2011
i love kenny wormald, this movies gonna be amazing! to everyone whos not seeing the movie youre missing out!!!!!
August 31, 2011
saw the screening yesterday n i thought it was an awesome movie! the cast is fantastic, the music is great n the dancing is awesome!!!! LOVED IT
August 14, 2011
Love the original..... Not going to see the remake!!!
August 10, 2011
Wont even give it a second glance. Way to ruin the original. Trailer looks horrible.
July 06, 2011
Really? Ruining an original by having the same story with no Kevin Bacon and Lori Singer? Worse, Dennis Quaid? If it ain't broken, please don't do remakes and spend the effort on something more original. Thumbs down!
July 04, 2011
No way...an exact remake.. doesnt even compare. will not watch this... Kevin Bacon will always be "Ren" And Chris Penn will always be "Willard". Something to be said for not messing with a classic
July 03, 2011
Kevin Bacon returns to the role that made him famous! An absolute winner with a killer soundtrack (Selena Gomez, Justin Bieber, Scotty McCreery).
July 03, 2011
You can't touch the original movie with Kevin Bacon and cast. I won't be going to see this re-make.
June 23, 2011
This looks TERRIBLE!!!!! Come on people, stop remaking movies and come up with your own ideas!