Force of Nature: The David Suzuki Movie
Thank you for rating this movie!
Read your review below. Ratings will be added after 24 hours.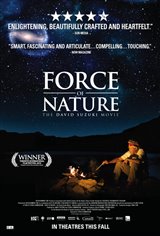 ---
Please rate movie 1 to 5 stars
Showing 1 to 25 of 25
August 08, 2012
what - no zero stars?! i can't believe this political movie was allowed to be made. please tell me david didn't use a government grant for this, but his own money...!
January 07, 2012
Great Movie. Neo-cons hate it so it's definitely worth watching.
October 07, 2011
Excellent
August 27, 2011
Yeah, you got your's, Suzuki, so do what all leftists in the world do when in that position and do your best to force everyone else to live without.
March 14, 2011
Love David Suzuki - wonderful film.
March 09, 2011
moving, touching, tears to eyes
January 06, 2011
Love D Suzuki! Great film!
January 06, 2011
We should all listen - the environment is SCREAMING!!
January 05, 2011
excellent
December 31, 2010
Very Interesting and Informative Movie
December 23, 2010
don't like David S but some good points
December 19, 2010
Every young person should see this. Important stuff.
December 15, 2010
This movie says what I have believed all along,that man and nature are interconnected.What happens in the natural world ultimately affects man. A thought proving must see movie.
December 11, 2010
David Suzuki always knowledgeable and knows his stuff. Very good.
December 10, 2010
Amazing movie
December 09, 2010
I do not particularly like David Suzuki but went to see the movie with a friend.
December 09, 2010
Never disappointed with any information passed my way.
December 03, 2010
This movie is a must-see. I have always admired David Suzuki and his knowledge our planet.
December 02, 2010
truly mind boggling!
November 28, 2010
I really enjoy the details in this movie
November 24, 2010
Awesome
November 22, 2010
Really an eye-opener on the environment.
October 12, 2010
He is definitely such an icon - I have also seen him speak, and he's pretty inspirational.
October 12, 2010
A true Canadian icon ... with much longevity. Many of us young adults grew up with Suzuki over the years ... this film does a good job showcasing the man himself. A coworker of mine had a chance to see a speech of his late-summer/early-fall and told me all about it. "He's still got it ... quite the man!"
October 06, 2010
Saw this at TIFF. It was a great movie, focusing mostly on Dr. Suzuki's life, his family and his legacy. A great tribute to a Canadian icon.