Frida - User Reviews
Thank you for rating this movie!
Read your review below. Ratings will be added after 24 hours.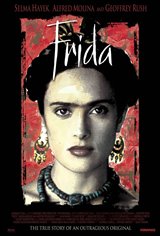 2.93 / 5
User Rating
Based on 2512 votes and 21 reviews
---
Please rate movie 1 to 5 stars
Showing 1 to 21 of 21
June 19, 2021
Salma Hayek rubs her meskin-ness all over everything. Kahlo painted grotesqueries and probably had a happy trail. Welcome, Unibrow. They don't have tweezers where you come from? Grab some Taco Bell and check it out.
February 21, 2006
great movie i loved it i recommend it to everyone
May 25, 2003
It was genius!!! A masterpiece before its time!
April 16, 2003
its bad its very bad it sux i hate it!!!!!!!!!!!!!!!!!!!!!!!!!!!!!!!!!!!!!!!!!!!!!!!!!!!!!!!1 :-(
January 08, 2003
I thought this movie was fabulous and I am a strong critic. I loved the autenticity of the Mexican flavor and thought the acting was academic.
January 06, 2003
Salma Hayek talent and work is perfect in that movie...
December 26, 2002
Salma and Alfred Molina were amazing in this film! Oscar calibur performances and Best Picture worthy!
December 21, 2002
The music, the color, the magical realism, the passion, the female perspective. I loved this movie and will see it again. I am also exploring more about Frida herself. Not to mention Lila Downs!
November 28, 2002
The most wonderful movie I`ve ever watched in my life.
November 22, 2002
eminem was so good him and salma had some major chemistry
November 16, 2002
With new movie technology, magnificently Salma brings life to most famous Frida`s paintings. Helps understand this colourfull Mexican life. And the lives of two great artists. Salma shows a Mexican part of Art and History related to New York few know. Well done.
November 13, 2002
Great film, very artistic, beautifully directed. You could actually feel Frida torment and challenges through out her life. It`s an inspirational movie for never giving up your ideals. Selma Hayek is Oscar worthy in this film...
November 10, 2002
I thought Salma hayek was fantastic !
November 07, 2002
Oh no! Not sexual freedom! Please! Shelter me! Strangely, not every movie can be conservative in its view, occasionally, they challenge social standards. To see a movie about someone who did was excellent.
November 05, 2002
Frida played by Selma Heyak did a tremendous job with the role. Ashley Judd was also Hot!
November 05, 2002
tremendous movie..well written, great acting
November 03, 2002
no comment, considering sexual morality isn`t an issue anymore in North America society
November 02, 2002
I have been a great admirer of Frida for the past 5 years. I read Hayden Herrera`s bio of Frida a while ago and this biopic does a wonderful job of depicting Frida`s passion for life, love and culture which is clearly demonstrated through her revolutionary sprirt which comes alive on screen. I am definately going to go and see this film again.
November 02, 2002
well i think it had lots of drama and good sence
November 01, 2002
This is undoubtedly the strongest performance of [Hayek`s] career, and her passion for the project is palpable." -- Claudia Puig, USA TODAY
November 01, 2002
"Brilliantly captures the brightness of the light, the intensity of the colors and the omnipresence of Mexican motifs that informed Kahlo`s art." -- Jonathan Foreman, NEW YORK POST