Fun with Dick and Jane - User Reviews
Thank you for rating this movie!
Read your review below. Ratings will be added after 24 hours.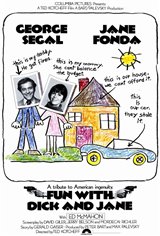 4.00 / 5
User Rating
Based on 3284 votes and 96 reviews
---
Please rate movie 1 to 5 stars
Showing 1 to 50 of 96
September 23, 2018
BRILLIANT COMEDY !!!!!
July 09, 2010
great movie. i love crime nd mystery films
September 07, 2007
BEST MOVIE EVER!!!
June 21, 2006
DON`T SEE IT IT IS TERRIBLE!!! There`s only like 1 funny part and those are the robbery scenes but the rest is dumb and boring. My friend said it was the best movie ever but it`s one of the WORST movies ever. I don`t know how he got funny out of this crud!!
May 02, 2006
Laughed My ass off!
April 21, 2006
It was alot better than I expected since it got so many bad reviews. Carey wasn;t too over the top and Leoni is always amazing. A good renter
April 15, 2006
very funny great performance by jim carrey
April 03, 2006
a good light comedy.
March 15, 2006
Have to admit, I was told this movie would be hilarious, and was sadly dissappointed. I expected some pee in the pants humour (albeit, I did chuckle a few times on certain slapstick scenes) and if you are a fan of the obvious, over acting that Jim Carey is ultimately famous for, then you are in luck. Otherwise, I have to say, it was JUST ok. It was overly predictable and lacked much creativity.
March 15, 2006
i am not happy...not happy at all! i wasted 90 minutes of my valuable life!!! very dissapointing! the trailer made it look like a good movie! how wrong i was to think i would`ve liked it! don`t make the terrible mistake i did. SAVE YOURSELF do something value with your time intead....like spay or neuter your cat
March 02, 2006
flat out hilarious!!!!!!!!!!!!!!!!!!!!!!!!!!!!!!!!!!!jim cary was excellent
February 21, 2006
I didn`t find it funny. I found the beginning part drawn out. Feel good ending. Jim was himself... but I guess I was hoping for something different/fresh from him.
February 19, 2006
Not bad but certainly not Jim Carrey`s best movie. Typical dumb humor although the plot line twist makes up for the lack of new jokes.
February 18, 2006
Enjoyable, but didn`t blow me away. This is better as a rental.
February 17, 2006
show was funny and okay, but kind of stupid.. a no brainer. But then, look who the leading actor is!
February 13, 2006
Jim Carrey a great actor with so much talent that not everyone is born with. Though i found this movie a bit slow and predictable i still admire Jim Crrey as one of the best comedians in the filming industry. My conclusion deffinatly a blockbuster movie and not the best i`ve seen from Jim!- Maggie
February 06, 2006
funny,funny,funny,just love jim carey,and tea leoni was just hilarious.left the theater still giggling. thanks for a great night p.s.j
February 03, 2006
I have seen this movie 3 times and never get bored of it... it was hilarious My little cousin went with me and he was laughin so loud i had to take him out of the theatre to calm him down it was CRAZY... I reccomend this movie to people at the ages of 13 to 50 (unless u have a good sense of humlour when ur older)
January 30, 2006
hilarous representation of the Enron scandal, and others like it.
January 29, 2006
OMG this movie is like so funny!!! me nd my friend went to see it nd we had a blast... by the end we had to pee so badly :P Well if any of u are plannin on seein a movie me nd my friend reccomend this one
January 29, 2006
i hate it
January 28, 2006
Just plain disappointing....If you saw the trailer don`t bother with the movie!
January 27, 2006
Hat off to the both of them. I never thought you could get a female as wacky as Jim..
January 25, 2006
I think it was so much fun and hope others willenjoyit and I tottaly recomend It to viewers who like comedy
January 24, 2006
A lot better and funnier than I thought it would be! 2 thumbs up, had some great laughs and a nice moral.
January 23, 2006
IT WAS THE FUNNIEST MOVIE EVER DONE BY JIM CARREY! I GIVE IT A 10 OUT OF 10! FUN WITH DICK AND JANE IS THE MOST SEE COMEDY OFTHE YEAR! IT IS LAUGH OUT LOUD FUNNY, IT HAS REALLY FUNNY PARTS! IF YOU DON`T GO SEE THIS THEN YOUR MISSING OUT ON A REALLY FUNNY MOVIE! BRAVO TO THE DIRECTOR!
January 23, 2006
Turns out that Jim Carrey is less funny with each film that he makes
January 21, 2006
FUNNY!!!!!!!!!!!!
January 21, 2006
I really liked this movie.It is a great movie to see with friends and your children 10 and up.
January 20, 2006
An OK timewaster.
January 20, 2006
i think it was a great movie. i love jim carry!!!!!!!!! i would buy it when it comes out!!!!!!!!
January 14, 2006
give me my money back - one star rating
January 13, 2006
this movie was hilarious, jim carrey at his best
January 12, 2006
I loved this movie. I love Jim Carrey so that`s why I loved it so much, but overall I laughed a great deal!!! FOUR STARS
January 11, 2006
Funny, but not hilarious. It has it`s moments. Nothing really stands out that was wonderful.
January 09, 2006
Worth seeing, one of careys better movies..not as funny as it looks but what ever is................
January 08, 2006
Not really funny. a 3/5 comedy.
January 08, 2006
I wasn`t laughing out loud the entire movie, but it was definately an enjoyable movie. Tea Leoni was incredible.
January 07, 2006
I don`t know why you`re all saying the plot was bad. It was a brilliant plot! Do you realize this happens to people EVERYDAY? Just they made it funny. Some people DO resort to stealing after losing everything. I just saw it, it was the funniest movie I`ve seen in awhile. I can`t think of one any funnier right now. Jim Carrey is so much fun!
January 07, 2006
I thought it was okay considering that i dont like Jim carrey`s acting that much some parts were pretty funny
January 07, 2006
this movie was reeeeaaalllllyyyyyy bad! jim carrey`s voice was totally different then his normal one!!did he play the beaver in the chronicles of Narnia..oh wait wrong movie(just like tht personn who submitted a king kong comment for this movie) p.s. the witch in narnia is sooo hott! ---Parker and Casey
January 07, 2006
Jim Carrey sucks...dear god he`s the worst actor on the face of the planet. wake up buddy, your attempts at being humerous died in that ace ventura series
January 07, 2006
Only one or two really funny scenes and... far too short.
January 07, 2006
THIS MOVIE WAZZ THE BEST!!! I LOVE JIM CARREY
January 06, 2006
I love Jim carrey`s movies they make me laugh. at first i didn`t really want to c if but wen i start watchin i was laughin so hard tht i cudn`t stop laughin.
January 06, 2006
-Not bad -Intense movie -Great effects -Great story -Excellent graphics on king kong -Real stuff!!!
January 06, 2006
I thought it would be funny, but I was terribly wrong!!!
January 06, 2006
I didnt like the plot...there were some funny parts...overall I gave it a 3...if you`re bored and have NOTHING TO DO, then go see it otherwise it`s not worth your money...not the best movie i`ve seen...very disappointing...
January 05, 2006
great one on one action love wise
January 04, 2006
One of the worst movies ever. Jim Carrey was not funny and Teo Leoni can`t act to save her life