Fury - User Reviews
Thank you for rating this movie!
Read your review below. Ratings will be added after 24 hours.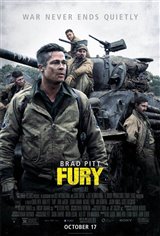 ---
Please rate movie 1 to 5 stars
Showing 1 to 41 of 41
June 29, 2015
good movie. Logan Lermann steals the movie.
April 25, 2015
A movie worth seeing. It's not really as great as Saving Private Ryan but it speaks to the heart of what is war and it is also that conflict within war to what is right and wrong and what really happens within war to soldiers and inner conflicts. It really makes me feel sorrow for those that have been lost and what it took to get them there. A war is just one mans army and an army is just one mans war.
March 07, 2015
Rather above average war movie to be honest but treats German Tank commanders that have experience from the eastern front as idiots. Many petty errors like Fury being a Firefly which the Americans rejected the use of and a Tiger that drives straight at the Shermans rather then keeping its distance and exploiting the 88. As pointed out by other reviews the Firefly would be taken out straight away just as Sherman crews would not drive straight at a Tiger. Many more combat mistakes in the movie and Saving Private Ryan still sets the highest standard for American War Movies
January 30, 2015
Excellent acting, though another sad reminder of the horror our young men had to endure along with the population during WWII AND as a citizen am very concerned that we are heading in another kind of war. I am surprised that the Oscars nominated Boyhood instead of even this movie of many other for that matter.
January 18, 2015
movie was ok, with some good scenes. the SS would with much ease taken out the disabled tank with crew like that, so quite unbelievable, specially for me, since i've served in the army
January 14, 2015
If you can suspend disbelief it's a solid 3. If you're incapable of suspending disbelief, it's a one star. What is this movie's message? Kill or be killed is what I got out of it. But then an SS soldier shows mercy, which makes Brad Pitt's character look like a complete evil douche.
January 01, 2015
Dumbist movie I ever Saw.Dragged on Didnt make sense Unrealistic. The Tigers first target would have been the firefly (fury) A tank comander sitting outside his tank firing away like Rambo would have lasted about five minutes on the battle field not years It was amazing how the SS only asulted the tank. And a SS tropper showing mercy at the end.Very doubtful
December 07, 2014
All I can say is frick'n awesome!!!!
November 28, 2014
This movie gave you an up close view of warfare, from the tank perspective. Very real. Excellent.
November 27, 2014
One of the best war movies I have seen. It continues in the line of the old TV show combat. It's more about the men and how the war shapes them, than the war itself. Very well acted and thought out.
November 16, 2014
Very good movie and very well done! Not for the squeamish though. Very realistic and will definitely buy it for blue ray
November 11, 2014
Thank you for providing this movie for free for current serving members and veterans of the military. It is a hard movie to watch for a lot of people and definitely not for the squeamish, but worth watching for people to understand how war really is. Hopefully this will help others to understand what others have gone through for their freedom.
November 10, 2014
This is the first war movie based in a tank I've ever heard of. I've seen a million submarine, warplane, sniper pics, but never a tank movie. I thought it was great. All these years after Ingorious Bastards, I was still thinking Pitt was the same character though.
November 07, 2014
Good to very good movie; however, it is not for the squeamish
November 07, 2014
This was a bit of a weird movie. Okay, it was a WWII movie, so there's lots of battle action (this time with people in tanks). So it delivered on that. But ... For some reason, the movie sets itself in April 1945 which is almost at the very end of the war. Despite the movie's brief suggestions to the contrary, in reality the Americans and British moved across Germany facing very little resistance. And, of course, the movie could have been set in other situations (breakout at the Normandy landings, Battle of the Bulge) where there still was a lot of German resistance. The only reason I can think that they picked April 1945 is they wanted to have the tank crew in an Iraq-like setting w
November 02, 2014
Very gooddddddd!!!!
October 30, 2014
Won't make you forget the Brian DePalma version.
October 29, 2014
Fantastic effects. Realistic scenes. Very good acting. The story line needed improvement. Brutal battle scenes. Overall, I was entertained but I wouldn't return to the theatre to watch it again.
October 28, 2014
Very Good Acting, at times unrealistic, however solid story line and I would recommend it
October 27, 2014
Really well done. Great acting.
October 26, 2014
Good story, very good effects. Ending could be better but nothing about war ends well. If you appreciate WW11 movies, you will not be disappointed.
October 26, 2014
very well done to all involved in the making of Fury .. Brad Pitt and cast was fantastic .;
October 26, 2014
fury is to tank and artillery movies what private ryan was to infantry. a very good movie, particularly as remembrance day nears.
October 25, 2014
Best war movie ever? Really? Were you born before 1999? Private Ryan ,Kellys Hereos, Hell Hamburger hill even. This was nothing but a pedestal for Brad Pit to stand on and people gobble it up because we need a new war- movie. Sad but true.
October 25, 2014
Each of the 5 actors deserve 5 stars! Intense film! Shows the ugliness of war and tragedy of loss!
October 24, 2014
Brad Pitt was fantastic in this movie as were all the other actors. For sure a must see move.Highly recommend it.
October 22, 2014
I am in awe of the acting involved as if you were in the tank experiencing the inhumanity of war and bonding involved in such tragic circumstances and To appreciate countries undergoing such trauma...It's the most moving movie I've experienced.
October 21, 2014
Entertaining, entertaining, entertaining ! Only one computer generated scene that I noticed. A nice change from recent Hollywood releases. All actors were superb. Remember this is entertainment therefore some literary license was taken in the production. Go see it and have a great experience.
October 21, 2014
Other then the young morons that thought it was okay to loudly talk through a movie the movie was very good with lots of action and showing the realities of war. . Many times leaving to never return home
October 20, 2014
Best movie this year
October 20, 2014
BEST WAR MOVIE I HAVE EVER SEEN....
October 19, 2014
I am going for my second time this evening...Terrific movie
October 19, 2014
Best way to describe it...A very Good Movie...
October 19, 2014
wow the number of Nazis these 5 Americans killed it's a wonder the war took so long. great movie if you suspend belief.
October 19, 2014
If you like war movies, this is one to not miss.Very surprised it wasn,t in Imax, I would say as good as Saving Private Ryan, and is destined to be a classic just like SPR. Don't miss it on the big screen.
October 19, 2014
One of the better action war movies I've seen over the last few years.
October 19, 2014
the acting was superb I really enjoyed this movie. I lost myself in it
October 18, 2014
Gritty, intense and good acting. The only flaws I saw were some scenes dragged on and there was a lot of unnecessary language but all-in-all a solid war movie. One of Shia La Beouf's best performances.
October 17, 2014
Very good. Excellent acting, intense war action and reminder of how inhuman and ugly war is.
October 17, 2014
After watching the premiere last night, I would highly recommend this movie to anyone who likes war films. The story is tense throughout and makes you cheering for the five men in the tank called FURY.
June 27, 2014
This is one remake that looks like it may actually work.