Geostorm - User Reviews
Thank you for rating this movie!
Read your review below. Ratings will be added after 24 hours.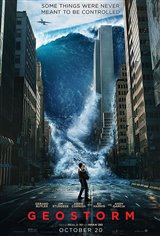 ---
Please rate movie 1 to 5 stars
Showing 1 to 50 of 52
July 18, 2020
pretty good zazie beetz was great .
September 13, 2019
I guess if you want to waste time, it was good to sit and eat popcorn. I was disappointed. It checked off all the boxes for predictability. It was trying to be too much of a mix of the Day After Tomorrow and a who-done-it? and a Sci-Fi/space film. Of course the dad was going to be sacrificing himself to save the planet, but of course that wouldn't actually happen and of course the current captain of the ship was going to be with him right at the moment she would be needed and in her space suit (which btw the clock was at like 2.5mins and he got his whole space suit on and still had 1.5mins to go?!?!?!?!) Of course we are led to believe the other brother's GF/Fiancee might be involved, funny how she is so stern on her secret service duties but the guys says I know thi sis asking too much to do "X" which is completely against any laws and she doesn't even put up an arguement and agrees to it...and does this a few times and each situation is worse than the last!!!!! Strong female character in only the role she played as a Secret Service Agent, otherwise what the bf says, she did without question. I'm sorry I don't see Gerard Butler character as the guy who designed the whole idea and knows it inside and out. He'd be the worlds smartest uber-genius. And really, 17 countries got together and built all that within how long??? Ya right. Some effects were not good. And some were, of course, ironic for the area they were happening...of course desert areas get flooded or instantly frozen and tripical places get the blazing sun.
April 02, 2018
Good story, like it being on the sci-fi, technology wise... Overal good family movie....
March 17, 2018
I don't know who these crazy people are that rated this movie and said it was no good it's one of the best I've ever seen. The acting was superb. The effects were superb. I would give it 100stars if I could And I would also say I need to get some new critics.
January 26, 2018
Fake looking buildings. B film. B actors. Gerard is still an an A actor though. WHY I STRUGGLED to watch it to the end.
December 30, 2017
It was okay. The action took very long time to come. This one almost look like a continuation to London Has Fallen. The cast was okay.
November 24, 2017
Good movie. Unrealistic, but that's Hollywood.
November 17, 2017
totally rubbish,unworthy of the cellulose it`s developed on
November 17, 2017
Preachy, boring, and been done to death. Left early snuck into another show.
November 14, 2017
At first I was hesitant to see this movie based on all of the negative reviews but after reading the many positive reviews, I decided to give it a chance (on a Tuesday) and was quite happy I did. Yes, it has its flaws but most films do. I really enjoyed it.
November 11, 2017
Action packed Hollywood...it worked...
November 08, 2017
Wow...this movie really sucks. This thing stalls along like a Volkswagen diesel ...I couldn't finish it and got my money back. We hacked this thing to death. The best part of this movie is.....going to Tim Hortons after and talking about how bad it really was.
November 07, 2017
Very enjoyable movie on many levels. Great effects and decent story with quite a bit of humour thrown in.
November 07, 2017
I liked the presentation and how it approached the 'science' of weather control and the danger that it can be weaponized.
November 06, 2017
Well crafted and well acted. I'm glad I saw it!
November 02, 2017
Exciting, lots of action, sci fi, space, romance, politics, it had everything in it. Very entertaining.
November 01, 2017
This is one of those movies you can watch over an over.
November 01, 2017
So worth the money to go see it.
November 01, 2017
I can't wait until it comes out on DVD!
November 01, 2017
Best movie I've ever seen!
October 29, 2017
I rate this at 3 1/2 stars. I enjoyed seeing it on the big screen. Enough action but not too much. Not too complicated so it was easy to follow. i liked it.
October 29, 2017
Ten years ago would have been a good show. Special effects and predictable storyline very outdate. Gerard butler was good but couldn't save this show.
October 28, 2017
Great cast. Suspension of disbelief impossible. Things that could only have happened over a long period of time happen in minutes or seconds. And none of them was even possible without breaking the laws of physics. Completely uninteresting and totally predictable. No development of plot or characters. Don't waste your money.
October 27, 2017
Great premise .
October 26, 2017
very poor acting except for Gerard Butler, but not even he can save the movie
October 25, 2017
Another worthless steaming pile of cow dung!
October 25, 2017
The script left lots to be desired.
October 25, 2017
Absolutely thrilling! A must in IMAX!
October 25, 2017
this was an awful movie
October 25, 2017
I'd rather be watching Mariah's World.
October 24, 2017
No Oscar winner but ,not a bad movie . Lots of laughable Hollywood type stuff like people out running deadly storms and getting out of the way of explosions in the nick of time . Saw it on the IMAX in 3D ,and the special effects were pretty cool .
October 24, 2017
The script left lots to be desired.
October 23, 2017
Poor story, don't waste your money.
October 23, 2017
Best. Movie
October 23, 2017
Very intense, good special effects, and they even threw in a positive message...not a masterpiece but worth the watch.
October 22, 2017
Pathetic!
October 21, 2017
A passable plot. Good acting and Ed Harris is nasty as usual. A fine date movie with the spouse. And great special effects. What more can you ask for?
October 21, 2017
Good one that you should watch.
October 21, 2017
It's was ok dragged on a bit too long. But the concept was very good and Gerard Butler was amazing in the film - his performance saved the movie
October 19, 2017
A relatively cheesy popcorn flick but you kind of know that going in. Not every film needs to be citizen kane and sometimes you just want to have fun.
October 19, 2017
Good special effects, but a fairly generic and predictable plot
October 19, 2017
Lots of action but not really a great movie as the plot was weak and predictable
October 19, 2017
The movie was really interesting filled with emotion and action. It reflects perfectly what s happening in the World right now and the consequences we could get. A great action and environmental movie!
October 19, 2017
It has great action and kept on track with the pace of the story. If you like doomsday action movies where they have unbeatable odds to stop natural disasters right to the wire then this is for you!
October 19, 2017
It was nice and funny.
October 19, 2017
Great Movie!
October 19, 2017
I love the movie, is very entertaining and have a lot of action kept you on your set all the time, great actors and the history. One of the great movies right now.
October 19, 2017
It was entertaining and certainly had its moments. The visuals were awesome. Though I found it to be predictible.
October 19, 2017
Kind of felt like a B movie at times, but the graphics were pretty good and there is nothing to really hate.