Ghost in the Shell - User Reviews
Thank you for rating this movie!
Read your review below. Ratings will be added after 24 hours.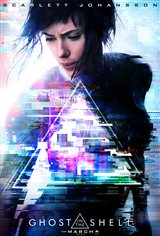 ---
Please rate movie 1 to 5 stars
Showing 1 to 50 of 63
August 16, 2017
wonderful movie. rating these children give does not do it justice.
August 01, 2017
Great special effects but that's about it. None of the characters were really likable. Most of the plot was pretty boring.
July 29, 2017
Several times the movie has had over 700 votes/ratings and had less then 1.5 star ratings... and poof back to 220 votes/ratings and a above +3 rating... Kinda like rotten tomatoes have movies with 80%+ ratings... yet those movies fail to even make half their budget at the box office
July 25, 2017
As an action sci-fi, it's so far so good.
June 25, 2017
They nailed this depiction.
May 25, 2017
This movie is the special effects and not about the characters. Ghost in the shell is as two dimensional as Scarlett's' botoxed upper lip.
May 14, 2017
Great effects and showing. I can see why westerners don't understand it. But its a great SciFi Movie.
April 26, 2017
Absolutely amazing...the first scene alone was spectacular! Unfortunately I missed the run of the non-3D version and was forced to watch in the 3D scourge...so I could only watch first 1/2 hour and my eyes just can't get used to 3D so I left for a refund. I really hope this movie goes to the cheap theatres so I can see it in non-3D on the big screen. But first half hour was amazing sci-fi...
April 25, 2017
excellent movie. depending on which versions of ghost in the shell anime you've seen major was caucasian (lots of versions/mystery of her back story) so I'd ignore the trolls and just enjoy it.
April 21, 2017
Still in Awe, a Masterpiece !!! Went back and saw it 3 more times, going to watch it again today !!!
April 20, 2017
Loved it! Visually stunning. Went back twice.
April 20, 2017
Miscast ??? Just because they cast a white woman to play Japanese ??? I love that Reverse Mullet too, Business in the back, Party in the front !
April 19, 2017
Johanssen in this is miscast. Where was the director? MIA? Horrible.
April 18, 2017
don't understand the bad reviews. easy to follow story and quite well done
April 14, 2017
Saw it for the 8th time today !!! I cannot believe this movie is so good, it is Great !!! Watching again and so should you !!!
April 12, 2017
Best Movie ever !!!! Watched it 5 times and so should you !!!!
April 12, 2017
The CGI is amazing and worth seeing just for that, but the acting and story are very good and there wasn't one part of this movie that was boring or dull. I never read the book so my mind was not fixed on how the movie should look or feel. For me it was just as good as a similar movie Johnny Nmemonic. I would definitely see this movie again and so should you.
April 11, 2017
Unfortunately, she has gone into proselytizing her politics and I cannot enjoy her movies any more. I'm looking for an escape not a reminder. Crappy remake in any event.
April 11, 2017
Saw it for a 2nd time! Still mesmerized! Masterpiece of anime! So hard to bring to real life the comics ... utterly stunned by the production and look into the future!! Xoxo
April 11, 2017
This movie blew me away !!!!! I will watch it again and again until the next in the series comes out, well done !!! very well done !!!
April 10, 2017
I liked Scar-Jo's wardrobe and some well done action scenes. But ultimately I couldn't get into the story. I can't even remember what it's really about. Started yawning after a while.
April 10, 2017
WOW, WOW, WOW, this movie is so great it should get all the academy awards, every last one !!! Best movie I ever saw, best movie ever made !!!!
April 10, 2017
Blown away by this movie - walked in not knowing anything about the series or character, so from that perspective, I found it to be an excellent experience to watch and munch on popcorn! I'm excited to see the next one in the series! well done, well done
April 10, 2017
One of the best movies I've seen this year! Wow... Academy Award level!
April 10, 2017
Killer movie! Can't wait to see it again
April 09, 2017
This was a real sleeper - I mean you will fall asleep its so boring and predictable. Not worth $5.00 in my opinion.
April 08, 2017
For those interested in seeing it, This movie absolutely ROCKS! Fantastic eye candy and science fiction. Great story line - Loved it!
April 08, 2017
Cinematically beautiful. Visually spectacular. Very true to the spirit of the original series. DO NOT listen to the naysayers and detractors. Ignore all the controversy, and just go see it.
April 08, 2017
Intresting because the anime the movie is based of is where the Matrix gets its inspiration from. However the movie didn't bring anything new to ghost in the shell series but is rather a recreation of the 90s animated version. If you want to see this movie but don't mind watching an anime, watch the 90s version. Overall the movie is a good representation of what the series as a whole represents
April 08, 2017
Left in the middle. I love sci fi, superhero movies, and action. This was like watching Denzel in Flight 97 or whatever that thing was. I wait for the next remake to finish watching.
April 08, 2017
It's like watching matrix
April 08, 2017
i really enjoyed the movie. dazzling special effects!
April 08, 2017
Visually gorgeous
April 07, 2017
Beautiful futuristic action packed masterpiece, fantastic story line and plot, leading one (such as I, that is not familiar with the character or comics) along one neat surprise after another and onward toward building to the end with a surprising twist near the culmination of the move - I found the CG, colors and visuals amazingly stimulating, human to AI interface, fiction, and futuristic peak into a technologically advanced culture, highways, buildings sustained stimulation! I've been thinking about this movie for days and have told many to go see it... Mixture of Oblivion, The Matrix and a bit of 5th Element and... Of course, there's the stunningly beautiful Scarlet Johansson, but she is not the main reason why I went to see the movie. If you love science fiction, futuristic technologically advanced culture and an amazing plot, this movie is well worth seeing! Don't be dissuaded by reviews – keep an open mind, go see it and enjoy!
April 06, 2017
Good action thriller
April 05, 2017
Much better than I expected based on other reviews. This new 'whitewashing' thing is getting stupid, didn't realize this was a documentary... Scarlett is popular, so yeah they used her. 'Sorry'. Sheesh. Anyway, CGI was pretty good as was the story although nothing that we have not seen before. You have to be in the mood for this movie. There was some clapping at the end, assume some fan boys in the the theatre.
April 05, 2017
Fantastic special effects and futuristic concept action adventure psych film. Enjoyed it!
April 04, 2017
This movie is great, not on par with the anime it's based on but a great first attempt. Open your mind and maybe you will find what the story is really about.
April 04, 2017
This movies is OK NOT GREAT. Lots of special effects and basic story line of revenge. Some parts were slow. Kind of movie you see once then forget about it.
April 03, 2017
I really wanted to give this movie 4 stars but seeing how many people gave it 1 star I figured I owed it to the film to balance it out a bit. If my brother would want to go see this movie I would go with him again. I don't know where all the high expectations for this movie is coming from but this move has a lot to offer to sci-fi movies. Loved the cinematic and cool characters. Go see it. Its not as bad as others say it is. Its actually good old sci-if.
April 02, 2017
Boring movie, don't waste your time and money.
April 02, 2017
At some point in the movie I figured Hanka - the robotics company - is actually a Scandinavian name, that's why the company reps AND the cyborgs have Western European faces so there is NO whitewashing here. This also explains why Aramaki and Hairi, the mother of Motoko are among the few Asian characters. This is a ruthless western company which exploits weaknesses in an Asian country's laws and a bunch of vulnerable people to turn them into value added products for an elite market. Johansson takes her role very seriously to every details and the one that struck me the most is the stance she takes when standing up and looking down at a sleeping Dr. Ouelet. The gait she uses to walk in various circumstances is also striking - this is not a women's elegant steps at all, it's a machine on a mission. Even if the "ghost" keeps the humanity in the "shell", the tenderness, softness and mostly the need to exchange love appears to have been eradicated. Impressive play.
April 02, 2017
All special effects and absolutely no plot!
April 02, 2017
I liked it.
April 02, 2017
It was good entertainment for a raining day. Whitewash? Who cares! If I believe all critics I wouldn't see anything beside movies like La La Land and Train wreck which BOTH stunk. Just entertain me is all I ask.
April 02, 2017
Funny how anyone who gives an honest review, and did not like this Movie is a "troll" LOL. How about people have different opinions and that is what this page is for. I found this movie to be poorly done and would not recommend watching it. Btw does anyone know what "we,re" means ? I have heard of we're as a contraction of we are.
April 02, 2017
Excellent movie, sci fi was excellent and futuristically dazzling
April 01, 2017
A worthless pile of cow dung!
April 01, 2017
*anime characters are fluid...they do not have to be a certain race in the adaptation and the anime character female does not even look a hundred percent Asian* Do some research it called the Default Human Being Effect
April 01, 2017
*All you clowns out there who rate the movie without seeing it, give us a break! We,re not interested in your speculations or opinions! * How about all the 5 star ratings with comments of looking forward to seeing the movie? or comments of.. Well she was alright in Avengers....