Ghosts of Girlfriends Past - User Reviews
Thank you for rating this movie!
Read your review below. Ratings will be added after 24 hours.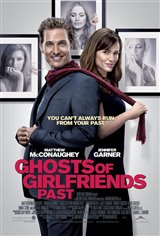 ---
Please rate movie 1 to 5 stars
Showing 1 to 39 of 39
September 27, 2009
A good date movie,a funny story line a bit of a spoof on the christmas classic scrooge.I wouldnt buy the dvd but it's worth a watch.
July 12, 2009
This movie was a very good lesson for all those Men & Woman who abuse relationships,but it also had a very good msg about the right kind of "Love" and how to receive and accept it.I enjoyed it emmensly!!!
July 04, 2009
Wonderful movie! Has some very touching moments!
June 12, 2009
Whats all the negative fuss about...LOVED IT!! So typical of MattM, great!!
June 09, 2009
I had to pick one star because they didn't have a zero rating.
June 02, 2009
Awful movie. Depicts women horribly.
June 01, 2009
did the actors even read the script before signing up to do this movie??? waste of money.
May 30, 2009
A comedy that lack of sense of humour, ya alrite... I get the picture here.
May 26, 2009
This movie lacks of humors, even the professional critics from Rotten Tomatoes believe that too! 1 star, down to the sink!
May 23, 2009
I really enjoyed it and found it very cute!
May 23, 2009
AS IT STARTED OUT, I WASN'T REALLY IMPRESSED, BUT AS I GOT INTO IT, I REALLY LIKED AND IT ENDED UP THAT I THOUGHT IT WAS MUCH BETTER THAN I HAD EXPECTED!! GOOD COMEDY!!
May 21, 2009
psssh, right down the sink! it stinks!
May 21, 2009
ok, so as I was sitting in the theatre watching how this guy is able to make love with all those chicks, then I began to wonder whats the point of all this? especially when the whole movie wasn't really focusing on comedy, rather kept telling to be serious withregard to relationships
May 21, 2009
not even funny
May 19, 2009
I found it funny. Mike Douglas made the movie, but ripping off the Christmas Caroll - not cool... If it was a bit more original, I would have rated higher, but I'm a Matt M. fan!
May 17, 2009
hows this even a comedy when it is not even funny
May 17, 2009
Lame... Wasn't all that funny. Wait for rental.
May 17, 2009
much funnier than i was expecting
May 16, 2009
This film wasnt that good. The trailers made it seem like it was going to be funny and interesting, but sadly its not... definately not worth the $20 i paid!!
May 16, 2009
There were some good laughs in this movie and well written script. But overall not a great comedy. I would say rental for sure though.
May 14, 2009
Yea, I spent $11 watching some ladiesman learning his lessons regarding life. How much fun was that! Thanks a lot for showing us that too, but to me this is not a comedy film at all!
May 11, 2009
I love comedys and Ive been dragged to many chick flicks with the wife but this one had to be the worst ever. I didnt laugh once nor did most of the audience. Im not picky about movies but this movie was boring.
May 10, 2009
The concept has great potential. Poorly written dialogue and was not really that funny. Definitely a rental, nothing more.
May 10, 2009
Loved it! Love Matthew! Go see it!!!
May 09, 2009
amazing and funny
May 07, 2009
Good laughs..great for men and women!
May 06, 2009
this movie doesnt make any sense, cuz its implying that every girl that dated with matthew mcconaughty were pretty much all ended up dead! thereby, it means matthew mcconaughty is acutally a serial killer that the ladies should be avoid with!
May 06, 2009
Movie was okay. Had some boring parts in the middle where it was hard to not fall asleep. But generally a good movie at the beginning and the end.
May 05, 2009
Good movie, love the play on the christmas story
May 04, 2009
I would give it 0 if there was such a rating. This movie was the worst I have seen in a long, long time. It wasn't one funny line in it. Most stupid movie I have seen in a very long time. The worst of the season I can assure you. Don't waste your money on it.
May 03, 2009
Quite a surprise.... Great movie, funny, hilarious... Wau better than I expected...
May 03, 2009
Just the kind of light fluff we need right now
May 03, 2009
Definately a girly movie, not bad but nothing outstanding. Just a cute , chick flick!
May 02, 2009
Cute movie. Better than I thought.
May 02, 2009
This movie was OK. It was a comedy and had some really funny parts. I found the beginning to be kind of slow. . . it was a chick flick so what do i expect. There are no twists and turns in the movie; straight forward same old love story! It was great DATE movie thought!
May 02, 2009
This movie was pretty crappy- the story was bad and it was quite cheesy, even for me!!