Gone Girl
Thank you for rating this movie!
Read your review below. Ratings will be added after 24 hours.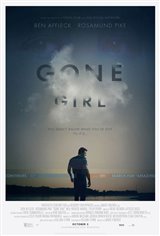 ---
Please rate movie 1 to 5 stars
Showing 1 to 50 of 72
May 30, 2015
Wow I can't believe all the bad reviews . I loved it had me on the edge of my seat the whole time .i wanna watch it again
March 02, 2015
Best movie I've seen in a long time. Definitely worth the rental if you didn't have time to see it at the cinema. Very smart, and well done. Would watch it again. Not sure why other's rated it so low. Excellent movie, held my attention from start to finish.
January 18, 2015
1st half was good, last half was just horrible. The ending was the worse I have ever seen. Looked like it was edited by a 1st year film student.
January 17, 2015
It was a good rental.
January 13, 2015
This movie deserves a star like George Clooney deserves a Lifetime Achievement Award.
January 03, 2015
Excellent movie. It was creative and deserves a 5 star. This movie needs to be watched first before its judged in a negative way.
December 30, 2014
Waste of money and my time.
December 30, 2014
I didn't like it and my husband wanted to leave during the movie. Only the popcorn was good.
December 30, 2014
Why did I go? It should be rated 0 stars really.
December 30, 2014
sorry I forgot to send the 1 star, bad
December 30, 2014
very bad
December 30, 2014
It's a thriller, but I wasn't prepared for the senselessness of it and the bad acting of the female actors. Very boring, and without taste or character. Don't spend your precious time or money on it, if you have to, wait for home viewing.
December 30, 2014
What now Hollywood? Such a waste of people's time. Why????
December 30, 2014
very bad movie, don't waste your money. we left before the end, as many others did.
December 30, 2014
another tasteless, senseless movie, with bad actors except Ben. lost time...
December 21, 2014
What a brutal waste of time. So much character development thrown out of the window.
December 15, 2014
This movie was very intense! To think people can do this to one another...holy Lord Love a duck. I would not own this one at all! Excellent acting crew!! LOVE ALWAYS JOANNIE :):):)
December 15, 2014
Great MOVIE!! really enjoyed it
December 06, 2014
have not seen it
December 03, 2014
Loved it!!!
November 29, 2014
That's 2 1/2 hours of my life I'll never get back.
November 27, 2014
Brilliant. Hard to Predict. Every scene was a surprise. I love that. The ending was also brilliant. For those who find the ending unsatisfying, I can see how some might find it implausible. For me the ending was very plausible. It's difficult to say why without being a spoiler. Rosamund Pike is stunning and convincing. My advice to guys -- see it with your pals or go alone. Don't take your wife or girlfriend.
November 10, 2014
good movie until the last 25 min. could have ended with something more suitable.
November 09, 2014
Awesome movie, very entertaining and suspensful...thumbs up!
November 09, 2014
Loved the movie. Was reading the book and stopped with the last 100 pages...glad I did because it would have ruined the movie. Did not like the ending. I prefer a definite ending.
November 07, 2014
4.5/5.0 This movie only gets better as it develops. Great plot!
November 05, 2014
Awful, don't waste your money or time.
November 05, 2014
Very good. Psychotic. Some scenes are graphic and some hard to believe. Agree with previous reviews that Doogie Howser seems out of place in this role. Found the ending very disappointing.
November 03, 2014
I did not enjoy this movie. The trailers did not prepare me for what I saw.
November 02, 2014
This movie was excellent until the ending. Worth seeing but it seems most agree the ending was crap. I don't want to give anything away, but I will say character believability and motivation is what really goes missing in this movie.
October 31, 2014
Loved it! I really like phychological thrillers this the best one in a long time.
October 28, 2014
Great thriller, with several unexpected twists throughout the story line that finally ended quite strangely. I enjoyed it.
October 28, 2014
By far, one of the worst movies I've seen in a while, to long ending was brutal, don't waste your almost 3 hours if your life!!!!
October 28, 2014
I have an imagination and would have used it , the smute and launguge , was Not nessary and we walked out.. ruined it for us... could have been a good story as the trailer makes it out to be.
October 28, 2014
Terrible. Complete waste of time and money. Ending was crap.
October 25, 2014
great acting but at least 45 minutes too long. Just seemed dragged out to me
October 24, 2014
Pretty decent. It seemed like a kind of mish-mash of previous thrillers: Sleeping With The Enemy, Basic Instinct, Jagged Edge, and Fatal Attraction. Still, it had its own story and some decent twists, along with a few red herrings.
October 23, 2014
Love the movie Ben was great in it.
October 17, 2014
Disappointing! Acting was fair but the story was slow and plodding. The ending leaves a lot to be desired!
October 17, 2014
a thriller and must see
October 16, 2014
REALLY GOOD. A MUST SEE.
October 16, 2014
This movie was full of suspense and had multiple twists. It was very entertaining. I could not predict the ending! A must see for movie goers who enjoy thriller suspense flicks!
October 16, 2014
Movie has it's good and bad moments. Previous reviews say wait for DVD - I agree.
October 15, 2014
Complete waste of time & $17.00.
October 15, 2014
Had potential in the beginning but the story became too far fetched. It was about 30 min too long, couldn't wait to leave the theatre.
October 14, 2014
Roughly 2.5 hours of twists, with no closure.
October 12, 2014
Great movie kept you thinking which direction it was going to go, very entertaining. In the end it went nowhere which was lame after investing time in the movie, what a shame as there were so many ways it could have ended, unless it is simply leaving room for a gone girl 2!
October 12, 2014
Love the psychological thriller genre. Thought the acting was excellent although film felt long. Happy with the ending although it was a little quirky. Would prefer a R rating tho -a couple of young girls were watching - parents likely thought 14A rating would be ok - def NOT in my opinion
October 11, 2014
solidly awful!!! Don't waste your time and money!!!!!