Goodbye Christopher Robin - User Reviews
Thank you for rating this movie!
Read your review below. Ratings will be added after 24 hours.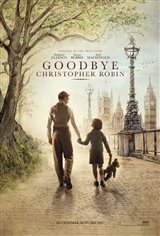 ---
Please rate movie 1 to 5 stars
Showing 1 to 11 of 11
November 11, 2017
One of my favourite films of the year! A touching biopic about how A.A. Milne came to create the stories that took us "Deep in the Hundred-Acre Wood"!
October 29, 2017
Written and filmed beautifully. Excellent acting by all. Well worth the price of the ticket to take a trip back in time to discover the makings of this favorite childhood book. Sad at times but felt very honest.
October 23, 2017
Very interesting, great cast!
October 20, 2017
HIGHLY RECOMMEND
October 19, 2017
LOVED IT!!!!!!! #DOMHNALL GLEESON!!!!!!!
October 19, 2017
Wonderful movie, loved every minute, great cast and very well written.
October 17, 2017
Will Tilston is so cute in this movie
October 16, 2017
Really enjoyed this film (TWO THUMBS UP!!!!)
October 14, 2017
Loved this movie.... Margot Robbie did a great job as Daphne Milne
October 13, 2017
GOOD STORY, NICE PICTURES!
October 12, 2017
3 1/2 stars: "Goodbye Christopher Robin" is not a child's tale, but is about the inspirations that led to the creation of "Winnie the Pooh" and the upbringing of Christopher, lovely called Billie Moon. Impressive acting by all, including Will Tilston, who plays 8 year old Christopher, A.A. Milne, (Domhnall Gleeson), mother Daphne (Margot Robbie) and Nanny Olive (Kelly MacDonald). This period piece with great costumes and cinematography captures the elements that led to Christopher's stardom, reminiscent of the Dionne quintuplets. Post war England and the world needed a diversion for the drudgery and sadness that permeated society. A.A. Milne, known as Blue, to his friends, needed to escape his demons and moved his family to the idyllic countryside. Blue had the opportunity to bond with his son and enter into Billie Moon's fantasy world of Winnie, Piglet, Eeyore and Tigger. This is a cautionary tale of war, parenthood and fame, which sparked my interest and attention.