Grace and Frankie (Netflix) - User Reviews
Thank you for rating this movie!
Read your review below. Ratings will be added after 24 hours.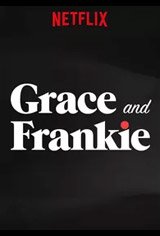 ---
Please rate movie 1 to 5 stars
Showing 1 to 27 of 27
January 22, 2017
best show I've seen ever. we laughed so hard at a couple of scenes. Jane Fonda is beautiful and funny and great acting as always. The woman who plays her daughter is outstanding and a riot. Everyone in it is stellar. Looking forward to season 2
August 23, 2016
A poor man's Frankie and Johnny.
August 22, 2016
Love this series!!!
August 15, 2016
LOVE THIS SHOW. When does the next season come out and is it on Friday nights?
February 06, 2016
this was the most refreshing series I have seen in a long time, funny, sad, it faced so many things that happen later in life. I absolutely loved it and I really really hope it comes back for season 2.
January 01, 2016
Hahahahahahahahaha! Excellent!
October 21, 2015
Wonderful series.. so funny I've watched it twice.. I can't wait for Season two!
September 24, 2015
Can't wait for 2016. Hilariously funny. Cast is perfect together. Would not of guessed Sam Waterson was so FUNNY.
September 14, 2015
everyone should watch this,it is humourous and very relevant today emphasises that the older person is still a human being with the same life issues that the younger generation has to cope with.
September 12, 2015
Best Show; Best Actors!! I look forward to watching Season 2!
September 12, 2015
I love this show! The actors and the writers for the show are amazing!! I can't wait to watch Season 2.
September 10, 2015
A ripoff! Just a couple episodes edited together to play as a feature. Nothing to see here.
September 10, 2015
A well written show. Funny, fast paced, yet also touching and moving. Great cast bringing their roles to life.
September 08, 2015
So funny. I loved loved loved and now I have all my friends hooked.
August 02, 2015
I loved this show, I got hooked instantly. Can't wait for the next season.
July 13, 2015
I want to buy it for my Mum I loved it but finding where to buy the DVD is hard.
July 07, 2015
Fabulous! Funny from start to finish. Real
June 21, 2015
We came across this a couple of weeks ago, on NetFlix and we just Love It! A fresh new approach to sitcoms today, especially. The acting, writing and dialogue are Excellent! However, If you're prudish or don't care for "colorful" adult language, then you'll probably be better off, tuning into the Waltons! We simply Cannot Wait for the next season! Great job NetFlix!
June 05, 2015
Clever, hilarious, contemporary, brilliant cast...my husband is now watching season 2 for the third time. We can't wait for season 2!
June 05, 2015
Love Grace and Frankie
June 03, 2015
I love this show !! I watch them over and over. I'll add these to my dvd collection once released. I understand a second season is in the works...I can' t wait to see them !!!!!
May 31, 2015
Great, funny love it! Looking forward to season 2, hopefully!!
May 27, 2015
This has been the best and funniest show I've watched in years. It's much better laughing then watching murder and blood and guts. Hope it goes to DVD so I can watch it any time. I give it the highest stars. Thanjs
May 26, 2015
We were surfing Netflix over Memorial weekend and came across this show. We loved it so much that we power-watched the entire season that weekend. Love it and truly hope they bring on the second season soon!
May 15, 2015
One of the best shows ever!! I can hardly wait until I can get a DVD of the show!!! Lily and Jane are just perfect! The hospital episode was so funny I had to rewatch it again and again.
May 08, 2015
Lily and Jane are amazing! Tack on Martin Sheen and SAM MF WATERSTON!!! The plot is horrible, we get that. But is it actually bad? Or are we just so used to A-list movie rolls via Sheen or old school Jane Fonda and Lily Tomlin, and Law and Order/Newsroom(and his oddly hot but not role as Sydney in "The Killing Fields") style Sam Waterston. Plus; the sarcastic, tactful, witty things they ALL say,to the more insightful age groups 23+, are hilarious! Especially if you know each actor/comedian. I love this show and hope for a second season!!!