Grudge Match
Thank you for rating this movie!
Read your review below. Ratings will be added after 24 hours.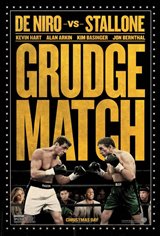 3.98 / 5
User Rating
Based on 1198 votes and 525 reviews
---
Please rate between 1 to 5 stars
Showing 1 to 50 of 525
November 20, 2015
A great boxing movie! Wildly entertaining with a top notch cast!
May 01, 2014
other than the occassional one liner here and there, the movie was boring and lacked any sort of entertainment value
April 14, 2014
sad to see studs like De Niro and Stallone make a mockery of themselves in the cheese-filled movie. Sad Sad Sad
March 15, 2014
We will need a re-match!
February 05, 2014
When does this open?
January 17, 2014
Funny, moving, and yes, even sexy! If you see one movie this Holiday Season, make it GRUDGE MATCH!
January 16, 2014
enjoyable movie
January 12, 2014
So glad my theater is only playing this at 10 p.m. -- it's sooo much more convenient! Thanks, Cineplex!!!
January 11, 2014
I felt the movie had a lot of charm and funny!! Go see it!
January 08, 2014
not much of a story. Fight scenes went too long
January 08, 2014
What a cast!
January 01, 2014
NO story Line.
January 01, 2014
Go give yout cat an enema it will be less painful than watching this cliche of a movie.
December 31, 2013
Funny movie, lots of fun.
December 31, 2013
DeNiro's best since Flawless. 8/10
December 31, 2013
Great, great flick! Stallone hasn't been this good since Rocky Balboa!
December 31, 2013
In spite of Sly's rathe wooden dialogue, de Niro made up for it. Enjoyable fluffy stuff.
December 30, 2013
Great movie........lots of laughs!
December 27, 2013
Excellent, funny, witty and a must see movie
December 27, 2013
Stallone and Deniro are to hold for that kind of movie
December 26, 2013
J'ai trouvé ce film très comique. Le scénario nous garde en suspens jusqu'à la fin.
December 26, 2013
The best movie of the Holiday Season! Stallone, DeNiro, Basinger, and Arkin are all Oscar worthy. The theater will be packed so get there early!
December 25, 2013
Excellent movie, we haven't laugh so much in a while. The way Sly and De Niro worked together made the show. Thanks for the tickets
December 24, 2013
A sports spectacular film exciting uppercuts of laughs. Academy Award Winners: Stallone, De Niro & Bassinger performances were suprisingly indeed. Strong support cast & directin was quite an unexpected suprise for me. Evander Holyfield & Mike Tyson cameos r quick jabs. *****
December 24, 2013
Good fun movie.
December 23, 2013
WE HAVE ENJOYED ALL THE WAY TO THE END- THANKS AGAIN FOR THE FREE TICKET
December 23, 2013
I enjoyed this movie. The highlights were the comedic parts (including Alan Arkin's well-timed quips and bravado banter between the boxers) however I wasn't too impressed with Kim Basinger's acting. Enjoyable take of what we may find with GSP and Hendricks' a few years in the future!
December 23, 2013
Very funny movie. Well done.
December 23, 2013
very funny. Love seeing the old guys get it on.
December 23, 2013
Exciting to see these two veterans still have it!
December 23, 2013
It is an enjoyable light comedy movie with an interesting story line about two great boxers played well by two great actors Robert De Niro & Sylvester Stallone.My curiosity was pique throughout why the big match never materialised for so many years.
December 22, 2013
Very funny and entertaining. Great acting, much more than I expected!
December 22, 2013
Great film! Must see for the holidays!
December 22, 2013
Could have been a one joke movie, but they created enough backstory to keep it fresh. Alan Arkin is hilarious!
December 22, 2013
I had a good time watching the movie. Lot of jokes. If you wanna laugh, that's the movie to see.
December 22, 2013
Having Sylvester Stallone and Robert Deniro are the right choice. Funny and entertaining. It's a bit boring on the middle for me as it too much talking. Overall, its a good movie for the holiday.
December 22, 2013
Very good.
December 22, 2013
Fantastic family entertainment. Well written with great acting. Funniest movie of the year!
December 22, 2013
It was surprisingly good. Don't need to be a boxing fan. It was hilarious and heart-felt
December 22, 2013
Good comedy quips, and great acting. Reminecent of the old Rocky movies, a geriatric Rocky. Stallone and De Niro worked well together.
December 22, 2013
I was pleasantly surprised by the entertainment value of this movie. Sly Stallone, Robert De Niro, Alan Arkin, and Kevin Hart all put in strong and convincing performances. I appreciated the theme of forgiveness and reconciliation that was present in the movie, especially the code of honor among fighters/boxers. The movie certainly wasn't lacking in humorous moments...I and the rest of the audience couldn't contain our laughter throughout the film. In summary, this movie definitely exceeded my expectations. If you are looking for some quality lighthearted entertainment this Christmas, I confidently recommend this movie!
December 22, 2013
This was a well written and acted movie. Really enjoyed seeing these actors in a new movie! I took my Dad with me and he was thrilled to see actors in a movie together. I would recommend this movie to everyone.
December 22, 2013
Excellent film, drôle, divertissant et comportant des valeurs d'honnêteté. Bonne trame sonore.
December 22, 2013
This movie was great! I brought my 16 year-old nephew who was sure he would hate it...but he loved it!
December 22, 2013
To be honest I didn't have very high expectations about this movie. Harsh, I know, but I'm a woman and the only boxing I enjoy is on Wii Fit so the concept of two aging boxers, going back into training sounded a bit like a snooze fest. I really didn't believe the concept was going to carry the movie. I am very happy to say that the movie demolished all of my previous thoughts of it and left me with a movie that gave me so much more than I expected. I was happily surprised when I realized that the movie was about a lot more than two men hitting each other. The Grudge Match was able to reach a greater audience because the moral of the story was something we could all relate to
December 22, 2013
We enjoyed the movie, great to see them in shape, great cast. I brought my dad with me he is from there era. I wouodmsay his laughs out loud and smiles said it all
December 22, 2013
Grudge match was so entertaining. Just the right mix of comedy and action. The chemistry between all the actors was surprisingly refreshing.
December 22, 2013
This movie was a blast; my friend and I laughed throughout. The not-so-subtle jabs at boxing movies of yore made the film a thing that didn't take itself too seriously, while also giving it a bigger story: imperfect people trying to make up for mistakes in their past and perhaps to have a second chance at getting things right.
December 21, 2013
Absolutely the best movie I've seen in a very very long time! Highly recommended!