Guardians of the Galaxy Vol. 2 - User Reviews
Thank you for rating this movie!
Read your review below. Ratings will be added after 24 hours.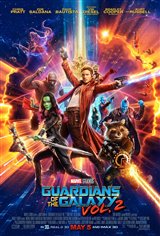 4.33 / 5
User Rating
Based on 446 votes and 125 reviews
---
Please rate movie 1 to 5 stars
Showing 101 to 125 of 125
May 08, 2017
Great story, great music, the CGI was fantastic. The humor is always a nice touch and the characters never let you down. A fast paced story with a good plot, I give it 3 thumbs up.
May 08, 2017
Pretty funny. The story wasn't the best but worth watching
May 08, 2017
This movie missed the mark very badly. Yet another movie where everyone in Hollywood shows up. Stallone was horrible and unnecessary, Russel was tolerable. The story line was beyond dumb and took forever to get going. How does an all powerful being end up in a fist fight ?? This was the "in between" movie where everything is explained and worked out so other movies can follow. Took their Que from SNL and overworked every joke. Even Baby Groot and Rocket couldn't save this mess.
May 08, 2017
Weak and predictable, first one was so much better, I would wait for dvd release, not worth the price of admission.
May 08, 2017
Yes alot of special effects, but as the characters go, not as much needed to develop characters, making the movie more action packed and faster paced. The special effects and scenery is amazing. Loved it.
May 07, 2017
Great action, funny, well done.
May 07, 2017
Great movie and story, went by fast. Long wait for the next one.
May 07, 2017
The first one was better. Having said that, this movies was light hearted, funny and a general feel good film. It doesn't take itself too serious. Enjoyed and laughed watching it.
May 07, 2017
They missed the mark - should have had more dialogue between the incumbent main characters. Stallone and Russell should not have been in this movie - they're past their expiry date and are painfully predictable. CGI special effects good but excessive and too rapidly paced. Vintage music selection could have been better - there is a lot of good music out there folks.
May 07, 2017
The first movie was amazing. This one wasn't. Plain and simple. Very surprised. They tried to hard to make it funny and while the special effects were great, it's all stuff we've seen a million times. Marvel, take a break we're super hero'd out.
May 07, 2017
Thought the movie was good fun...don't know what people expect ...it's a fantasy action..lots of special effects and some laughs thrown in..I really enjoyed it !!!!
May 06, 2017
great movie! story was great, details and cgi were bang on and had some good laughs. Well done.
May 06, 2017
One of the best movies ever. Definitely recommend it.
May 06, 2017
Love the first one , love the second one .
May 06, 2017
I can't wait to watch the third one.
May 06, 2017
I am groooo!!!! Funny movie.
May 06, 2017
The movie is amazing! There's a lot of moments that want to make you cry so hard and a lot of other moments that make laugh so hard it hurts.
May 06, 2017
WOW!!!! IT'S SO AWESOME !!!!
May 06, 2017
Horrible... Sylvester Stallone - seriously ?? How do you take a poorly acted movie in general and make it worse - Put Stalone in it for 5 minutes. Action was ok but the dialogue was horrible. The movie was actually - boring !!. Quill's "family" issues went on for ever. Ego's ... "Purpose and meaning" went on forever. Hard to watch, minimal laughs. Thank God for Draxx and Rocket
May 06, 2017
Very disappointing. They tried to tell everyone's story and failed. They tried to bring in a son and dad story that was so outlandish and stupid, it failed. Even worse was the back story to Quill, his dad and his father (yes there's a difference) and it just kept dragging on and on and on and on... I felt like yelling "Get on with it !!" Most of the comic relief came from Draxx and Rocket, and that failed. Believe it or not, they even managed to under use and screw up baby Groot. The 3d was hard to follow and there was a common grumbling about it. This movie was messed up...
May 06, 2017
Are you people serious. 4 stars The 1st was pure genius. Saw it 20 times. The best songs the best dialogue the action. What happened? Right from the beginning stupid scenes even more stupid was all these lousy songs. The verbal banter was pure dribble. Like Men In Black, the first was beyond compare then its all downhill from then. My advise wait for it on Netflix.
May 05, 2017
Awesome light fun - highly recommend!
May 04, 2017
Was fortunate to be invited to an early screening of the movie. We loved it! It was humorous, action packed and very entertaining. The music was great and Groot was so well done - demonstrating the behaviour of an adorable, young child.
May 02, 2017
Saw an advanced screening and loved it!
April 29, 2017
Guardians of the Galaxy Vol 2 is a fun Sequel, saving the Galaxy Again with the Original Cast!! BABY GROOT RULES!! I AM GROOT!! Go see this movie in Theaters