Hamlet 2
Thank you for rating this movie!
Read your review below. Ratings will be added after 24 hours.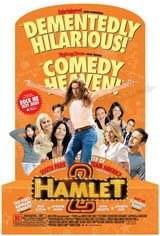 ---
Please rate between 1 to 5 stars
Showing 1 to 19 of 19
July 28, 2010
Even better than the original!
July 28, 2010
I can't think of a single bad thing to say about this movie. I was so sad when I had to return it. Everyone in this movie is fantastic, especially Steve Coogan as the clueless and boundlessly energetic and emotional drama teacher. He is a really good actor, and it seems ironic that it would take one to play such a bad actor. Oh man. I want to start watching this again, right now.
September 21, 2009
this is a crackup. reeled me in and belted me over the head with humour.
September 12, 2008
Great movie! Really liked the musical...I kept singing sexy jesus long after it was done!!
September 07, 2008
how do movies like this get released, it stinks
September 05, 2008
The most miserable film I have seen this year. Worse than getting cancer.
September 04, 2008
i gave it a 3 star only because steve coogan makes me laugh even when standing still. the movie not so good, hope to see steve coogan much more, he was terrific in tropic thunder and is the new comedic hopeful. kudos to the coogan... N.D
September 03, 2008
This movie made me laugh and laugh. It is great!
September 01, 2008
If there was a 0 stars I would use it, just bad, NOT AS BAD as "Step Brothers" but close.
September 01, 2008
If you had a no star category I would have picked that. I don't know where they got the people to subsidize this movie. It was bad.
August 31, 2008
If you pay attention, you will find it funny. Look for facial expressions and look at the background as well as the foreground. Also, the last thirty minutes of the movie are pure gold.
August 31, 2008
very funny, steve coogan rocks
August 31, 2008
Looking forward to the third part of the trilogy.
August 30, 2008
It is about time North Americans started paying more attention to Steeve Coogan.
August 30, 2008
92 minutes of my life that I will never get back...all I wanted was a laugh...by the end of it I was just hoping for a smile...love movies...just not this one.
August 29, 2008
Boring movie with no cast member that I could relate to or find likeable enough to stay past the first 30 minutes.
August 26, 2008
Better than the original.
August 23, 2008
A comedy that falls short of laughs although the actors try hard,it is just not very funny or sarcastic enough.The concept of making fun of the"inspirational teacher" that can change the lives of his students is ripe for a parody,this is not the movie.ME
August 22, 2008
A funny musical type movie with great comedy to it. Look for more of my reviews. E.B.A.