Harry Potter and the Prisoner of Azkaban - User Reviews
Thank you for rating this movie!
Read your review below. Ratings will be added after 24 hours.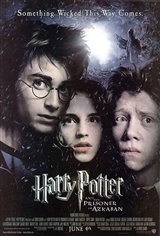 4.44 / 5
User Rating
Based on 30894 votes and 475 reviews
---
Please rate movie 1 to 5 stars
Showing 1 to 50 of 475
February 03, 2011
another awesome potter film!
November 25, 2008
This movie introduces the character of Sirius Black and the actor, Gary Oldman. This proves to be a pivotal transition in Harry Potter's life; finding some person who finally shows him love as a father/brother figure. It's very powerfull. Getting to this end, though, Harry meets a new professor who teaches him a most powerful spell; one which gives Dumbledore new clues as to Harry's growth as a very powerful wizard. Amazing special effects!! Still, the film didn't reflect the book in several ways, which was disappointing.
June 09, 2008
THIS IS THE BEST SERIES!!!!!
February 06, 2008
i think harry potter is a good actor
July 04, 2007
Don't bother, this one's even worse than the last one.
June 30, 2007
These movies are terrible! Put the series to bed already!
June 03, 2007
It was scarier than the First 3.
March 10, 2007
I found it more entertaining than the fourth one.
December 19, 2006
This movie was great and preatty entertaining but I think that the filmmakers could have worked on making it a bit closer to the book. I liked it though.
October 12, 2006
This film has got a much darker feel. Part of that is a new director and Harry`s world is really turning upside down. It might have some scary elements for younger kids. So some that saw the first two might find this one too scary. But older fans of the series will be waiting to see how the book translates into film.
April 18, 2006
This is what I describe the movie as. A puzzle. They took the book, choped it up into tiny peaces, and put everything in the wrong spot. Nothing was were it was supposed to be. Harry is NOT supposed to get his new broomstick at the very end of the movie. They took out parts and added new ones that didn`t make sense! In other words, this movie was horrible. Did you think of actually reading the book before making the movie?
December 21, 2005
REALLY!!REALLY!REALY AWESOME!!!!!!!!!!! I never watch this interesting movie.Well done Harry and Hermione!!You are agood actress.I love you two.
December 21, 2005
i think thisfilm is great.futhermore Daniel Radcliffe is my favourite actor.
December 16, 2005
DEFINETLY BEST EVER
December 01, 2005
wicked!!!!!!!
November 16, 2005
outstanding!!!
November 14, 2005
amazing!...very, very, very smart!
November 12, 2005
best movie ever made!....i cant wait till the goblet of fire comes out!.....
November 08, 2005
best....movie....ever!
October 24, 2005
My favourite movie of the year, by far!
October 22, 2005
"best movie EVER!!!!!!!!!!!!!!!!"
October 16, 2005
"best picture of the year"
October 08, 2005
so cool!!!!!
October 05, 2005
I think the movie was great!!!Daniel defiantly suits the character Harry. And i can`t wait till the fourth one comes out. And i wish that i could meet Daniel,Rupert and Emma.
September 03, 2005
BEST MOVIE EVER!........TRUST ME, ITS WORTH $9.95
September 03, 2005
"AMAZING"...."BEST MOVIE EVER MADE".....with just the right amount of movie magic!
August 29, 2005
best picture of the year!
August 25, 2005
"action-packed!"
August 22, 2005
BEST MOVIE EVER MADE!
August 15, 2005
It was ok, but for people like me who have read the books, they left way too many important scenes out from the book. I was disappointed that they did not show Gryffindor winning the Quidditch cup. Many parts were all twisted and messed up. The next movie should stick closer to the book and consider the people who are big fans of the books. This movie was a let down, but still fairly good.
August 02, 2005
i voted 11,026 times exactly!!! five stars *****!!!!!
July 30, 2005
wow!!!!! NOT for kids, but still a really amazing movie!!!
July 19, 2005
breath taking, amazing, outstanding, entertaining, wonderful, best movie of the year, worth your money, and best of all...its alot better then spider-man 2!!!..........GO SEE HARRY POTTER AND THE PRISONER OF AZKABAN!!!!!!!!!!.........
June 11, 2005
Harry Potter and the Prizoner of Azkaban was the best Harry Potter movie ever I can`t wait for the next movie to come out and I hope the actors continue doing the movie sirise
June 04, 2005
I didnt really like this one. the second one was better plus they didn`t show Gryffindor win the quidditch cup
May 10, 2005
Fantastic, i like how they changed the uniforms
May 03, 2005
amazing!!!!!
April 16, 2005
This movie rocks! Its the best Harry potter movie. I find it very inspiring.Now Im gonna become an actress
April 05, 2005
I love this movie. It inspired me to be an actress. So far, this is the best Harry Potter movie yet.
March 18, 2005
i thought this director knew exactly how harry felt in this movie, i think he portrayed his emotions to a T. i would liked to have seen more parts from the book and a dumbledore that more closely remsembles the ones from the first two. the scenery should have been kept the same as the first two movies. (why is hagrids hut at the bottome of a hill and the whomping willow in a differnt place) other than that, awesome movie 5 stars. book was better
March 14, 2005
harry is hot yo!!!!!!luv ya danial radcliffe
March 06, 2005
All I can say is I LOVEEEEEE THE book and the movie didn`t do enough justice with it...I think they change too many things in the movie because I certainly dont remember that happening in the book...OH! WELL!!
February 21, 2005
it stunk no wonder i didnt read tha book
February 05, 2005
GREAT BOOK GREAT MOVIE BUT IT COULD HAVE BEEN LONGER I MEAN THE 2ND MOVIE WAS LONGER THEN THE 3RD MOVIE AND THE 3RD BOOK IS LONGER THE THE 2ND BOOK SEE WHERE IM GOING WITH THIS?? LOL BE HARRY POTTER. BE ALVIE!
January 22, 2005
wow i love the movie Harry Potter. i really wish that Daniel, Emma, amd Rugert will sign their name on my book. and i love the movie its also great!!! and wonderful!!!! i love Harry Potter and 2fast2furious. Harry Potter and 2fast2furious is my favorite movies. Daniel, Emma, and Rugert are the young actors. i wish i could see them somewhere and ask them questions about the movie. i will buy the movie. i so great!!!!! :) :) I love the movie. from Clarence
January 02, 2005
The movie good but not great. The acting was fine but the colors in the movie were so dark! The lighting was very gloomy. And I didn`t like the fact that they didn`t wear the uniforms at all. I didn`t really mind that they cut out a lot of parts from the movie, or else lots of peoplec would have complained about the length.
December 21, 2004
It was the best movie ever. Daniel,Emma, and Rupert were all great!!I read all books and they all been real grreat!! Hope the next movie is much better and I can`t wait for the sixth book..Wonder what its gonna be.I LOVE HARRY POTTER BOOKS AND MOVIES!!