Hobo With a Shotgun - User Reviews
Thank you for rating this movie!
Read your review below. Ratings will be added after 24 hours.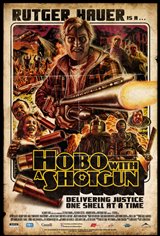 ---
Please rate movie 1 to 5 stars
Showing 1 to 46 of 46
October 27, 2018
It's a very good movie besides one scene I really enjoyed it
August 08, 2011
This film delivers on all counts. I don't understand why people were shocked, horrified, and disappointed (etc). After all, it is titled "Hobo with a Shotgun". What were you expecting from a movie with that title? "Gone with the Wind" it's not.
July 29, 2011
Pointless poop. ): Movie for simpletons.
July 21, 2011
by far the worst movie ever made,anybody that says they liked this crap is a liar or has an IQ of less than 1
July 10, 2011
If I could give it 0 starts, I would.
July 06, 2011
very bad c or d movie
June 27, 2011
Fantastic Film! I'm not sure where all the hate is coming from but I'm fairly certain it's from people who are unfamiliar with film as an art form. Look beyond the gore, and look (and listen to) the shots and sound of this film. It's clearly an homage to campy 70s and 80s B-movies. There is more to film than just the story and what's on the surface durrrr.
June 18, 2011
stupidest piece of crap ever.
May 28, 2011
I would give this movie negative stars if permissible. Worst piece of crap movie I have ever watched, and I've endured a Van Damme marathon before. This movie is an embarrassment to Canadians.
May 17, 2011
My god, this movie was the WORST piece of crap I have ever seen. The only part I laughed at was Ricky from TPB with the manhole cover somehow around his neck!
May 17, 2011
Oh man this thing was crap. The WORST.
May 15, 2011
BEST MOVIE OF 2011!!!! People who don't like this are either stupid, slow, and should go watch Bridesmaids
May 06, 2011
So much fun - didn't take itself seriously so why did so many viewers? I had a blast.
April 10, 2011
Rutger Hauer is the MAN!
April 09, 2011
By far the worst movie I have ever seen. It was extremely brutal and gory but that was not the problem. The story was absolutely terrible. There was so much promise but they couldn't even get a solid plot line going. It was nothing but non-sense and brutal violence. Everyone that left the theatre was complaining. This is the first time I have ever seen that!
April 08, 2011
Awesome !!!!! As expected for this genre of movie... I'm sure Tarantino and Rodriguez, and even Peter Jackson will appreciate their legacy and influence on this movie.
April 07, 2011
Great mix of violence and gore. Definitely NOT for the squeamish.
April 07, 2011
Without a doubt, one of the worst movies I have ever seen.
April 06, 2011
This movie was horribly shot and insanely violent. I felt like I was watching a film by a student filmmaker who will go on to become a serial killer.
April 06, 2011
This movie was gratuitously violent and hard to stomach. So go see it if you like that sort of thing.
April 05, 2011
terrible... thats its just terrible ...save your money!
April 05, 2011
Awesome! Awesome! Awesome!!!! This movie is everything it's trying to be. Like someone else said, "the most fun i had at the movies in a long time". Its a million times better than I expected. Holy crap!!!
April 03, 2011
not so good
April 02, 2011
Bad even for a Grindhouse. It had so much more potential.
April 02, 2011
should have been funnier
April 01, 2011
THE MOVIE WAS EXCELLENT ESPECIALLY FOR A 1ST TIME DIRECTOR!!!!
March 31, 2011
If people ranked this movie poorly, it's a) because they don't understand the genre or b) they have no sense of humour. period.
March 30, 2011
a baboon could of wrote a better script...and terrible acting too.
March 29, 2011
Bloody, over-the-top violence, lots of comic relief, and even some very touching scenes between the Hobo and Abby. I loved it, and I'm not a fan of grindhouse. Outstanding.
March 29, 2011
My husband & I middle aged frequent movie goes. Found this the worst movie we have ever seen. 40 minutes into the movie we walked out. A hobo seeing a town under siege by the bad guys basically. Then finally doing his own justice. However even rated r or not the amount of violance makes this in my love-all-movie: In all my years of movie going this is the worst Ever. I would not wacth it on a tv. Screen so save your money!
March 28, 2011
Great gore.
March 28, 2011
Outstanding. No need to disparage those who voted low... they don't get it. If you grew up with horror and explotation flicks in the 80's and enjoyed true 80's grind house.... you're gonna love it. Most fun I've had at the theatre in a long time. MUST SEE
March 28, 2011
Fabulous gore and fun comedy all rolled into a pretty and colorful package. It's grindhouse people, stop trying to compare it to your precious Saw-esque movies
March 28, 2011
Really fun. For entertainment, not to be taken seriously.
March 28, 2011
awesome!!!
March 28, 2011
Awesomely fun!
March 27, 2011
don't waste your money
March 27, 2011
No words are needed to describe this movie, just read the title. Like `Snakes on a Plane`,the title describes this movie perfectly. Not for the squeamish, this film deals with its subject matter with a sense of style and humour.
March 27, 2011
I thought it was really fun. It is trashy, offensive, and stupid, but on purpose. It was like an old Troma movie. I liked it very much!
March 26, 2011
disturbing. disgusting. sick minded people.
March 26, 2011
Bad to worst. I walked out of this socalled movie after 20 minutes. Everything was bad from screenplay to acting to cinematography. Why is Rutger Hauer in this?
March 25, 2011
bloody!!!!
March 23, 2011
the best u go hobo
March 23, 2011
Can't beleive Rutger Hauer agreed to make such a stupid movie. Any body that is dumb enough to pay to see this movie if you want to call it that, should have their head examined.