Hot Tub Time Machine - User Reviews
Thank you for rating this movie!
Read your review below. Ratings will be added after 24 hours.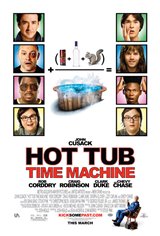 ---
Please rate movie 1 to 5 stars
Showing 1 to 50 of 67
November 27, 2011
i laughed but its not a movie id watch again...
June 02, 2011
Very funny, written by genius. No its not for kids or people with a stick up their a$$. Must be some kinda...Hot Tube TIme Machine
January 11, 2011
If you enjoy boorish & sexist behaviour, bad language, stupid concepts, this is your movie. Absolutely awful.
January 06, 2011
New favourite comedy!
September 28, 2010
OK, I laughed a couple of times, but spent most of my time in the theatre wondering how to ask for my money back. This movie is a Hangover wannbe: four buddies (well, three pals plus a family member) go someplace unusual and spend all their time trying return to their normal lives. Lame jokes, sick gags and predicable storyline. It was possible to live through the 80s without big hair, leg warmers and chewing gum.
August 20, 2010
terrible, boring,not funny. Very very disapointed in John Cusack. Yeah it's crude, but I can handle crude if there is humour to balance it - there isn't. The 80's music was fun though. This movie might appeal to 14 year old boys, but they won't know any of the 80's references.
July 30, 2010
Although a bit silly and disgusting at times, it still made me laugh out loud several times. A good comedy.
July 21, 2010
This movie was just downright hilarious
July 16, 2010
HILARIOUS!!!!
July 05, 2010
complete waste of time . Junk
July 02, 2010
silly, a bit stupid, but a lot of laughs - hey, the 80s were funny times and this movie, while a bot over-the-top, pokes some good fun at it.
July 02, 2010
wasn't complete garbage. but is was a bit silly. I liked it more then I thought 4 stars.
June 29, 2010
very silly, and very funny!!!!!
June 09, 2010
best goddamn movie ever,
May 18, 2010
really disappointed in John Cusack for such production. movie kind of funny but very dirty
May 17, 2010
RUN! FOLKS YOU DO NOT WANT TO WATCH THIS! what a disgrace to the art of film making!
May 17, 2010
Can't stand the constant swearing of F words in this movie, argh! so painful on the ears!
May 17, 2010
HOT TUB equals HOT FUN - a load of laughs
May 16, 2010
wow John Cusack i was not thinking of you being in a 18A movie thats sucks John John you can do better than this
May 15, 2010
this movie sucks omg waste of time i wish i can give this movie a zero save ur money people trust me
May 13, 2010
come what a waste of time and money dam who ever gave this movie one star did the right thing
May 13, 2010
It's called "Hot Tub Time Machine" what did you expect? Dumb fun, sick jokes, friggen loved it! So campy!!
May 10, 2010
Totally agreed with other netgative reviews, so bad i feel the whole movie was disconnected and broken coworker recommended this only to find out he didn't even watch it in the first place. BOO!
May 10, 2010
So disgusting I wanted to get my refund crude John Crusak really disappointed me in this dirty movie
May 07, 2010
John Cusack what were you thinking. Movie choices like this will surely place you in the "B" movie category in no time. The blow job scene with soap all over his face was so uncomfortable to watch and that is just the tip of the iceberg. The whole movie was disgusting. It would be interesting to know just how many F-bombs are in this movie.
May 07, 2010
1 star only b/c I can't choose a "0". this is the worst movie I have seen in years and I have voiced that to many people. I cannot believe John Cusack is affiliated with this movie. Exactly how many F-bombs are in this movie. I was expecting so much more humor than trying to get a laugh through just plain crude. The star rating above shocks me.
May 07, 2010
Not worth the money~ Get rental
May 05, 2010
Bad, Crude, Low-class, Horrible movie, I saw people walk out because it's so bad! There's constant swearing, you will hear F word almost every other 5 seconds Disgusting scenes where you see puke, semen, dog crap.. everything was so low class, they should make this movie illegal.
May 03, 2010
funny, funny, movie. Not for the weak of stomach. At times the movie was a bit silly - but there are some classic comedic scenes as well.
April 13, 2010
My friend and I left the theatre after 30 minutes of misery. Perhaps funny for those who don't have a weak stomach, but not funny at all for us. It was stupid comedy. But what did it was the grossness of one scene after the other. The vomit scene was more than gross. That was the cherry on top and we left at that point. It is the worst movie we have ever seen. Luckily we got our money back.
April 09, 2010
This was a very predictable movie, but very funny at the same time. There is actually a storyline to it. Loved the old songs and the ending is the best! If you just want to laugh, head out to see thid movie.
April 09, 2010
if you want a good laugh then this is the movie you need to see!!
April 08, 2010
awesome! When i saw the preview i thought wow another stupid Will Farrel type movie, and for some of the movie it was pretty stupid but it had a story line and a great cast. A definite watch!
April 07, 2010
A very funny comedy, more people should go see this one
April 07, 2010
Brainless, but very funny. A good time spent at the movies.
April 06, 2010
Rob Corddry totally nailed his character like a Pro Actor! He deserves at least a Golden Globe nomination for this! The other three lead actors were great too, but Rob is simply the best one in this comedy!
April 06, 2010
I hated the hangover, and I thought this would be retarded as well. But it wasn't. Soooo Funny. Totally takes you back to the 80's. Definately a must see
April 06, 2010
Great movie, the humour is almost up there with the hangover! Love the Lougle joke man, it's awesome!
April 05, 2010
Oh so totally gross but funny!
April 04, 2010
exactly what you should expect from the previews. It is funny, stupid and just good old great fun
April 04, 2010
watch this movie if you just want a laugh...don't expect too much from the storyline
April 03, 2010
John, John what was that? I thought you had more in you than that. No dialogue unless you think the f-bomb is clever? If you do....
April 03, 2010
Funny movie, worth a go or rent have it your way.
April 02, 2010
Just...boo
April 02, 2010
If you are 40 years old or older, don't bother. Rude, crude and delivers to people who have a sick sense of humor. Yes a few funny moments, but overall sick. As per another reviewer, I can't believe that Cusak would not only act but produce such trash. He must be hard up for work. BC Canada
April 02, 2010
This was a horrible movie; we left just after they got to the lodge. I don't know why John Cusack would have to associate himself with something like this!
April 01, 2010
The acting was OK but even though the male actors might have thought they gave it their all it just Seemed they were only giving 85% out of a 100. There was a few Funny moments but as other Reviewers were saying - it wasn't That funny!! Another Reviewer said that it didn't live up to the hype and I now see why! In the Trailer it seemed it was going to Be funnier. It just had such Fantastic potential like Back to the Future movie but even Better. I'll say that I greatly admire the young kid that played one of the actor's nephews. He had a solid stable head on his shoulders and wasn't swayed by the Debauchery of the other actors!! I Love when he said, "That sounds So; exhausting!" I loved
March 31, 2010
This movie is hilarious, laughed the entire time. Not much of a story but the msg is clear life is short so make the most of it.
March 31, 2010
This was one of the funniest movies I have ever seen. It was refreshing to see this truly clever and well acted script.
March 31, 2010
DO NOT.. I repeat DO NOT go see this movie, it is LAME! If I could give it negative stars, I would. There's one good laugh in the whole movie. I don't even recommend you rent it when it comes out. Just avoid it. Period.