Hotel Transylvania - User Reviews
Thank you for rating this movie!
Read your review below. Ratings will be added after 24 hours.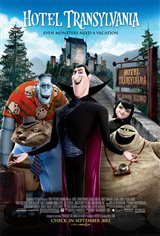 ---
Please rate movie 1 to 5 stars
Showing 1 to 31 of 31
March 14, 2013
this one hit all the right spots!!!!
February 07, 2013
As far as animated movies goes.. I was not to impressed with this one.
January 30, 2013
Lots of fun. GOod times for all;
January 25, 2013
Great, great movie for the whole family. Kids are sure to enjoy this as well as teens who don't mind watching cartoons.
January 25, 2013
Hotel Transylvania is a great movie to go see with the family, it's fun loving characters and story line will be loved by all ages. The characters were meant to scare us, have been brought from scary to funny, in this animated comedy. Dracula, played by Adam Sandler is probably the most enjoyable character in the film. The movie tries to articulate the same message that was once explored in Monsters Inc - there is no reason to be scared of the monsters under your bed.
November 19, 2012
Awesome movie and it was my favorite movie for 2012!!
November 11, 2012
It was great! It would be 5 stars if they didn't put the song im sexy and I know it in a kids movie. How about a different song. But the movie was great!
November 10, 2012
cooooooooooooooooooooooooooooooollll! to cool! love it
November 10, 2012
it is cool it roks
November 04, 2012
Slow at times but a good movie
October 27, 2012
AWESOME!!!!!!!!!!!!!!!!!!!!!! HILAROUS
October 08, 2012
Exciting movie, lots of fun!
October 08, 2012
A great movie for kids and fun for all the family!
October 07, 2012
I took all three of my kids to the movie and only my 8 year old enjoyed it. My 12 and 13 year olds thought it wasn't that funny and kind of boring. I think it's more geared to a younger audience.
October 07, 2012
Incredibly funny, my 4 year old son and I laughed through the whole movie!
October 07, 2012
It was a good movie the 3d were bad they should of never play lmfao sexy and I know it in it It too dirty for a kid ,s movie .
October 01, 2012
Awesome animated horror film. :)
September 30, 2012
some of the one liners misfired if you want to know a better halloween movie for kids see paranorman!
September 30, 2012
Adam, its time to go home!
September 30, 2012
hotel Transylvania is a cute kids and adult film I like the part where dracula lets his daughter Mavis be with the Human Jonathan
September 30, 2012
great stars
September 30, 2012
Funny movie
September 30, 2012
Stay home and rent MAD MONSTER PARTY.
September 29, 2012
best movie ever!!!!!lol
September 29, 2012
Adam Sandler should just retired! His career is almost over
September 29, 2012
Another film built on familiar elements (overly protective dad; adventurous daughter; opposites attract romance; the realm of monsters and the supernatural), but director Genndy Tartakovsky (Dexter's Laboratory, Samurai Jack, The Clone Wars) takes these elements in a fresh, more Tartakovskian direction and the result is both heartwarming and hilarious.
September 14, 2012
funny cast hilarius, great animation
September 12, 2012
good movie
September 12, 2012
great movie! i saw the premier, so good!