How High - User Reviews
Thank you for rating this movie!
Read your review below. Ratings will be added after 24 hours.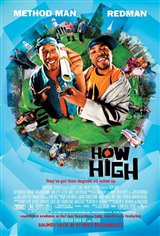 ---
Please rate movie 1 to 5 stars
Showing 1 to 37 of 37
June 30, 2010
This was a really funny movie. I recommend to all people who wanna sit back and have a good laugh.
July 20, 2009
I LOVED THIS MOVIE
February 05, 2009
thats the best get high movie ever
August 24, 2006
The DVD commentary for this film is the single funniest thing I have ever heard.
January 18, 2005
Best stonehead movie ive ever seen. If your not all ready high, it makes you want to get high.
June 28, 2004
How high is another ultimate stoner movie, show true stoner pride !!
November 25, 2002
this movie is the best thing all the hood movies
November 25, 2002
this movie is the best thing all the hood movies
March 17, 2002
i thought that this movie was okay. not the greatest plot. it`s funny @ times but u should wait for it on video
February 16, 2002
Just like rap music, this movie lacks creativity and talent. Dont waste your time, save the money and bang your head against a brick wall for the same effect.
January 27, 2002
How High was the funniest movie I have ever seen! I laughed the whole way through! If you don`t like weed movies, this one isn`t for you!
January 26, 2002
This movie was kinda stupid ...but it had its hilarious moments
January 18, 2002
This movie sucks. It talks about drugs from the beginning to the end.
January 16, 2002
I was the best movie I`ve ever seen. 5 stars. The best ever
January 12, 2002
This movie was jokes!!...its good for a laugh
January 11, 2002
5 STARS? i don`t think so. the plot is so stupid and those dudes can`t act at all! what a waste of my own money and time!
January 08, 2002
It was hilarious! but it is just a laughing experience not something you take with you after you leave the theatre.
January 05, 2002
rappers in a movie, Enough said.
January 04, 2002
STUPID STUPID STUPID movie!!!! Really stupid!!!! And boring!!!
January 02, 2002
sike movie bredrons
January 01, 2002
IT WAS THE BEST!! OMG.....METHOD MAN AND REDMAN ROCK!! THIS MOVIE KIX @$$... GOTTA SEE IT PEOPLE!!! IT`S THE BEST!! :)
January 01, 2002
one word "DUMB," some of the jokes were good for a laugh...but they continued the story and they were getting boring and not funny at all, you`ll see yourself looking at the screen and just wonder why you spent your money in the whack-movie...better watch it when your twist...
December 28, 2001
This was by far the worst movie I have seen all year. I can`t believe that there are people out there who found it even remotely funny.
December 26, 2001
Amazing! One of the best comedies out there now!! Beats all the pot-related movies out there!
December 26, 2001
a sick movie why isn`t it at all Famous players the only theatre that has it is the one at lawernce & Markham
December 26, 2001
A Suggestion For To see thes Movie Pls Watch It When Your high
December 25, 2001
this movie rox........ gotta see it...... if ur over 50+ dont see it...... muah ha ha ha ha....... sucker!
December 25, 2001
its was da best!!! DA BOMB!!!!!!! gotta see it.....
December 24, 2001
better than the director`s cut of booty call... which was pretty fabulous...
December 24, 2001
It was ok.
December 21, 2001
I think How High is a great movie. I don`t understand why famous player, Cineplex and Silvercity don`t play this movie. Does it contain some kind of discrimination?
December 21, 2001
I t was the best movie dudes, but too bad that they`re aren`t too many white people man
December 21, 2001
if your over 35 its not for you
December 21, 2001
A great flick! guaranteed laugh
December 21, 2001
YO! I HAD TO SEE THEY MOVIE CUZ I LOVE RED/ METH!U SEE IT TOO
December 21, 2001
Because it was a non stop comedy trip I loved it
December 21, 2001
Finally, Red and Meth have RETURNED to the big screen