How to Lose a Guy in 10 Days - User Reviews
Thank you for rating this movie!
Read your review below. Ratings will be added after 24 hours.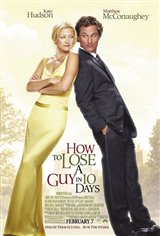 3.28 / 5
User Rating
Based on 5043 votes and 120 reviews
---
Please rate movie 1 to 5 stars
Showing 1 to 50 of 120
January 29, 2007
i think its a cute movie, good romance, good laughs, perfect chemistry, amazing face value, and a good entertainer.
July 10, 2006
This is the cutest movie ever! i love it so much and matthew mcconaughey and kate hudson are adorable together!!
April 14, 2006
This movie was SO STUPID!!! AND CHEAP!
March 19, 2006
I guess if you bothered to watch this movie you expected to like it. As for people that aren`t interested in seeing it, don`t. You`re doing yourself a big favor. There can only be a few movies as good as Pretty Woman and the like, and this movie definitely isn`t. Also, just because romantic comedies were good in the late 80s and early 90s, doesn't mean they will better if you start saturating them and watering them down; they lose their authenticity.
March 19, 2006
I ABSOLUTLY LOVE THIS MOVIE! MATTHEW IS SOOOOOOOOOOOOOOOOO HOT! I LOVE IT:
September 28, 2005
How to Lose a Guy in 10 Days is absolutely brilliant!!
August 09, 2005
matthew mcconaughey is absolutey the sexiest man alive and he and kate are so cute together in this movie
July 22, 2005
I loved this movie. Kate Hudson and Matthew McConaughey have great on screen chemistry. This film is predictable, but it`s funny and sweet.
December 14, 2004
i absoulutly loved the movie, it`s the best movie i`ve ever seen
December 01, 2004
I absolutely love the movie. I`ve watched it time and time again. =)
September 06, 2004
I loved the movie and would like to know who designed the yellow evening gown she wore to the diamond party!!!! Please let me know where I can find the pattern to make it or where to buy it!!! Thank you,
January 17, 2004
this is the best chick flick i have ever seen i give it five stars, its a hilarious movie!!!
December 21, 2003
2 thumbs DOWN!
October 25, 2003
Just one of those chickflicks with bad humour and obvious storyline. I couldn`t wait for the movie to end.
October 09, 2003
A terrific date movie. It was so good that when it came out on DVD my girlfriend and I rented it twice.
September 13, 2003
Bad storyand script, not counting the performances.
August 20, 2003
Kate Hudson and Matthew are great together, this is such a great movie. i Loved it!!!!!!
July 22, 2003
I loved it!,it`s the Perfect idea to finally make a movie about the Battle of the Sexes! Loved It!!!!
July 11, 2003
I thought it was a real fun movie. One of the funniest comidies I have seen in awhile!
July 11, 2003
It is fun! I laughed almost all the time. It is a very fun and great movie, the best movie I have seen.
July 08, 2003
It was absolutely fabulous and I LOVED it. I will own it when it comes out on DVD. It`s chique, sexy, bold and outright entertaining. It`s not just a chick flick, it`s a battle of the sexes.
July 04, 2003
Just Great! I loved it. One of the best romantic funny movies I have ever watched. Kate is adorable, and Matt... well... just yummy!
July 03, 2003
From what I saw in the previews I thought it would be really good, But the best parts they show in the previews!!! I like this movie, just dont go with high hopes. Great movie for Seniors!
June 04, 2003
Somewhat mediorce. A few laughs but predictable. A bit silly in places and the expected make up scene at the end is somewhat contrived.
May 29, 2003
Really...how to bore a guy in 10 min
May 05, 2003
Very funny. Very predictable. I liked it!
April 26, 2003
i really liked the movie. not too mushy and a good movie to see with your guy
April 22, 2003
very romantic! it is good! they lok soo cute together, it was very romantic, it makes you fall in love!
April 20, 2003
I absolutely LOVED this movie! When Andie is desperately trying to `lose` Ben, her behaviour is so hilarious - yet, there is a ring of truth to her actions. Although the final destinations is a common one, the journey is worth the ride. Definitely one of my favourite "chick flick" movies since Legally Blonde. Don`t go in expecting some intellectual film, but in terms of entertainment value, it`s sheer joy.
March 18, 2003
This movie was fantastic! Kate and Matthew make an excellent pair on screen. It was absolutely hilarious! Everyone in the theatre was cracking up! And for those of you who think all movies are predictable, we`d all like to see you think of something completely orginal! The spelling and grammar on this site is horrendous. This is why people should stay in school!
March 14, 2003
I laughed and I loved it! Great chick flick!
March 13, 2003
typical chick flick ending. it had its funny moments, its really funny moments, and its really really really funny moments. it was better than i thought.
March 13, 2003
That movie was amazing! kate hudson lit up the screen. that was defenitly one of the best movies i`ve seen in a long time...it got mushy at the end but that happens in all "chick flicks"
March 12, 2003
That movie was da bomb!I went with some friends and they loved it too!Usually I dont enjoy a movie unless my boyfriend is with me, he couldnt go and I still think it is the best movie I`ve ever seen! Great work to everyone who helped produce this movie!
March 11, 2003
HOW TO:WASTE MY MONEY IN AN HOUR AND A HALF!! - go watch HOW TO:loose a guy in 10 days!! I`ve never watched a movie this stupid, it didnt blow me off. I`ve seen wayyyyyy better movies! i wouldnt spend a penny on that movie ever again..
March 10, 2003
This movie was absolutely hilarious, for girls and guys(even thought the guys wont admit it). Very perdictable but you will laugh from start to finish, Kate and Matthew are a perfect comedy match!!!! Worth seeing on the big screen!
March 10, 2003
A fantastic movie. Fun fun fun!!!A joy to watch--took my 78 year old Aunt, and my 75 year old Mother...they LOVED it!
March 05, 2003
I think the guy was very cute and it`s really good
March 04, 2003
It was cute, that`s about it. Not worth the $13 I paid to see it. Wait for rental. I have to say though, you people need to stop watching movies and go back to school. The grammer and spelling on this rating section is atrocious! Complete idiocy!
February 26, 2003
I thought it was awesome... and I`m a guy!
February 26, 2003
It was great dude!
February 25, 2003
IT WAS AN AMAZING MOVIE!!!
February 22, 2003
it was pretty bad
February 21, 2003
Funnnny! An enjoyable romantic comedy. Kate and Matthew had great chemistry! Not great but good ... lots of fun!
February 21, 2003
whoa! This movie knocked my socks off! Literally! It was so good and cute I loved every second of it!
February 20, 2003
ya it was ok i say
February 20, 2003
it rocks but i think that guy sholud ask her to marri her
February 19, 2003
are you kidding me? who would even go see this surely not me