How to Train Your Dragon: The Hidden World - User Reviews
Thank you for rating this movie!
Read your review below. Ratings will be added after 24 hours.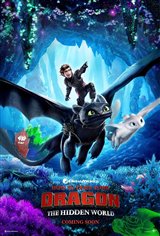 ---
Please rate movie 1 to 5 stars
Showing 1 to 30 of 30
April 20, 2022
Beautiful animation, especially the hidden world, funny and clever plot witch can teach kids some lessons without beating them over their heads with it.
May 25, 2019
THIS MOVIE WAS SIMPLY WONDERFUL.!!! I AT, 70 YEARS OF AGE & THE TWO, SIXTEEN-YEAR-OLD GIRLS, LOVED THIS MOVIE TOO.!!! THE COLOR WAS GREAT, THE STORY WAS GOOD & THE ADVENTURE OF HAVING A PET DRAGON WAS " COOL."
May 19, 2019
Very boring! The firs one was great! Not worthy watching the second one.
May 02, 2019
There are VERY few movies that truly deserve five stars. This is one of those! Reviews in technical, entertainment, and fan contexts have been wonderful. Rotten Tomatoes gives a 92 rating. Everything about HTTYD: The Hidden World is first-class. The animation is spectacular! Underlying the sophisticated animation is beautifully rendered artwork. The lighting is exquisite, conveying interior scenes and outside scenes across changing times of day with compelling realism. Much research went into the tools, clothing, housing, boat construction, etc. of Iron Age Vikings. The historical authenticity contrasts marvelously with the fantastic capabilities of the different dragons. The screenplay is masterly and fast-paced, giving the marvelous voice actors a showcase worthy of their experience. Continuity from scene to scene in so smooth and logical, unlike so many modern films. There's lots of humor situation-based humor. There's lots of "action." There is NO vulgar language, graphic violence, and thankfully, no gratuitous sex (also banes of modern movie-making). Composer John Powell's score varies from soaring and deeply touching, and pop artist Jonsi's theme song "Together from Afar" really captures the outcome of the story. The values of entire trilogy, based roughly on an exciting series of books for teens by Oxford-educated English author Cressida Cowell, are as lesson for folks of all ages.
April 02, 2019
Really enjoyable!
March 27, 2019
Fantastic movie!
March 23, 2019
I love it!
March 16, 2019
Good animation and storyline
March 15, 2019
Good movie for children .
March 12, 2019
awesomeness
March 05, 2019
Loved the Animation in this. I was wowed and very nice parts in this movie. I'm not surprised this one has done very well. I saw the other 2 and really enjoyed them but this one was a wow. Dreamworks did amazing Anamation in this. A little comedy and everything.
March 05, 2019
It is AMAZING!!!!!!!!!
March 02, 2019
LOVE this movie! Graphics are wonderful, story-line even better. Not a disappointment to be found. I didn't think the ending was sad at all, instead an encouraging part of real world life in that we all must continue on our journey. Couldn't have written this any better. Kristen Wiigs' scene as Ruffnut had me laughing so hard that I missed half of it. Must see. Must own.
February 28, 2019
I LOVED this movie! Such a good storyline! I have seen the first one, the series, and the second one as well and they are all amazing! Great job DreamWorks! I went to the early screening on Feb.2 as well.
February 26, 2019
Very well done I would recommend it to any age .
February 26, 2019
Awesome, the best , my boy love it
February 25, 2019
now that its sad ending why would i go thats enough sadness in the real world
February 24, 2019
This movie was awesome!!! It is a must watch. No ifs, ands or buts.
February 24, 2019
Kids loved it. Madison liked the hidden world, seeing all the dragons. Ethan like it when the black dragon saw the white dragon. Declan liked everything.
February 24, 2019
The animation in this movie was outstanding. Go see it in the doby theater Amazing.
February 23, 2019
Amazing. Watch it. Period.
February 23, 2019
AWESOME
February 23, 2019
I loved the animation and the music. Went in expecting nothing, and throughly enjoyed it.
February 23, 2019
An epic conclusion to an epic trilogy!!!
February 22, 2019
It was sad but epic detail
February 22, 2019
By far the best of the 3. You need to see this movie!!!
February 15, 2019
I saw this movie on February 2 and.... I love it. My son loved it too.
February 09, 2019
It was sad but GREAT!
January 18, 2019
It's the best out of all but sad👍🏻😭