jackass number two - User Reviews
Thank you for rating this movie!
Read your review below. Ratings will be added after 24 hours.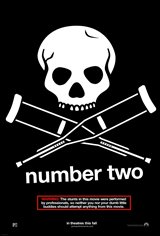 4.10 / 5
User Rating
Based on 5197 votes and 87 reviews
---
Please rate movie 1 to 5 stars
Showing 1 to 50 of 87
February 10, 2022
Minus 5 stars. yes its that bad. Stupidity in action. Trash. No body goes broke underestimating the intelligence of the public. I can't believe any adult would find this stuff funny in any way.
September 02, 2007
ok, so its a bunch of morons with too much testosterone who find dumbass things to do, and its hilarious!(eaven more than the 1st one).
March 15, 2007
100% quality. Excellent and every other good word you can think of.
January 19, 2007
awsome i loved it!!!! johnny knoxville and bam are so cool i also think wee man and dun are cool
January 02, 2007
Dumb but funny you have to be really drunk to enjoy it otherwise its annoying how dumb people can be
January 02, 2007
The first one was a masterpiece, this one was nothing but torture.
December 30, 2006
I like the first movie but this one was just nasty and gross. Too much gross stuff and not enough funny stuff. I think I laughed only once.
November 18, 2006
Its for people with the IQ of a 3 yr old.
November 12, 2006
i loved it!!! it was kinda gross but it has johnny in it and im a huge fan!!!!!!!!!!
November 10, 2006
Hulariously funny, dumb, and completely ****** up! Jackass 2 kicks ass!yah!....Steve-O is so sexy!!
November 09, 2006
It has been the best to be seen yet i love Stev-o but Johnny Knoxville is my all time favourite again. Every one must see this fantastic movie. It`s the best one ive seen all year. We love you Johnny Knoxville. XOXOXO.
November 03, 2006
the movie was the best it roked so funny Steve-O and Johnny Knoxville where the best
November 03, 2006
OSCARBAIT!!!!!
October 31, 2006
Stupid, nasty , dumb humor. Not for the typical twnty-eight year old or mature male. Wack!
October 28, 2006
i have never laughed so ******* hard its a must see !!!
October 12, 2006
I am a huge jackass fan~ but number two really disappointed me a bit~ it was too commercialized~ guess they had too much money on theirs hands?
October 12, 2006
funny funny funny! nough said
October 10, 2006
HILARIOUS!!1 Even more funny than the first!
October 09, 2006
i think it was amazing.i saw it on openig day.but i was wondering if it will be in on like the 21 of october because y friend was gonna see it wit me on openig day and she couldnt so the only other time i could see it is on the weekend after friday the 13th so sum1 please tell me
October 08, 2006
If you`re going to have a negative thought about this movie, I don`t understand. I thought it was great. Definitely took my mind off of the ordinary everyday things I usually do. For a good while, I was able to enjoy myself at the expense of others. I PAID for it! One other thing, Bam is a wuss!
October 08, 2006
i loved it la la la la la la LOVED IT
October 08, 2006
DON"T WASTE YOUR MONEY. Not even worth the price of a rental. They should have just left it after the first one.
October 06, 2006
ITS THE BEST MOVIE EVER MADE. AND SO IS THE FIRST ONE. THEY NEED TO MAKE MORE. OMG ITS THE BEST EVER. JOHNNY KNOXVILLE IS SOOO HOT.
October 06, 2006
I was in tears laughing from the first minute of this movie!
October 06, 2006
Funny... i cant wait for jack ass 3
October 06, 2006
this is SICK
October 05, 2006
I do not understand why they had to put so many scat scenes in it It was funny but the feces... come one guys why did you have to stoop so low and so often!! It gave the movie more of a juvenile feel to it and these guys are all in their late20s early 30s! Could have been a lot better if it included more stunts (even Steve-O said he hated the finished movie because they cut out a lot of the stunts for the scat scenes)
October 04, 2006
soooo crazy ,,,if your a fan of jackass, this is a must see
October 03, 2006
It`s disgusting that people can make money doing stupid things. All the great reviews this movie got only proves that there is something wrong with the way people think. What`s so funny about a little kid smoking & cursing at strangers? Why are people so infatuated by feces & vomit? If you think it`d be funny to videotape your friend taking a dump, then you`ve got some serious issues.
October 03, 2006
hilarious movie, so much better then the first one!
October 02, 2006
Way better then the first.
October 02, 2006
23yr Old Male - Loved the first one!!! This one was INSANE, I watched this movie on Saturday and my abs still hurt today (monday). The first half of the movie was so funny I had tears pouring down my face!! I can see how some might not like it but if you are a guy you`ll love it!!! 5 out of 5
October 02, 2006
Is sad that people would make this kind of movies, and people would pay money to see it. Is nothing but a group of people hurting themselves or do something gross, is it really that funny to see people getting hit in the groin by a snooker ball ??
October 01, 2006
Extremely hilarious but the first one was slightly better. 4 1/2 stars out of 5
October 01, 2006
recommended for anyone who is living in the real world, not recommended for the ever growing "better than thou" population
October 01, 2006
soo coool
October 01, 2006
I thought it was hysterical and gross at the same time but I enjoyed it. Cant we have some pictures of dave england on this website?
September 30, 2006
dumbass
September 29, 2006
This movie truly illustrates the degenerate culture of the western world, which is quite depressing. I recommend this film to nobody.
September 29, 2006
The Jackass boys like to stick things up their buts a little to much. Some funny stunts. Awesome movie if you are a twentish male stoner, not as funny as the first movie.
September 29, 2006
Magical
September 29, 2006
It was hysterically funny. It doesn`t have a plot. There is No cheesy dialogue. There is no cheesy ending. Just pranks, injuries, and stunts. If you can put aside the oscar nomination mentality and view this film for what it is then you will have a good time. It`s as simple as that. And all you people who found it not the least bit humourous were probably the people who got pranked when they were in school. Movies should be about escapism, to this end, that is exactly what this movie allows.
September 28, 2006
it was delicious, i just luurved it it was way better than the first
September 28, 2006
no where as good as no 1
September 27, 2006
Thank God for people who enjoy hurting themselves for our entertainment! Absolutely and disgustingly hilarious! Gotta love those guys for having no shame! There were a couple moments in this one were I really wanted to barf and the laughter in my belly was making it worse!My advice: DO NOT EAT while watching this movie!
September 27, 2006
a few almost funny stunts, but mostly stupid. who would really force a hook through their cheek for laughs!?
September 27, 2006
NOT NEARLY AS FUNNY???? R U INSANE?? THIS MOVIE SURPASSED THE 1ST ONE BY LEAPS AND "BOWEL MOVEMENTS" LOL... 4 REAL THE FUNNIEST MOVIE IVE SEEN 4 THE YEAR...NOT FOR THE SQUEMISH THOUGHT LOTS OF GROSSOUT BUT FUNNY AS HELL...GUYS WILL LOOOOOVE IT.... GIRLS?? WELL HMMMM... I DON`T KNOW...DEPENDING IF U CAN TAKE IT THEN YES THEY`LL LOVE IT TOO. 8 OUTTA 5 STARS...WILL SEE IT AGAIN AND AGAIN..... RESPECK!
September 27, 2006
best movie ever i was laughing almost the whole movie, they need to make jackass3
September 27, 2006
I have to say i was skeptical going into this movie.... WOW all i can say is WOW.. This movie was the funniest comedy i have watched all year. Hurt to laugh funny... great movie have to see it!
September 27, 2006
not nearly as funny as everyone was saying...and a few just really plain stupid stunts