Jason X - User Reviews
Thank you for rating this movie!
Read your review below. Ratings will be added after 24 hours.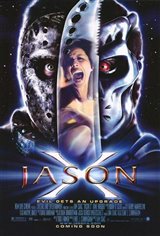 ---
Please rate movie 1 to 5 stars
Showing 1 to 32 of 32
January 19, 2019
The most epic of all the Jason adventures. A solid hit for the long-running series.
August 22, 2015
The 10th was only the beginning. Arguably the best of the series.
August 14, 2015
The most thought-provoking and emotionally resonant film in the Friday the 13th series. Great effects, too.
July 28, 2014
Classy entry in the ongoing series!
January 22, 2009
Not just one of the best entries in the series, but one of the best movies ever made, period.
March 17, 2007
Ummm..... 0/5 stars...Friday The 13th was the best horror movies ever.... Until this stupid hunk-of-junk came along and made the series look like a pile of sci-fi fictional Gabagie Junk! lol
October 12, 2006
I saw this film at a birthday party, and I`m not really sure what to think of it. I`m not a hugh fan of Jason, but the fact that he can`t die kind of bugs me. But if you like the series, then you`ll probably enjoy it.
June 27, 2006
stupid,a waste of time and money! the yshould of stopped making the f.13th series after the 3rd(and the 3rd sux,but i liked the way it was 3-d) its soo stupid!..not 1 bit scary,just killing,killing,killng,and killing nonstop,for no reason with stupid machines and all! the friday the 13th series is ruined due to the 4th,5,6,7,and jason goes to hell,and of course this sack of junk
October 15, 2005
I think Jason X is a step up from the previous nine. It takes Jason to a different killing field and gives more of an interest to those who have followed the ongoing, undying series. I felt this one gave a bit of suspence that the series was lacking, a breath of fresh air. I only wonder if they plan on closing the series by having Tommy Jarvis kill Jason some how once and for all. For those people who complain about the ongoing endless series, don`t bother watching them, also I think they really are going to try to take it to 13 parts. Oh well bring them on. One of the best series of all time, along with Halloween.
December 22, 2004
dumb dumb dumb , come on now please stop making these movies it`s one thing to make a sec third forth fifth but it`s so being ruined by not letting a good thing die , and it seems the more they make the worse the get please STOP.
November 06, 2003
Jason x very sucks because Jason is not scary and he will never be scary
September 02, 2003
THE MOST CRAPPIEST MOVIE OF ALL TIME HORRIBLE,TERRIBLE ACTING,TERRIBLE STORYLINE I MEAN IT WASN`T EVEN SCARY IT WAS STUPID INSTEAD IT WAS JUST A WASTE OF MONEY AND FREDDY VS.JASON WAS EVEN LAMER
August 08, 2003
it was great, but it was funny in some parts. My opinion is that it is funny and not at all scary.
June 17, 2003
It was awsome, the best jason movie yet
May 04, 2003
Horrible. Terrible acting. It ruined the Jason legacy. I mean you could actually smell the cheese through the screen. Such a waste of time.
April 25, 2003
I was great, but really funny!!!!!!!!!!!!!
December 22, 2002
This movie ruined the legacy of Jason. And Freddy istnt good enough to fight Jason, Jason should fight Michal Myers
November 27, 2002
This sucks. This the worst movie of the year they should have stop from the second one
November 25, 2002
The begining was great,the middle was not bad but i didn`t like the end whith the HEAVY METAL JASON anyway i was happy to see our good old jason kill again but it could`ve been beter i`ll probably rent it with my friends
August 23, 2002
I think that it is a very well dorected film, and I hope that with it`s relase it will be a great success, not bad.
May 07, 2002
So cheesy i loved it!!!!
May 04, 2002
Great, Cheesey, everythig I exspected outof a Jason flick, Shallow but intertaning!
May 03, 2002
what a terrible movie = Þ
May 03, 2002
another truly terrible trashy movie Story line was very poor - tried too hard to be in the same vehicle as Alien. Failed miserably. Even Jason is tired of Jason. Let the guy stay dead - everyone needs a break. This movie is one for the trash bin.
May 02, 2002
To be frankly honest if your low on cash don`t go watch this movie however if your lucky like me and watched it for free, well then its worth your while. However it sure was worth a good laugh and even though it did not stay true to the original series it had it`s momments like just before the ending, oh well i dont want to give too much away now so for sure watch this on a day when you can get in for cheap. VPS
May 01, 2002
Jason X, was a very interesting movie. A comedy more than a horror flick. But I honestly hope they don`t try to make another sequel. I have to say that I`ve seen enough of Jason for one century.
May 01, 2002
it is amazing! very scary just the thing for my boyfriend!wow 100000000 thumbs up!
May 01, 2002
this movie is good even though were in 2002 because they kept the same atmosphere than the original ones! i rate 3,5 stars
April 30, 2002
This movie is oscar material.
April 27, 2002
not a bad movie but the plot and story line has nothing to do with why this movie rocks. The reason why this is good is just because of Jason Vorhees and thats all i mean this guy is a killing machine that can`t be killed. damme man Kane Hobbler does an awesome job of Jason 4 out of 5
April 26, 2002
Don`t listen to people who say the movie sucks. This movie is pretty damn good. Not as good as some of Jasons earlier work....but a fun little movie filled with gore, action, bad jokes and sex. See it for your self and make up your own mind.
April 26, 2002
There is a rough line between good garbage and bad trash in the world of Hollywood slasher flicks. Jason X, tenth in the unnecessary, unwanted Friday The 13th series, blunders over that line with a brutal vengeance. As bad trash, it features none of the stylistic flourishes, killer clothes and smooth moves of the current hit film Blade II, which serves as an excellent example of good garbage. Instead, while Jason X has the same level of R-rated violence, it is unwatchable because of a stupid story, its painfully obvious plot twists, bad acting and terrible special effects.