Jennifer's Body - User Reviews
Thank you for rating this movie!
Read your review below. Ratings will be added after 24 hours.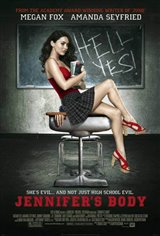 ---
Please rate movie 1 to 5 stars
Showing 1 to 46 of 46
August 09, 2017
Ridiculous and not scary in the slightest. The script is threadbare and contains some of the worst dialogue ever. Stewie Griffin was right about Diablo Cody.
April 05, 2017
Lazy, stupid, and not scary in the slightest.
February 22, 2017
Total failure. But Diablo Cody wrote the script, so what do you expect?
December 04, 2016
Wretched excuse for horror written by the supremely untalented Diablo Cody. Strongly reminiscent of the similarly terrible GINGER SNAPS. Terrible!
September 27, 2012
Fox is beautiful...but the movie sucked!!
November 19, 2011
silly...but fun
July 28, 2010
I love this movie. It's exactly like something that I would make, were I a horror filmmaker. In fact, the story and character design of Jennifer are a little bit similar to a graphic novel that I wrote, but that is neither here nor there. Diablo Cody's dialogue is really one of a kind, and I find the characters she creates very endearing. I'd be willing to watch anything they did. The villains in this movie are at once diabolical and completely mundane, and it's kind of hard to say whether the monster-fied Jennifer is any more intimidating than the old Jennifer. Needie, while being one of the least interesting characters throughout the movie, turns into one of the most formidable Final Girls
March 08, 2010
fast moving and pretty good storyline.
February 18, 2010
i love this movie megan is so hott!!!!!!! overall an amazing movie!!!!! i may be a girl but i love her
January 01, 2010
I loved this movie and I Love Megan Fox
December 31, 2009
Great movie. Sexy.
December 31, 2009
Jennifers body is not visually stunning, terrifying or funny. Its stupid and enough to turn someone insane from the terrible acting who cares if its a Diablo whatever film. Bottom line is its garbage like megan foxes acting. Shes better off getting an education in a trade or something if shes even smart enough to do that.
October 11, 2009
DOES NOT deserve the hate. This movie is supposed to be cheesy, it's supposed to be a horror but also a comedy. Perfect casting of Megan Fox, someone who has the looks and the attitude but also the acting chops that is mediocre but WORKS for the movie. The film is HOTTTTTTT, the kissing scene, the aura of the film, the overall sexuality is very enticing! GO SEE IT!!! Leave your mind at the door and enjoy the ride!!!
October 05, 2009
Here is an unexpected rating. It was like so bad. OMG!!! I like totally didn't like it. Paris Hilton totally would have made this movie way better like seriously!!
October 03, 2009
Flawed but ambitious "girl power" horror flick has bursts of wit, crackling dialogue and solid performances from everyone but Megan Fox - who really doesn't have to do much except act hot and/or nasty.
October 02, 2009
say it and i loved it!! im so buying this when it comes out on dvd!
October 02, 2009
I went into this thinking it was perfect for me cause I love cheesy horrors-however the jokes were lame-and not even lame enough to laugh at.
September 30, 2009
Sooo good it hurts! Diablo Cody hits another home run!
September 29, 2009
Seriously funny!! Laughed throughout!! Thoroughly cheesy and facetious!! A definite must see for those who enjoy cheesy scary movie!! A+++
September 27, 2009
Someone pitched this script on their knees.... that has to be the only explanation to why Jennifer's Body got the green light. The girl on girl scene was soooooo bad, that the whole theatre went silent, and then everyone burst out into laughter. The move was incredibly cheesy. 2 stars for it's comic efforts.
September 25, 2009
The best horror film since Whiteout.
September 24, 2009
FINALLY A HORROR flick worth seeing. Megan Fox has acting chops after all. MUST SEE MOVIE of 2009. Even better than the Hangover
September 24, 2009
My girlfriend made me come watch this movie with her, and we both came out with a big question mark. WHY does hollywood allow such garbage? This was one f-ed up movie. Totally predictable and the so-called "scary" parts were more hilarious than anything, and not to mention the stupid dialogue. Megan Fox STILL can't act, no matter how many chances she's gonna get, she'll never become an actress. NOT RECOMMENDED
September 24, 2009
This movie is so f***ing messed up, bizarre, retarded - you name it. Megan fox is so fake, she can ony act in a movie like transformers where all she does is run and scream. Amanda was really good though. Overall, bad choice. bad movie!! dont waste your money!
September 24, 2009
People are retarded who thought this was a Horror based film. It's Diablo Cody! Comedy mixed with horror. Common people. This movie was excellent.
September 22, 2009
The only thing scary about this movie was the plot, dialogue, casting and outfits! I laughed the entire time at how ridiculous this movie was. The entire movie was beyond predictable and there was product placement was in every scene! Now I feel like I need to buy a Bowflex and a Kia to name some of the things they made sure to reference unnecessarily. If it hadn't been for cheap Tuesday night at the movies, I would be more upset about spending money to see this. Don't even waste the time renting it unless you just want to turn the sound off and enjoy watching the good looking people.
September 22, 2009
Fun and Sexy, it's like Juno meets Ginger Snaps. Ginger Snaps did it better, and was a lot more darker. I don't know if paying $11.50 was totally worth it. This would have been a good rental if it went to DVD.
September 22, 2009
Excellent Movie I Love Megan Fox
September 22, 2009
I only wanted to watch this movie because Megan fox stared in it, totally changed my mind about her after i watched it....so stupid, so bad. By far the worst movie I've ever seen. Megan I'm not a fan anymore that's for sure!
September 22, 2009
A poster in search of a movie. 1/5
September 22, 2009
Diablo Cody is an excellent writer. The directing was fairly good too - nice imagery if you look for it. The problem is that Ginger Snaps did more with less. The movie could have been good with a better cast. The production staff did all they could to hide Megan Fox but that's the difference between passable and good. This movie wasn't quite good, but I've wasted time with worse.
September 21, 2009
Great movie! Well acted, interesting storyline and definitely great action. Blows Twilight out of the water. Amanda Seyfried is frickin awesome!
September 21, 2009
HORRRRRRRRRRRIBLE movie! waste of money. Megan Fox couldn't act if her life depended on it, and the movie itself wouldn't have been good even with somone who could actually act.
September 21, 2009
I took my youth group (mostly 14/15 year olds) to this movie, and I felt really uncomfortable having them watch it. I think it should have been be rated 18A. We ended up leaving part-way through. As an adult, thinking only for myself, the movie was enjoyable. Megan Fox definitely does a good job portraying a hot, dim-witted, bitchy girl, and her co-star Amanda Seyfried is an overall 10. The movie combines sex, comedy and horror to make a generally entertaining film, but as I said before, I do believe it should have been rated 18A for the amount of sexual content exhibited.
September 21, 2009
a really really bad movie
September 21, 2009
horrible probably the worst movie i have ever seen
September 21, 2009
Again, very stupid movie... I agree with everyone that says this is a stupid movie, cuz it is.. The first half was ok, but the rest and the ending was so stupid.... Meagan Fox, sucks in it.. And Josh Emerson? Ha.. he's only in it for like 10 minutes... Really stupid movie... I can't wait for Saw 6 and 7 - (3D!!!) and 8
September 21, 2009
WASTE OF MONEY! Megan Fox is the most poor excuse for an actress i have ever witnessed. I cannot believe i just wasted $10 on a girl that cant act if her life depended on it. Below is a list of 10 things or $10 that can be spent on that are more entertaining. 1. A&W Teen Burger Combo 2. Go Karts 3. 10 $1 cans of pop from a dollar store 4. Vodka (to stomach the bad purchase) 5. A bag of popcorn from Empire Theatres (thats about $10 now right??) 6. 10 minutes of idiots looking for attention on YouTube (Please Subribe to meeee) 7. Watching the grass grow 8. Watching Signfield re runs 9. Perez Hilton crying to his twitter friends for help (haha so sad but entertaining) 10. Watchin
September 21, 2009
BAD BAD BAD!! Very dumb plot, and Megan Fox's horrible acting added more BAD to this film
September 20, 2009
So great and megab and Adam were in it and it was funny
September 20, 2009
I THOUGHT THIS WAS A VERY WELL WROTE MOVIE THAT ACTUALLY HAD AN INTERESTING STORYLINE. THE COMEDIC BITS WERE PRICELESS COMPARED TO A LOT OF OVERRATED GUY MOVIES WITH OVERDONE BORING JOKES. AMANDA SEYFRIED DID AN EXCELLENT JOB . I CANNOT SAY THAT I WAS BORED EVEN ONCE DURING THE ENTIRE FILM. BRAVO!
September 20, 2009
this movie was so fucking weird. i cant even describe how i felt about it when it ended but noone should pay 10$ to see it. and megan fox is a terrible actor.
September 19, 2009
this movie was so f-ing retarded i walked out.Meagan Fox cannot act and this movie was a complete joke. It probably only cost $100 to make.
September 19, 2009
I have no idea how you could rate this movie lower than 3 stars. It was genuinely a really good movie. Suspenseful, scary, and even really funny at moments. But it was also really sad. Yes there is one side of the story line where she is killing boys, but i believe there was more to it with the friendship between Megan Fox and Amanda Seyfried. I just wish that the ending was different, if you have a really close best friend you will understand what i am saying. <3<3<3<3 Go see it!!!!!!!! Especially women.
September 18, 2009
Awesome Movie loved it!
September 18, 2009
Jennifer's body is visually stunning and complex, terryfying and halarious, satisfying its audience completely.