Jexi
Thank you for rating this movie!
Read your review below. Ratings will be added after 24 hours.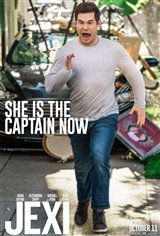 ---
Please rate between 1 to 5 stars
Showing 1 to 16 of 16
January 13, 2020
The humor was pretty vulgar, but it was FUNNY.. I look around at people in the mall, in traffic, ANYWHERE In public and glued to their phones, I know I am guilty of this enough.. BUT this shows, put the phone DOWN, listen to the fine print.. EVERYDAY you talk about a product, facebook has an AD.. The phones are already running our lives. this is a humorous look at it
January 13, 2020
I actually can't believe how many people hated it, the WHOLE concept, NOT reviewing policies and the AI.. PEOPLE this is the future if we DON"T put down our devices. Adam is hilarious, after seeing any of his other movies you have to know its going to have potty humor.
November 06, 2019
I thought this movie was funny its a comedy yes there is bad language nothing I havnt heard before. It just made to show how technology is taking over and yes there are probably some people that let technology take over thier lives with this movie you get to see that perspective with some humor.
October 23, 2019
Other than smart-ass JEXI, who was funny, portrayed reality as it is today ; people CAN'T keep their nose out of the phone; at the gym, in the sauna, the traffic light, the theater(when a movies' playing) Too many people have addiction problems. In spite of the swearing, many of the 18 or so patrons chuckled & laughed out loud at many of the seens. And if you think the nude photos were unrealistic, you've been living under a rock. So for the prim & proper, stay home; for those who can overlook some seens enjoy the rest of the movie. All in all, the "F" word wasn't necessary in SOME of the seens, but all-in-all it was a funny movie. There is now medical help for those afflicted with smart phone disorder.rh
October 23, 2019
I left after about 10 minutes. I have never been to such a vulgar movie! Doesn't even deserve 1 star.
October 21, 2019
oh please where is this world coming up with this story. its so bad you should have thrown in climate control weather during the so call phone sex. also also if anything is good about this movie were the steep hill shots of san francisco. at least that was funny to see.
October 21, 2019
This movie doesn't even deserve one star, but I couldn't tell you how lousy it was unless I put a star down. My husband and I walked out of the theater after about ten minutes because we were ashamed to be seen watching such a vulgar movie. The fact that you didn't post my last review of this movie tells me a lot about who is running the theater. This was disgusting, vulgar and below the standards of a lady or gentleman and that's why we just couldn't watch it. Shame on the producers for putting such trash on the screen. Yuck!
October 21, 2019
Went to see this with two friends, we all agree this is the worst movie we've ever seen. We thought it was going to be along the lines of Black mirror due to the subject matter.
October 20, 2019
Some big laughs but not worth sitting through to get to them.
October 18, 2019
Yes, over the top and unrealistic scenes but very very funny. Hey, if you walk out laughing thinking my sons would enjoy this, why not recommend it?
October 16, 2019
Yes there is some vulgarity & some sexual content, but the concept of AI voice in a smartphone becoming vindictive , a smart ass & vulgar, I thought was an interesting subject. I'm not one for swear words but the point would have been missed if it was polite AI. I actually didn't know there was going to be so much swearing. I thought it was very creative & many funny moments. The content though, is indicative of the times. I'm going to see it again. It was funnier than other so called comedies with more well known comedians. Wanda Sykes & Michael Pennas was also in it. The F word in general conversation is offensive, but as used in this movie, puts it in a different context. So put down your righteous sword & have a few laughs. rh
October 15, 2019
If there was a rating minus five I would use it for this film. should be rated 3X. Bad words for no reason.
October 12, 2019
Why do they have to ruin a movie with a100 plus cussing words? Are they that nobody will watch it if there are no profanities said?
October 10, 2019
It was the worst movie I've seen in 42 years!. A good idea but didn't need all the swearing, sexual innuendo, and nudity. If anything that distracted from the theme rather than added to the concept of the movie. It doesn't even deserve a star.
October 10, 2019
It was the worst movie I've seen in 42 years!. A good idea but didn't need all the swearing, sexual innuendo, and nudity. If anything that distracted from the theme rather than added to the concept of the movie.
September 09, 2019
Nice I love this!