Joe Somebody
Thank you for rating this movie!
Read your review below. Ratings will be added after 24 hours.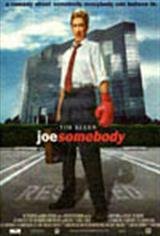 ---
Please rate movie 1 to 5 stars
Showing 1 to 22 of 22
April 15, 2007
Great movie, not that funny but it`s good.
September 13, 2005
The movie is great!!! It is very nice that Joe handled himself despite of his terrible situation. I salute the producers and the director. Great Job!!!!!!
December 05, 2004
great movie..!! Tim Allen is always fun to watch. very nice ending.
August 29, 2004
the film is fab!!! it`s as if you have read my mind as i am going through the same thing right now...? must say hi to julie bowen she`s perfect hope i can meet some one as beautful as julie.x great film....
September 13, 2002
the coolest
February 02, 2002
This was a typical Tim Allen movie. need i say more?
January 10, 2002
great movie
January 07, 2002
I loved it. While mostly predictable, it was well done, and Tim did a great job. Well worth seeing.
January 07, 2002
This was the greatest movie I have ever seen in my life. It was amazing from start to finish. I couldn`t believe it, I never laughed so much in my life. It was incredible. The above review was all a lie, this movie sucked. It was funny, funny because it was so bad.
January 07, 2002
Best movie! Tim`s great!
January 07, 2002
good family movie but had its boring moments
January 04, 2002
It was the funniest movie of the year.
January 03, 2002
It was sooooooo funny!!!! I recomend it all da way!!!
January 02, 2002
BOoooooring. I fell asleep ZzzzZZZzzZz
January 01, 2002
I LOVED THE MOVIE>>SISCO AND EBERT GZIVE IT TWO THUMBS UP!!!...tim allen was awesome!
December 30, 2001
awsome!! it is the best movie that i have ever seen!!
December 29, 2001
I loved the movie!!!!! Tim Allen is a great actor!
December 25, 2001
boring,,,
December 22, 2001
Really funny!, as you may see from the ratings it is either love it or hate it, I like it:) Tim Allen is awesome!
December 21, 2001
i think it could have been beter!
December 21, 2001
really boring moive