Jumper - User Reviews
Thank you for rating this movie!
Read your review below. Ratings will be added after 24 hours.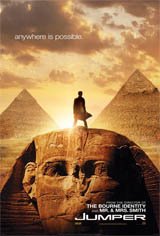 3.65 / 5
User Rating
Based on 948 votes and 107 reviews
---
Please rate movie 1 to 5 stars
Showing 1 to 50 of 107
January 07, 2010
I love this movie it is the best movie i have every seen.
December 19, 2009
awesome movie. until now i thought the matrix triology couldn't be beat, thanks for proving me wrong
February 03, 2009
really good film. a potential trilogy?
January 27, 2009
awesome film. good visual effects
August 29, 2008
the best jumper movie ever is there a part 2
June 27, 2008
original script, i liked it.
June 26, 2008
not as good as i thinked it turned out being a thriller i have seen beter it was ok
June 24, 2008
Definately did not live up to expectations
June 16, 2008
Excellent. I can not wait for the next one.
June 16, 2008
Good Action Movie!
June 15, 2008
horrible acting
June 10, 2008
Awesome!!!!!!!
June 10, 2008
Great movie. A great adventure. Non stop action all the way through. It would make a great tv series.
June 10, 2008
Great ORIGINAL movie.
June 09, 2008
One Hell Of An Adventure
June 01, 2008
great idea...good movie
May 31, 2008
I gave up paying attention to it, it was so bad. Too chaotic! *r*e*t*a*r*d*e*d* movie to say the least
April 19, 2008
Every once in a while, there are those movies that you consider great. And then there are those movies that you consider to suck. I won't give you a exact direct anwser, but i will tell you this... If i was dragged to that movie to see it again... I would "Jump" out of that theatre in the first 5 mins. 1 star, bad movie.
April 12, 2008
For me, it was kind of slow starting. I was expecting much more from this movie. It's nice to say "I saw it," but I wouldn't want to watch this movie again. I found it boring and would have liked more action.
April 06, 2008
Hard to know which psychopath to root for!
April 06, 2008
i dont know why everybody gave this movie a bad rating. i really liked the idea of using his powers just to have fun, not to save the world. it was fun to watch, but i have to say it coulda been better
March 23, 2008
What an awful story with an awful ending. The premise is interesting, but the movie lacks in every department. Save your money!
March 15, 2008
i liked it :) dont care what others say . it wasnt the bext movie , but it was still somewhat entertaining . it didnt really stand out from other movies though . but i still liked it ! :)
March 11, 2008
One of the worst movies I have ever seen.
March 11, 2008
the movie is so boring.. i almost slept while watching the moving.. i kept on remembering hayden as anakin skywalker.. maybe it is better is he stayed that way.. well anyway, the tourist spots were good, but not the movie.. samuel l. jackson is really really ruined in this film.. rachel bilson is okay as an actress but not in this film.. perhaps the director did not notice that there are so many loopholes in the movie..
March 10, 2008
Terrible. Not entertaining at all, fell asleep during. Dosen't make sense, would NOT go again.
March 08, 2008
I thought this was a great movie with Rachel Bilson in it. She's such a great actress. It's definitley not my favourite movie, but I couldn't stop thinking about it on the way home.
March 04, 2008
Stupid movie. Waste of money. Not entaining. Lots of holes.
March 04, 2008
Hayden Christensen can teleport himself but he doesn't do anything good with it or have any moral dilemas. When the guns come out it kind of goes down hill. Hayden loves Rachel Bilson but she doesn't seem to care one way or the other and gets over the crime because she like the power. Bonnie and clyde or natural born killers you don't really know. He meets Jamie Bell who wants to kill the cops chasing them and they do more crimes. The cops try to kill them but can't beat their powers. I think it's trying to be spider man but the creators should have aimed higher. Maybe they should have watched more twilight zones.
March 03, 2008
This not a Sci-FI a cops and robber. If there is another one of then it the end of the world for sure Ha Ha. If makes me mad after!!!!
March 02, 2008
This movie was way too short.
March 02, 2008
GREAT MOVIE
February 28, 2008
Hayden Christensen....oh man. He needs to stop being casted.
February 26, 2008
So many B movies better than this
February 25, 2008
Conspicuous consumption of money resulting in a stomach churning waste. 21 Jumpstreet meets 90210 tv style writing takes a great premise turns it into an inarticulate bore. A couple of 14 year olds were giggling. As clever as a bag full of sand. One star.
February 25, 2008
Suffered from a lack of substance.
February 24, 2008
Great movie. I hope there is a trilogy.Hayden is a great actor. I wasnt too impressed of how he got his "jumping" abilty but afterwards the movie got interesting
February 24, 2008
It was very good movie but I would rate it PG14.
February 24, 2008
great movie ...hope there is a second
February 24, 2008
interesting movie
February 24, 2008
Amazing
February 24, 2008
Seeing This Changed my life
February 24, 2008
Breathtaking
February 24, 2008
Mr.Liman Made A Great Movie Here
February 24, 2008
Great Flick