Jungle Cruise - User Reviews
Thank you for rating this movie!
Read your review below. Ratings will be added after 24 hours.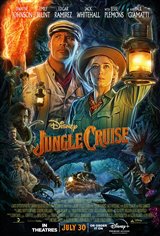 ---
Please rate movie 1 to 5 stars
Showing 1 to 48 of 48
February 03, 2022
Another movie taken from the same Disney template, but don't get me wrong, I always enjoy them. The effects were great and the music, which is a large part of the experience, was great as well.
November 14, 2021
It's one of the ten best movies of this or any other year.
September 23, 2021
Too overblown with CGI to be any fun.
September 14, 2021
Fun ride and adventure, don't miss this brilliant film with Emily Blunt being so full of surprise. Saw it more than once. A True Disney experience!
September 13, 2021
it was all about adventure and so Disneyish
September 12, 2021
Fun movie to forget the worries of today.
September 11, 2021
This is silly movie and stupid.
September 09, 2021
Take 5 storylines from other movies and try and make them work. It doesn't.
September 07, 2021
FUN, FUN, FUN. FULL FAMILY ADVENTURE FILM FOR ALL AGES.
September 05, 2021
a lot of action
September 03, 2021
Went with my daughter. Great visual and loved the characters. We were just looking for an outing and we were thoroughly entertained. Great way to return to the theatre.
September 03, 2021
The first half was okay, but the last half was over-the-top and ridiculous. Much of the story ideas were copied from the Pirates of the Caribbean movies. The acting was great, but the rest was not worth the time to watch it.
September 01, 2021
A true Disney adventure movie, funny and very entertaining. Really love that Emily Blunt.
August 28, 2021
A bunch of one liners when you weren't expecting it. Nothing serious, just sit back and enjoy the silliness of the movie, laugh at the jokes and eat popcorn and feel good when you leave
August 28, 2021
Basically a commercial for the Disney Parks Jungle Cruise with a comparable level of special effects, but since I enjoy the cruise and groan on cue at the bad jokes, I found the movie fun as well. I chafed at "German" boat captain stereotype (thought we were beyond that), and found the gay brother interesting without having to explain his sexual identity. How about letting people just be people without having to reveal themselves? Still, an overall enjoyable and diversionary ride.
August 27, 2021
Dwayne Johnson keeps making fun adventure films the whole family can enjoy - keep at it !
August 24, 2021
The tour is not worth the money.
August 21, 2021
A rather original story line. Quite inventive. Several surprises. Definitely worth seeing.
August 20, 2021
A big, expensive piece of junk but it passed the time.
August 19, 2021
I am 73 & enjoyed the visuals & the amazing sound effects. It was a FUN movie to watch
August 19, 2021
lots of action and nice twist at the end
August 16, 2021
This was a very good movie.
August 14, 2021
There was an entirely unnecessary reference to a character's gay sexual orientation, that I found completely out of place. Especially in a Disney movie. It could have been left out and nothing in the story would have changed. To throw in a detail like that for no reason smacks of the wrong kind of political correctness.
August 14, 2021
Fun, Fun, and more fun. full of surprises. Way better than the ride at Disney Park for a jungle cruise A real adventure ride in a movie some laughs and very entertaining. DO SEE IT!
August 13, 2021
Felt like I was watching an amusement park ride. What a waste of good actor talent.
August 13, 2021
Beautiful entertaining movie that's what we need at this time awesome Disney and both principal actors was great chemistry.
August 12, 2021
Loved this movie. Lots of chemistry between the actors, Has a twist you don't see coming. No foul language! No Nudity! I was so happy about that. We don't go to the movies very often, so i was very pleased with this one.
August 11, 2021
This is almost the same story as Pirates but in the jungle. It was mildly entertaining and very predictable.
August 11, 2021
This is a movie that tried to be a mix of Indiana Jones and Tome Raider but failed to meet the standard set by either. The story line was disjointed in many of the scene sequences leaving the viewer with the feeling that the director shot a series of "cool" action scenes and then held a brainstorming session with the writers to find the quickest way to stich these scenes together to meet a release dead line. While the CGI and other special effects were very well done they were not by themselves enough to salvage this poorly thought out storyline. The actors all did as well as they could given the constrains of bad direction and poor writing. This movie should have been much better given it is a Disney production. I am extremely displeased with Disney's lack of attention to product quality in this movie. If this is a foreshadow of movies to come out of Disney studios I will seriously reconsider where my entertainment dollars are spent in the future.
August 08, 2021
I enjoyed the movie-- nothing deep (yay!)-- just entertaining. My adult daughter, her 13-year-old step-daughter and my 4-year all granddaughter all loved it, as did I.
August 06, 2021
Entertaining and well done. I was captured throughout the movie. Appreciated the diversity as well. Go Disney!!!
August 06, 2021
A well made movie; good chemistry with actors, and over-all, very well cast! LOVED The Rock in this one, and Emily is always great! Good, clean entertainment that is non-political, what a concept!
August 04, 2021
It was a very entertaining movie!
August 03, 2021
Dwayne was great but the rest of it not so much.
August 03, 2021
Not much plot development , aimed at its target audience of teenagers. Ok for adults as a break for these trying days.
August 03, 2021
a mix of Swiss Family Robinson, Pirates of the Caribbean, and other Disney takes. Nice to see a movie that didn't lean into politics. Was entertaining but could have been shortened a little
August 02, 2021
A bunch of special effects in a non existent story line played at ear bursting sound levels. A German buffoon for villain, a gay brother with a brilliant sister, to illustrate how progressive Disney is, and a predictable strong, handsome guy for everything else. Walt is probably rolling in his grave, but this mishmash will make billions because its target audience loves this stuff. A moral to this story-forget it.
August 02, 2021
For a summer movie this does have the right mix of some over the top action with some good acting. The movie does remind me somewhat of a prates of the Caribbean in regards to the villains and the special effects.
August 02, 2021
Emily Blunt is the star of this movie and Dwayne is great also. Glad they didn't denegrate America like the other movies. This was just cuteness overload and I thoroughly enjoyed it.Keep politics outta your mouth and we'll go see it - if not - we are done
August 02, 2021
Loved it. Go for the ride and it is a wild ride.
August 02, 2021
A true Disney adventure film for imagination and variety. Fun ride for all. Keep in mind this is just a movie and a more exciting cruise than you may have been on a Jungle cruise at Disney Parks. Full of laughs and surprise.
August 01, 2021
A movie of a search for a mythological arrow in the untamed tropical Jungle . Dwayne Johnson, the physical size of King Kong but more like Tarzan escorts Emily Blont on her quest for the betterment of Mankind maybe only a fantasy of hers is action packed.
August 01, 2021
i love dwayne but this is horrible. a bad mix of "pirates of the caribbean" meets "indiana jones" meets "the mummy". lame animation, predictable plot, studio backgrounds. soooo bad i had to take breaks to calm myself down to keep watching it. do not watch if above 8 y.o.
August 01, 2021
Lots of fun, I really enjoyed it! Nice to see the cinemas getting busier!
July 31, 2021
Lots of action scenes. Very good interaction between characters. It's what you would expect from an adventure type movie. Did not disappoint.
July 31, 2021
Fun boat ride adventure, good acting and scenery/effects, best character: Proxima the jaguar murder cat!
July 31, 2021
Definitely a must see! Lot of action in a different way, plenty of surprises and acting is terrific Emily Blunt really shines and the Rock great as usual. Lots of laughs, intense at times, suspense and thrilling. Go for the ride.
July 29, 2021
There's so much going on it's hard to take it all in but woe the characters are intense and very well done.