Killers of the Flower Moon - User Reviews
Thank you for rating this movie!
Read your review below. Ratings will be added after 24 hours.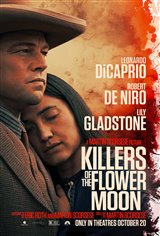 ---
Please rate movie 1 to 5 stars
Showing 1 to 50 of 52
December 06, 2023
Amazing movie. Yes, you have to concentrate and follow the story of what was done to the rightful owners of the land. Incomprehensible cruelty well depicted.
December 05, 2023
you have to see this movie for Decaprio's acting. The movie is good history on the harsh treatment of the native population in America. it's also about native people getting killed and robbed and all the injustice done towards them while the local authorities didn't do anything. If they known there was oil on the land they would have never gave it to them as a reservation. What got me angry in the movie was all the dirty looks the natives received because they were richer and also how people plotted to kill them and steal their wealth. i think America was founded on greed.. the conservative colonists didn't want to pay the British high tax so they started to riot and form an army under General George Washington
November 20, 2023
Far too long and incoherent.
November 19, 2023
Not one of scorsece 's best. Choppy, a bit forced
November 17, 2023
Love the cast which is why we went. Story line dragged and seemed like it was intentionally long to make a statement perhaps?.. Because was sooo not necessary. Not enough happening in the movie to justify the length. This one was a dud for us.
November 17, 2023
Plodding, and way too long. It's another Hobbit trilogy for a paperback story.
November 16, 2023
They could have shortened this movie by at least an hour. It dragged on and on
November 15, 2023
The movie is a heartwrenching and disgusting tale of how white people (shocker) manipulated indigenous peoples for their riches. It's a tale as old as time, but people seem to still deny the harm that has been wrought throughout history. I venture to say that these anti-DeNiros and this "complete distortionist" are just modern-day racists. And yes, I am white, and completely ashamed and appalled by this history.
November 13, 2023
Some people say it is hard to follow and boring. Attention spans aren't what they once we're.
November 12, 2023
Hard to follow
November 12, 2023
Shocking true story that exposes the greed and racial injustice that led to the murders of over two dozen members of the Osage Indian Nation. Almost three and a half hours long, but it held my attention throughout. My only complaint is that some of the dialogue was hard to decipher, but the acting was superb. I predict a best picture nomination.
November 07, 2023
True experiences, historical facts.
November 07, 2023
True experiences, historical facts.
November 07, 2023
THIS IS A SAD TALE IN AMERICAN HISTORY...THE ACTING IS SUPREME. GET THE BIG BUCKET OF CORN...YOU WILL NEED IT. THAT DICAPRIO KID IS PRETTY PRETTY GOOD I MUST SAY. HE MIGHT BE THE BEST ACTOR TODAY. DIG IN IT IS A LONG RIDE.
November 06, 2023
There were some twists and turns to keep us interested. Also It had some emotional scenes that kept my attention. It has a good cast, and I enjoyed seeing Leonardo DiCaprio in a new role.
November 04, 2023
Well I liked this movie but it was so long that is why I gave it a 4 star. The story was great and certainly needed to be told. Acting was great. Leonardo looked like Marlon Brando in the godfather, the mouth. The thing I didn't like about this movie was the southern accent was slow and seemed so deliberate. Flashbacks were some what confusing.
November 04, 2023
I would like to know how the one reviewer called this movie "a complete distortion" ! No explanation for "his" view ! Obviously another "denier" of what many minorities went through to make this country great !! For the wealthy, white rich !! And before I am jumped on for being just another whining minority, I am white. I highly suggest that reviewer read the factual history of this Osage account, if he dare crawl pull his head out of the sand and not try to "hide" from and deny actual events that really happened in our history.
November 02, 2023
A complete distortion.
November 01, 2023
They did a good job telling the story, yet could hav e shortened many scenes to add more context from the book.
November 01, 2023
Well acted. DiCaprio is a wonderful actor and I loved Molly. Great acting and alot of it was sad but one of the best movies I've seen in a long time. Long movie. Started dozing off towards the end but was rudely awoken by a gun shot.
October 31, 2023
It was too long. Well acted but after 2 hours I was checking my watch.
October 30, 2023
De Niro is a horrible person and stupid as he has alienated half of his potential viewers with his political views, when will Hollywood learn to keep their views to themselves.
October 28, 2023
well acted movie bringing back history you would think we might learn
October 28, 2023
Best movie I've seen in years. What an act of socialism in-that small city in Oklahoma. The FBI wasn't corrupt like they are now. Sure didn't seem like 3 hours
October 28, 2023
After about 2 and half hours, praying it would end. Too long, too complicated.
October 27, 2023
Well acted and quite close to the history - a descent portrayal of history.
October 27, 2023
very well acted but to long
October 27, 2023
Decent story, long, actors were good.
October 27, 2023
Boring piece of garbage. 1st time in 30 years I walked out. Wasted 1 hour.
October 26, 2023
This is a masterpiece of writing, filming, and acting. It's strange to me that some people have had such a poor opinion of it. The direction is masterful, DiCaprio never been better in anything, the supporting roles are all very well done, and " Molly" was played to perfection! She was human.. with both weakness and strength. I have to say that if you thought it was too long, I didn't think it was long enough!! AND it is not a made-up ( or fictional, for those who don't know long words) story. It all really happened and the book tells so much more about the founding of the FBI.
October 26, 2023
Way too long. It's been fashionable for a while now to see the injuns as victims or paint them as impossibly noble holy men, which are their own kinds of exploitation. "Cultural sensitivity" is usually incompatible with truth and honesty, but idiotic white liberals should eat it up. Scorsese's best work is decades behind him.
October 25, 2023
It's an ugly true story of the greed of white men against our native brothers and sisters.
October 25, 2023
Very slow, no action. Could've been a 30 minute movie, if it was, I would've rated of the two star.
October 24, 2023
Based on true history. I have Indian heritage. Great acting. So well presented. Part of history I would not have known about.
October 24, 2023
True story line that was kept secrets for way to long!
October 23, 2023
Extremely well done. GREAT ACTING. My wife and I were so engrossed in this movie we didn't even notice its length. We talked about it for several days after viewing.
October 23, 2023
Super slow, way too long. I like the story but could have been done much better. Lots of long super closeups of Deniro and Decaprio. The lead actress was good but didn't say much. No payoff at the end. 3-1/2 hour nothing burger.
October 22, 2023
Movie of the year
October 22, 2023
A total peice of junk massively boring this was the worst movie I've seen this year and what blew me away is Martian Scorsese directed it
October 22, 2023
Was ok a bit slow but acting great. Decaprio never disappoints.
October 22, 2023
The ending was ridiculous. Lots of wasted time. It was a good story and was about the misuse of our native Americans
October 22, 2023
The run time is 3 hours and 26 mins but it breezed by. Great movie
October 21, 2023
Take a picnic basket with you. It's LONG! But it's mostly not boring. Interestingly, it's based on true events. Dicaprio is, for a change, a really bad guy here. Lily Gladstone, who plays his coolly intelligent wife, is a pleasure to watch. The scenes jump around in an annoying way that's sometimes hard to follow. There's also a radio show fit into the end explaining things that might have been scenes but going on for 5 hours would have done me in.
October 21, 2023
This movie will upset the people who deny this countries inhumanity that still is present today. America is not a great country.
October 21, 2023
This was a great story to tell and bring to light but was told from a strange perspective. DiCaprio's acting was awkward and over acted. Movie was way too long at 3 1/2 hours which made the story tiresome rather than poignant. A lot of wasted dialog for DiCaprio and Deniro, they must have been promised a specific amount of lines to be in the movie. White men stole the Osage oil and now they've stolen the retelling of their history.
October 20, 2023
Wonderful movie, creatively filmed and with a fantastic cast that give stellar performances. The 3 1/2 hours seemed much shorter and did justice to the intriguing story.
October 20, 2023
Finally cineplex brings in a movie that is a thought provoking social commentary on US colonization in the Americas that is bound to evoke white (male) rage as the truth be told. Given the rise of fundamentalisms of the far and near right and fascism globally, this is a timely contribution in terms of thoughtful (provoking) cinema for the un/initiated in what is normally an avalanche of hollywood US propaganda for pure consumption and mindless regurgitation by a gullible public. Forget the popcorn and catch this "reality show" to learn about the "civilized savages" and their destructive power that has been unleashed beyond US confines. Try and "reconcile" this!
October 20, 2023
Long boring 3 hour movie, could have been told in 1 hour. The only reason i did not walk out, was because i am a fan of Leonardo. Otherwise, i tell my friends "don't bother going."
October 19, 2023
Good acting and directing but way too long with too many essentially irrelevant characters. Same story could have told with more impact in about two hours or two and a half.
October 19, 2023
Fantastic movie.