Kiss Kiss Bang Bang - User Reviews
Thank you for rating this movie!
Read your review below. Ratings will be added after 24 hours.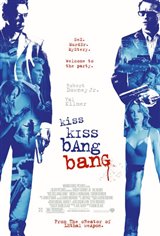 ---
Please rate movie 1 to 5 stars
Showing 1 to 21 of 21
April 23, 2007
Offbeat, funny and quirky. If you want something that follows the standard hollywood format look somewhere else. In short, I loved it!
September 24, 2006
I must be on a different wave length...it wasn`t funny or thrilling or anything......I wish I`d spent my time doing something else!
July 05, 2006
Didn`t really like the narrative style..a bit confusing at first. Too far fetched how the main characters met up again. Downey is great in small doses, however, too much of him can be irritating. Absolutely loved Kilmer, talented as always. I did like that it was a suspence movie that did explain itself in the end.
June 27, 2006
Absolutely incredible.
June 24, 2006
Great movie. A little over the top with the swearing and vulgarity, but basically a 1960`s style murder mystery. Val Kilmer and Robert Downey Jr were great as mismatched partners, right up there with the likes of Eddie Murphy and Nick Nolte in 48 Hrs.
April 19, 2006
funny movie and great acting
February 21, 2006
A waste of time. Just could not get into this movie at all and not very entertaining.
February 03, 2006
A total surprise, clever, funny. Similar to Pulp Fiction in that you have no idea what is going to happen next. Just go along for the ride all will be revealed! Val Kilmer hasn`t been this good for a long time and Robert Downy Jr. plays this kind of character very well.
January 30, 2006
Confusing, hard to follow and uninteresting. Didn`t enjoy all that much!
December 15, 2005
Very Entertaining Movie, Saw it by fluke cause nothing else was playing at the time and it turned out to be VERY good!
December 02, 2005
hilarious, great plot, superb acting....
December 02, 2005
plot was flimsy and spontaneous... really just didn`t make a lot of sense
November 27, 2005
So uproariously funny, so inventive, so totally engrossing...just an all-out piece of film fun. This, my friends, is what movie-making is all about. I haven`t had this much fun at a movie in years. Worth every penny, and I will definitely see it again! As for Robert Downey Jr. and Val Kilmer, all I can say is...Let`s meet like this again!!
November 26, 2005
Fun movie. Well acted and scripted. Well worth the time.
November 24, 2005
Funny, sexy and intertaining.
November 18, 2005
best movie ive seen in a long time, great characters,intersting story and delivery.
November 14, 2005
The chemistry between Kilmer & Downey combined with the wittiness of the script make this movie a must see...they should do another movie together.
November 12, 2005
good movie
November 11, 2005
very sexified
October 27, 2005
Enjoyed this movie immensly. I`m going back a second time, well worth seeing.
October 26, 2005
Very witty script and well acted.