Late Night - User Reviews
Thank you for rating this movie!
Read your review below. Ratings will be added after 24 hours.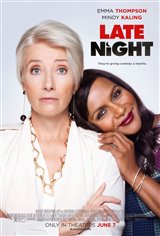 ---
Please rate movie 1 to 5 stars
Showing 1 to 31 of 31
November 14, 2019
SJW Cr*p-fest. Unwatchable!!!!
September 21, 2019
Smothered in political correctness and over done cliches Time I will never get back!
September 21, 2019
Horrible! One cliche after another.
September 07, 2019
I thought this movie was very entertaining. Well written.
August 08, 2019
This movie uses comedy to describes why every business benefits from diversity.
August 02, 2019
I walked out. I thought it was a comedy, Its Not.
July 27, 2019
Stupid, boring movie
July 08, 2019
Everything about this movie worked, except Emma Thompson. She was missed cast and was not believable in the part..
June 29, 2019
I loved the actors in this film. They made up for a script that sometimes tries too hard.
June 29, 2019
Emma Thompson was fabulous.
June 28, 2019
Interesting characters and funny dialog.
June 27, 2019
It just simply dragged on and on.
June 27, 2019
Basically enjoyed it but the ending was rather flat!,, good to watch when you do not have much else to do!,,
June 23, 2019
could have been a better movie. Storyline was dull and flat. Jokes far and few between if any.
June 23, 2019
I enjoyed it far more than the poor reviews made me believe I would. But, ditto on the distracting f-bombs and the script was light. Still worth seeing if not just to support a blossoming producer.
June 23, 2019
A steaming worthless pile of cow dung.
June 21, 2019
Love these actors, but the script was so dull...missed the mark for me.
June 21, 2019
Great entertainment! Serious, funny and loved it!
June 20, 2019
While the film is enjoyable the script is not exceptional. Mindy Kaling, as producer, writer and star is not bad but it is not edgy and here are no big laughs, although there is a tear or two. It is Emma Thompson who over shadows a good cast. It is her performance, a little like last year's, The Wife, that propels the movie. Certainly hope people remember the film by the time Oscar nominations roll around.
June 19, 2019
nice and funny movie
June 18, 2019
Super hilarious! Must see!
June 18, 2019
Might have been funny if this had come out 30 years ago but the story lines and humor were so dated it sounded like something off a 90's something sitcom.
June 18, 2019
movie was against everything i'm for-left about half way thru. bad flick.
June 17, 2019
Not good, not bad, it was somewhat entertaining. Mainly because Emma Thompson is such a great actress, but the story was boring. Mindy Kaling is not really an actor, she doesn't have any star quality and should be kept to very minor roles. Nor is she great with writing scripts apparently.
June 16, 2019
You know when you go see a movie and forget about it almost immediately? That's this movie. It's not bad - it has good actors in it. It's just forgettable, and not necessarily something you would recommend to your friends. That being said, if you feel like a night out at the movies, this will probably do the trick.
June 16, 2019
Worth Good script good actors
June 16, 2019
Emma Thompson was the draw despite the ratings; how could this not be good? When it was over, I could only ask why the movie had been made. Neither comedic nor tragic, it was no more than a sad comment on the lives of a few people who are really little different from most of us. All in all, a disappointing way to have spent a Saturday night. Wish I'd gone to see "Hotel Mumbai" again; that would have been a far better investment.
June 14, 2019
This movie WAS very funny & had some good teaching lessons, also. However, I could not stand all the bad language throughout.
June 12, 2019
A film like this with it's premise would have been original if it had come out say 25 years ago but the humor was dated and the characters stereotypical as was the plot and had the feel of a early 90's tv sitcom. I can't recommend the film.
June 03, 2019
A very good movie. Thoroughly enjoyed it. Great screenplay by Mindy Kaling. Stellar cast with great performances. Lots of laughs. One of the movies of the year to go to watch, a must-see. Entertaining throughout. Was very satisfied after having gone to see this. Recommend it highly.