Letters to Juliet - User Reviews
Thank you for rating this movie!
Read your review below. Ratings will be added after 24 hours.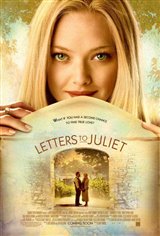 4.13 / 5
User Rating
Based on 1456 votes and 607 reviews
---
Please rate movie 1 to 5 stars
Showing 1 to 50 of 607
November 12, 2012
One of my absolute favourites, and i'm a young teenager. A classic story with a bit of predictability, but the beautiful endings and scenery more than makes up for it.
January 22, 2011
2 1/2 stars...pleasant and un-offensive.
September 24, 2010
This is the first movie I have seen Amanda Seyfried in... yikes... I thought she was terrible.... came across as an 18 year old acting in a school play. Her love interest in the movie was not much better. The story was cute and I think could have been made into an excellent movie if they would have gone with some decent actors. The older lady in the film was an okay actor. I would watch it again if it was on T.V. The movie might go over well with teenage girls....
September 07, 2010
I went with my sister and brotherin law and we all three enjoyed it.
September 06, 2010
Great chick flick, the scenery is what did it for me. Makes you feel like you've been on a mini vaction to Italy.The love story was a bit cheesy at times. Overall, good.
September 04, 2010
Chick flick. Wife liked it, I wish I could have seen something else
September 03, 2010
I positively loved this movie. No silly head cheerleader and football captain romance. This is a story of true ,mature ,and lasting love that has survived decades.
September 03, 2010
Grab some dinner and this movie with the girlfriends. It was worth a night out.
September 03, 2010
An amazing movie. The story was beautiful as was the scenery.
September 02, 2010
I heard mixed reviews about this movie so I wasn't sure what to expect but I was pleasantly surprised how much I actually did enjoy it.
August 30, 2010
A charming love story.
August 29, 2010
Definite chick flick. Don't bring your man.
August 26, 2010
Amanda's acting was great as usual in this film but I found the actor who played her fiance in the beginning was sort of annoying!!!
August 26, 2010
Nice summer fare that allows us to believe in romance, regardless of age. The beautiful Italian scenery also makes it more than worthwhile!!
August 26, 2010
I loved this movie and so did my husband-not only was this a wonderful movie but the great actress vanessa redgrave was in it-perfect. The best movie I have seen in a long'long time.
August 26, 2010
Fabulous Just Fabulous
August 25, 2010
This was such a fabulous romantic comedy! I loved it! It had such a wonderful lovestory, yet it was funny too!!!
August 23, 2010
A wonderful visit to Italy, a scenic tour of the sites and a visit with old friends. That's what this movie feels like!
August 21, 2010
Yes it was very stirring, made me want to feel what its like to be in love again, and there were tears, and laughs, it was a good couple of hours.
August 19, 2010
Delightful movie with nice twists and turns. Easy watching and enjoyable for sure. Love was definitely in the air.
August 18, 2010
The best part of the movie was the beautiful ending but the rest of the movie that took you there was boring, predictable, and was not a worthy film as a whole. The acting was great but the witty banter was simply a failed attempt and there was nothing special about this film.
August 14, 2010
Entertaining and sweet.
July 30, 2010
I knew it was going to be good, since I cried every time I saw the previews. Love it, can't wait for DVD.
July 30, 2010
its about someone who goes to vist a country to find her fiance but helps somebody fnd their long lost love . it is verry romantic
July 30, 2010
A very nice "Romantic Comedy".....touching ! Lesson: If you don't pay more attention to your girl instead of your job.....you may lose her !
July 30, 2010
A very nice romantic movie. Loved the idea of unrequited loved and not giving up. Kleenex and laughter is what I consider a great evening. And the location was awesome...
July 30, 2010
Every so often, a movie comes along that seems to hit the right notes. One that actually moves you. As the cliche goes, it makes you laugh, it makes you cry.
July 30, 2010
Cute movie.
July 30, 2010
loved this movie ,Meryl Streep's performance was amazing, I loved eveery moment of this movie , it was funny and enjoyable.
July 30, 2010
I have not been disappointed in Amanda Seyfried 's acting skills. This is a film for the romantics.Lovely!!
July 30, 2010
Predictable - but the Italian scenery - beautiful
July 30, 2010
Rarely do we see movies that have such rich roles for women. I'm so pleased to find a love story on the big screen that's not limited to the young. Love has no age limit. This was a true delight from beginning to end. I want to see it again.
July 30, 2010
Total chick flick with no surprises - just as expected girl & boy fall in love.
July 29, 2010
Great chick flick!!!
July 29, 2010
I knew this was a chick flick but I dragged my husband to it anyway. He loved it! Even though the movie is predictable, the actors were well cast and believable, which made for a nice evening at the movies.
July 29, 2010
Ultimate girl movie. Romantic scenes were a little corny but the view sure wasn't bad.
July 29, 2010
I went for the scenery mostly. The story was a little too good to be true. How come no one else found that note in 50 years??! Still nice to think you're never too old for romance.
July 29, 2010
My husband and I have seen this movie two times - last night we took two other couples with us to see it and they all liked it. It is refreshingly clean (my husband said it could almost be rated G), the scenery is fantastic, the characters are believable - overall an enjoyable movie to watch!
July 28, 2010
Great cast of actors makes what could be a cheesy movie into one that is sweet and believable. It is a bit predictable, but still worth the watch...even if just for the scenery. Beautiful landscapes are another character in this movie. A great movie for young teens as there is no overt sex scenes.. Definately recommend.
July 28, 2010
This is a super chick flick. My two daughter and I enjoyed it. Very romantic, acting is great, scenery makes one want to travel right away.
July 28, 2010
If you like romantic comedies, this is a must-see movie! Cute and funny!! We made it a girls night out and we all enjoyed it!!
July 28, 2010
Great movie. Makes me wish to go to Italy - The City Of Love !
July 28, 2010
I didn't expect much before watching this movie but after the movie ends it made me wanting more. I love it, a really sweet love story, finding a person that you enjoy to be with. I really like Amanda Seyfried in this movie, she was so good in Mamma Mia too.
July 27, 2010
OMG I LOVED THIS MOVIE!!! You need a kleenex box BUT not just for sad tears, happy ones too!! this movie is for EVERY relentess and hopeful person that believes in LOVE and DESTINY!!!
July 27, 2010
Great story line even though it was predictable. Loved the characters and their story lines. Great love story.
July 27, 2010
This was a very sweet love story. Fairly typical of most love stories, young woman is engaged to a nice but distant young man. In comes another young man who is instantly antagonistic to her and of course, they fall in love after some bumps in the road. The sweet part in this is the idea that she finds a letter written to Juliet (and there are woman who write back to people on behalf of Juliet - which is what this movie is based on) decades ago and the now elderly woman goes in search of her one true love that she left so long ago.
July 27, 2010
Great love story - loved the scenery in Europe.
July 27, 2010
Absolutely loved this movie! It gives you hope. Knowing the parallel true love story of the actors within it adds to the magic of the journey.