Live by Night - User Reviews
Thank you for rating this movie!
Read your review below. Ratings will be added after 24 hours.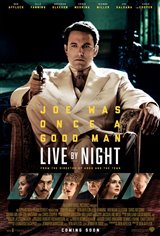 ---
Please rate movie 1 to 5 stars
Showing 1 to 18 of 18
March 24, 2017
I really enjoyed this movie! I was hesitant because of the reviews and ratings on here but was happily surprised. Affleck, as usual, does a fantastic job along with his costars.
March 07, 2017
Terrible movie
February 16, 2017
someone please stop ben affleck. just, no. this is a bad movie and who cares about affleck? go do something useful. donate all your money. stop making ego-stroking BS.
January 28, 2017
Did not enjoy this movie at all. 2 stars because it enjoyed my popcorn.
January 25, 2017
GREAT MOVIE. BOTH MY WIFE AND I THOUGHT THE MOVIE WAS WELL WRITTEN, LOTS OF ACTION, ACTING WAS REALLY GOOD. I WATCH A LOT OF MOVIES AND THIS WAS AS GOOD AS ANY I HAVE SEEN.
January 24, 2017
Graphic violence could have been toned done without reducing the historical depiction of the twenties mob culture !
January 24, 2017
BORING, SLOW AND UNENTERTAINING. PASS ON THIS MOVIE.
January 23, 2017
My wife and I have always been fans of roaring twenties ganster movies. We enjoyed this one as well. We love the backdrop with the old cars, houses and clothes of the day. Story line predictable but enjoyable.
January 22, 2017
Slow and boring. Skip it.
January 19, 2017
I really enjoyed this move with a solid plot and is there all movie long. Affleck is very convincing and loyal t his calling in this jumbled at times plot, great though all in all.
January 17, 2017
I usually like this style of movie. Bens acting seemed stiff, I didn't really get emotionally involved in his character. Was hoping for more.
January 17, 2017
Great 1920s vibe with the cars and clothes, and a strong supporting cast, but this isn't Affleck's best effort in the leading role. The movie is just okay. Not great.
January 16, 2017
I give this MOVIE a 2.5 rating. It was too long and it just dragged out. QUITE predictable it was. The writing was alright, I almost fell asleep. Yonge Vip Cineplexs Cinema really nice incline seats enjoyed it for my first time.
January 15, 2017
Movie was not bad but it wasn't great either. Ben needs to work on his crying as that was sad acting in itself. The movie had a few opportunities to conclude with a good ending but then he just had a bit more and a bit more and a bit more of the story to tell. By the time it did end I was ready to leave. I like this guy but not really a fan of this movie.
January 14, 2017
Nonstop action Ben Affleck has done again
January 14, 2017
Very confusing storyline, poor acting. Long and drug out.
January 11, 2017
boring to begin with