Lost in Translation - User Reviews
Thank you for rating this movie!
Read your review below. Ratings will be added after 24 hours.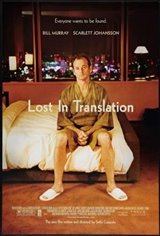 4.28 / 5
User Rating
Based on 5626 votes and 71 reviews
---
Please rate movie 1 to 5 stars
Showing 51 to 71 of 71
November 16, 2003
Racial Art Crap. It`s funny to laugh at Asian people whos roll their ls.Not to mention there was no chemistry between the couple.Weak story,editing and politics.
November 15, 2003
Best movie I`ve seen this year! This is a film that anyone who`s ever been alone can relate to. Very reflective and beautifully shot. Murray and Johanson are wonderful and refreshing together. See this film!
November 11, 2003
lonnnnnggggggg
November 09, 2003
5/5. The best film I ever seen this year. I enjoyed Lost In Translation much more than Kill Bill, Vol.1, currently my 2nd favourite film this year.
November 02, 2003
AWFUL!!! SO BORING! If you like a movie about nothing with minimal humour. Go to see this one! Bill Murray`s WORST!
October 25, 2003
A buddy picture with an older man and a younger woman ... you thought this was impossible? Well Sophia Coppala managed to pull that off. What a rich film with all sorts of character and sensibility. Gotta love people who take chances.
October 25, 2003
the worst movie I have ever seen
October 10, 2003
as a movie it was ok , as a venture for Bill Murray to show his acting ability it was very good , when you remember Bill from his other movies , and then you see him now, you keep expecting a funny look, a side splitting gag , but it never arrives.it would not hurt to wait untill this movie is on video or even untill it is on TV
October 08, 2003
Beatiful movie. With great shots and mixes of music and silence. It`s a bit artsy, but well worth your time.
October 04, 2003
This was one of the worst movies I`ve seen in recent times. It was totally boring, devoid of any rhythm, gave a stereotypical view of Japanese culture, had too many dead spots and too many scenes that had little to do with the main thrust of the movie. As well, the story was weak and the acting was mediocre; but blame that on a very insignificant story line and poor directing. I`m just sorry that it took over two hours of my time.
October 03, 2003
Beautiful colours. Real meaning.
October 01, 2003
It`s not a bad movie by any means but doesn`t earn top marks because of one huge inconsistency. The first 1/2 hour or so of the movie is used to set up the lonely situation the two leads find themselves in. However when "Bao" and "Charlotte" finaly do hook-up, we suddenly find that she has all sorts of friends that they can and do visit and with whom they have loads of fun. If this is the case, then why the "miss Loneley Hearts" set-up?
September 30, 2003
Beautifully shot. Decent acting. Lousy movie. Almost incoherent series of music videos and sound bites strung together without ever really achieving anything.
September 29, 2003
Something was definately lost in translation between idea and final cut. There is very little of anything here. Some development of a friendship but almost total lack of taking advantage of a fantastic location and situation. There can be so many humourous situations and dialogues developed here but are not. Not even worth the special rate of $4 that we paid.
September 27, 2003
A movie about reflection and choice. not to mention great physical comedy! 5 Stars.
September 26, 2003
It`s one of those movies that make the little moments in life shine...
September 22, 2003
The most amazing Romantic-Comedy-Life Parody ever to hit the big screen. Don`t expect a plot - expect life. The movie is a movie about `nothing` but it is a depiction of everything. The most emotional experience at a film I have ever had - AWESOME.
September 21, 2003
LOST IN TRANSLATION IS A REMARKABLE FILM BY SOFIA COPPOLA!
September 20, 2003
This is the best movie I`ve seen so far this year!
September 20, 2003
Pretty good movie id rather wait for it to come out in video though@!
September 19, 2003
a movie of life`s simple but not so simple complexities. The choice between lonliness and love even if it is stirring up innapropriate emotions but real.