Love, Simon - User Reviews
Thank you for rating this movie!
Read your review below. Ratings will be added after 24 hours.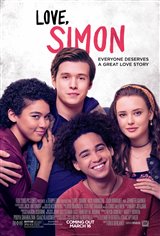 ---
Please rate movie 1 to 5 stars
Showing 1 to 50 of 50
May 01, 2018
I think Love Simon is the World's Greatest Whole Wide World Best Movie That is Out Already my rate is 100% for it
April 20, 2018
Very sweet!!!!!!!
April 20, 2018
Great movie!
April 15, 2018
Loved this movie..was awesome. hit close to home for me. So glad its out there ! Will see it twice
April 14, 2018
That night two weeks ago I went to the theater to see another movie but arrived too late so I saw this movie instead and loved it! The drama teacher and the vice principal were very funny! Everyone in the theater that night we were all laughing. All of us were over 30 years old as far as I could see and it was a mixed crowd too. This movie is well done and well acted with a good story and good messages which are love, acceptance, tolerance, inclusion, forgiveness and friendship.
April 09, 2018
What I like about the movie is that is true in real life !!
April 08, 2018
This movie was made with taste, a predictable villian, but a relatable lead and great supporting characters, i love this!!!
April 08, 2018
Stereotypical movie. A full and his money
April 06, 2018
Wonderful portrayal of what teens go through daily. Powerful!
April 03, 2018
Really enjoyed this movie!, true to life!,, great acting
April 03, 2018
This was a sweet and sad story at the same time.
April 01, 2018
Whoever said this movie was "faith based" had better look at the teachings of the Catholic Church where homosexuality is definitely not accepted but is frowned upon. Maybe it's because they are busy dealing with sexual abuse committed by its priests.
April 01, 2018
ABC spark called they want their show back
April 01, 2018
Funny how peole are all about this movement, but still don't want their kids dating people who aren't white. Might want to educate yourse more
April 01, 2018
As an educator, the message of hope and acceptance will resonate with my students. Those who gave one star need to reconsider their view. Although it is LGBTQ, these kids are going through this now! We must remain visible. Not ALL commit suicide ... most flourish because of acceptance by family and friends. Some are disowned and kicked out of their homes. There are many homeless LGBTQ kids on the street. Also with our current administration I'm surprised it was allowed to be shown at all. trump said at a rally that pence would "hang them all" ... ahh christian values!!! The movie is about LOVE and relationships. It's about the difficulty kids go through to try and accept themselves and be strong and secure within themselves especially when faced with rejection and hate. We need to remain vigilant and support ALL people ... ALL people who may not fit in YOUR society. A beautiful love story ...
March 31, 2018
Overall was a good movie, mixture between humor and drama. 4 stars because I was told it would be a real tear jerker but only slightly teared up once.
March 27, 2018
This was a loving sweet story with a touch of funny scenes.
March 27, 2018
Amazing movie. Very relatable, funny, charming and a first of its kind. Saw low ratings, was very surprised on the reasoning. Does not deserve them at all. This movie touches on issues that are indeed still very very very current and very relatable. Issues and struggles that many get kicked out of their homes for or excommunicated. I love that there is a movie for those people to see on the big screen and know there are people out there that will support you if you go looking for them. Also, that they are supported, acknowledged in major cinema and can hopefully expose more people to the concept that gay movies are just movies. Just a person with there struggles in society. Like many have had in the past. In closing, go see it, it deserves the support, and it is a really good movie :) *did not proof read lol hope this makes sense
March 22, 2018
From my point of view this movie was well reflecting some of the actual issues of our society. I think the movie was fine.
March 22, 2018
We watched yersterday I was impressed with this plot. Some humor and sad scenes. Very complex movie.
March 22, 2018
This movie is 3 years too late. In this day and age where the LBGTQ community are reveling in their openness, this whole theme of having to hide your sexuality and attraction for someone of the same "sex" is way past it's time and even a step backwards. Even looking past this, this movie was weak - at best, and a subject matter that is even now being handled on Disney channels... I went to this because the tickets were free... it'll be on TV in about 3 days... save your money
March 21, 2018
Excellent movie. Just came on the right time.
March 21, 2018
turn onto ABC spark to see the exact same thing
March 20, 2018
This movie have a beautiful powerful message. Very good plot.
March 20, 2018
Touching story. Very loving.
March 20, 2018
An excellent movie that handles a teen who is debating his role in life. I loved the narrative part from him. Beautiful movie.
March 20, 2018
A remarkable movie. 😊
March 19, 2018
Faith based or not this movie was excellent and had a real message!
March 19, 2018
Beautifully done but not for those who might be homophobic. People have struggles in life which take many forms...be human and show your empathy vs dismissiveness
March 19, 2018
No. It was a beautiful movie.
March 19, 2018
Predictable
March 18, 2018
Love this movie .very cute ..Great acting by lead actor Nick.This movie is very easy to understand ..Josh And Jennifer was also great in their supporting role.4.5 out of 5 ..
March 18, 2018
I loved the soundtrack and some of the funny scenes. ;)
March 18, 2018
Weak script, predictable plot points, and of course the critics are required to love it because, well, you know. 'All things LGBTQ must be praised.' For a really interesting script, try one that shows high LGBTQ suicide rates - especially Trans - even when they are accepted by their family and peers.
March 18, 2018
This movie was sweet.
March 18, 2018
Very fine movie.
March 18, 2018
Perfect combination because the movie contains drama and humor.
March 18, 2018
I went to watch this movie with some friends. We liked the story. Very touching.
March 18, 2018
An amazing story for some teens.
March 18, 2018
This movie made me almost cry. Such a sad story and beautiful at the same time.
March 18, 2018
An example of courage from a teen. Excellent plot.
March 18, 2018
Beautiful story. Very touching.
March 18, 2018
Loving movie. :)
March 17, 2018
This was done million times before
March 16, 2018
Loving story. So true in some teens. No all but some who need to hide their sex orientation.
March 16, 2018
A life of a teen who is trying to please this world and his world. This movie is very touching.
March 16, 2018
This movie me almost cry. So sad. A boy trying to fit between two roles.
March 16, 2018
this movie is soooooooo predictable
March 16, 2018
You don't need to love Simon. You need understand his drama. This is why so many kids like him end .., because ignore them.
March 16, 2018
Glad they made story about people like him suffer from getting rejected from society.