Love the Coopers - User Reviews
Thank you for rating this movie!
Read your review below. Ratings will be added after 24 hours.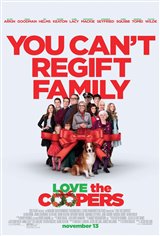 ---
Please rate movie 1 to 5 stars
Showing 1 to 19 of 19
January 04, 2016
Very good, Diane Keaton ..... Excellent .... Very enjoyable & recommend it .... No regrets ....
December 26, 2015
You will Love the Coopers just as much as I did!
November 28, 2015
If you are looking for a happy holiday movie, trust me, this ain't it! Good cast but overly depressing, the ending improved the movie minimally but seriously, don't waste your money ??
November 25, 2015
depressing "misery-healed" comedy aimed at cheering up a more miserable audience (classic formula) with a typical "USA = only all-white" family, with American style include a black person here n there. the sole black actor (key non-family character) also plays a friend-as-family in "night before" which is an un-funny comedy (I rated ZERO stars) *elsewhere* which was worse.
November 21, 2015
Please change the name of this movie to "Hate the Coopers", this is a Christmas present that should be returned to the store. Perhaps one of the worst movies we have ever experienced, almost disturbing. I am sure the actors must be in hiding. To be clear we did not like it at all and should have asked for our money back.
November 20, 2015
Worst movie ever!! Do not take children as it is not appropriate. Left 40 minutes in.
November 19, 2015
I was looking for a nice uplifting holiday show. Instead, it was so depressing, I could only suffer through the first hour.
November 18, 2015
awful left early
November 17, 2015
Awesome family movie
November 17, 2015
Terribly depressing for a holiday movie. Rarely was it funny. The matriarch couldn't be more typecast....save your money.
November 16, 2015
Good movie. No it won't win an Oscar, but entertaining enough and we laughed out loud a few times. Nice little Christmas movie with a pretty good feel
November 16, 2015
Beautiful family story with some Life Lessons we All can Benefit from! Enjoyed this movie!! :)
November 15, 2015
While not having Oscar potential it is good entertaining movie that will appeal to all who struggle with doing what is expected during the Christmas holiday.
November 15, 2015
this movie was so bad that it's going to win a award for the worst movie of the year. What a waste of money, left before movie finished.
November 14, 2015
This is one of the worst movies I have ever seen! Cannot believe it is advertised as a Christmas movie. Very depressing and not funny at all! It was all over the place. Wanted to leave - I should have.
November 13, 2015
Great cast...but very slow, boring, no plot whatsoever. Joe was the best character.
November 13, 2015
Very funny, love the cast.
November 13, 2015
What a horrible peice of garbage this movie is . Goes from one scene to another , nothing really comes together . No real plot . Horrible acting . I wish I could rate this a big fat 0 . My fiancé and I ended up walking out of the movie . Don't waste your money on this one people . I'm glad it was free for me
November 12, 2015
I attended the screening with a friend & we both loved this movie for its witty uplifting comedy. In particular enjoyed the airport couple's (Jake Lacy & Olivia Wilde) new romance and feel the entire cast gave strong performances.