Mamma Mia! - User Reviews
Thank you for rating this movie!
Read your review below. Ratings will be added after 24 hours.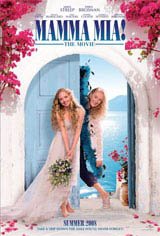 4.33 / 5
User Rating
Based on 1356 votes and 274 reviews
---
Please rate movie 1 to 5 stars
Showing 1 to 50 of 274
September 24, 2018
I'm a huge fan of musicals and always meant to watch this one. I finally had the chance and I hated it. It's beyond cheesy, the storyline is flimsy and after about half an hour, I had to turn the TV off. This is the kind of musical that makes non-musical lovers say See? Musicals are garbage with bad acting and stupid storylines. Which isn't true. Except in this case.
November 01, 2010
Watched it again and I have to say; Why didn't someone say to Pierce Brosnan - "Mr Brosnan, you are a great actor. We love you. ...but you can't sing and we will dub your voice in the movie." Anyway, besides that, and overacting from Meryl that looks great on stage, but not in a movie, this movie is enjoyable. I think the only reason I don't give it higher stars is that I was lucky enough to see the stage play in New York and it was a million times better on stage.
September 28, 2010
Two hours of exuberant, musical fun based on the songs of ABBA. Cringe if you must, but your toes will be tapping all the same. I enjoyed three handsome, if vocally challenged, actors each taking turns being confused, surprised, charming and ultimately rising to chivalry. I love a man who can take the micky out of his own persona. Amanda Seyfried as bride-to-be, Sophie is lovely - both visually and vocally.
December 24, 2009
Best movie ever. so full of joy!!
March 16, 2009
Love the film, have watched the DVD many times, listen to the soundtrack daily. No the songs aren't sung perfectly but the energy and vibrancy of the cast never fails to give me a boost
March 08, 2009
this is one of the best i have watched it i do not know how many times it is just great. well done to all,i shall keep watching and singing along than you all for the music. jenny mitchell
March 04, 2009
I would kill to be in a movie with Dominic Cooper
February 08, 2009
THE BEST I HAVE EVER SEEN
January 14, 2009
It's "Detroit Rock City" for Abba fans. 1.5/5
January 02, 2009
One Of the best entertained movies
December 20, 2008
A disappointment. Would have been better without the music.
December 17, 2008
frickin awesome
December 14, 2008
OMG BORING HORRID SINGING THE SINING ALMOST SCARED ME AS MUCH AS SAW (IT WAS SCARYER)
December 12, 2008
Good movie
December 10, 2008
MAMMA MIA IS THE BEST MOVIE I HAVE EVER SEEN!!!!!!!!!
December 01, 2008
AMAZING! Even though i was in the theater with a whole bunch of old People. AMAZING. With a tint of humor.:)
November 24, 2008
WOW was there anything in that movie that was good the singing tarribal and the plot was wow and the singing still hauntes me
November 14, 2008
I give it 5 stars for entertainment. I was a little taken back by Pierce Brosnan's singing, but after a while, his voice grew on me and it actually sounded better. I think this movie will be a great Christmas stocking stuffer. I also saw the theatrical version and loved it. However, there are some things they couldn't do on stage that they took full advantage of in this movie. I loved it.
November 08, 2008
What a great movie! Loved it. Full of fun and positive feelings. Welcome change from the violence and negativism in most other movies. More please.
October 27, 2008
Superb and refreshing.
October 25, 2008
I saw this play on Broadway and loved it. The movie isn't nearly as good. The acting and singing are just ok. Only 3 stars IMO.
October 22, 2008
yes very goodmovie
October 19, 2008
Excellent movie. Enjoyed it from beginning to end. It was a real and down-to-earth type of movie. Each actor in the movie were wonderful. First chance I get I plan on buying the movie......
October 12, 2008
I have seen Mamma Mia twice and can't wait for it to come out on DVD so I can watch it as often as I want. RMR
October 11, 2008
very cut with lots of ABBA songs had some funny scenes
October 07, 2008
I LOVE MAMMA MIA I REALLY DO WITH SONGS AND EVERYTHING!!!
October 03, 2008
it is awsome exept for some parts!!!!!!!!!!;)
October 02, 2008
It was an amazing film and very funny and also a reunion to abba musics... very exciting...
October 01, 2008
saw this movie 5 times! The fact that some of the actors couldn't sing well was what I liked the most. It showed that even though you can't carry a tune you can still sing your heart out when you are in love.
September 28, 2008
Mamma Mia! This Sucked
September 26, 2008
awsomme
September 26, 2008
Definetely an award winning hit since Hairspray!!! Kept me laughing and dancing all the way out of the theatre. Look for more of my reviews. E.B.A.
September 23, 2008
very uplifting and fun.
September 20, 2008
The musical numbers kept getting in the way of the story! Hopefully the dvd will give viewers the choice of watching the film without the annoying song selections.
September 19, 2008
Older actors could not sing,Sophie and her fiance could sing the rest could not. Can not belive ABBA OK this. Have seen stage play twice this doesn't hold a candle to it
September 16, 2008
THIS MOVIE MADE ME CRY AND IT WAS SOOOO BEAUTIFUL
September 15, 2008
GREAT MOVIE, ENJOYED EVERYTHING, MUSIC, THE DANCEING ALL OF IT WAS AWESOME.
September 14, 2008
best movie last 20 years
September 14, 2008
this movie was so cute!
September 13, 2008
it was a pretty good movie!
September 12, 2008
I absolutely adored this movie!! Some of the singing could have been better, but it was so much fun! Fantastic! Definately going to buy it when it comes out on DVD!
September 09, 2008
fantastic movie! great friends movie!
September 09, 2008
amazing movie
September 07, 2008
Loved every minute of it, seen it twice and can't wait for the DVD!
September 07, 2008
This was such a great movie! I enjoyed it the first time, but LOVED it the second time. Being a child of the 70's it was a blast from the past. No, Pierce Brosnan is not a stellar singer, but he did a passable job. Very entertaining! Meryl Streep is showing yet another side of her performing prowess. She is amazing!
September 07, 2008
I prefer to watch movies only once but I would definately go back and see Mamma Mia. Very entertaining.
September 06, 2008
VERY LIGHT ENTERTAINMENT HAVE SEEN IT 4 TIMES LOVE ABBA MUSIC EVEN ALTHOUGH PIERCE COULD NOT SING HE MADE A GOOD ATTEMPT.
September 06, 2008
Simply amazing!!!!
September 06, 2008
Enjoyed it but if you don't like ABBA music it's not for you.
September 06, 2008
Bad music, sexist plot, terrible acting...the worst film I've seen in my lifetime