Martha Marcy May Marlene
Thank you for rating this movie!
Read your review below. Ratings will be added after 24 hours.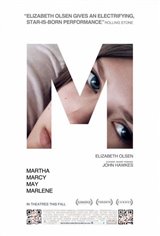 ---
Please rate between 1 to 5 stars
Showing 1 to 32 of 32
January 08, 2013
gave me chills throughout the movie. Olsen was great.
October 12, 2012
great movie!
July 19, 2012
movie gave me the creeps...really strong performances by hawkes and olsen.
June 26, 2012
a very intense, interesting thriller. olsen gives an oscar worthy performance.
May 30, 2012
creepy movie - loved it!!
May 30, 2012
freaky movie!!....a tad slow, but emotionally draining and intense movie. olsen deserved more recognition for her brilliant performance.
May 28, 2012
although the ending is a bit wierd..very intense and disturbing movie. olsen aand hawkes give fantastic performances.
May 04, 2012
brilliant and haunting film about a girl trying to reclaim her life after escaping a cult. terrific performances by elizabeth olsen and john hawkes. understated and nuanced without the usual melodrama.
March 02, 2012
movie had no point and a stupid ending
January 28, 2012
what a waste of time. totally unbelievable and melodramatic.
January 08, 2012
Really enjoyed this movie - kept me interested right to the end.
January 06, 2012
The best
January 01, 2012
interesting concept - well done
December 18, 2011
amazing plot and acting...was a tad confused about the ending though...
December 13, 2011
Enchanting!
December 12, 2011
Well acted but I am getting tired of movie endings that leave you hanging
December 03, 2011
I got lost in this story. very internal.
November 29, 2011
very odd premiere that i saw, did not like this movie.
November 28, 2011
An unforgettable film. One of the crowning achievements of the year. A rather somber film with disturbing elements and paranoia present.
November 25, 2011
Interesting movie - it held my attention for the duration. Would reccommend it!
November 24, 2011
Poor Martha only wanted a family that would support and not desert her....and becomes the victim of a charasmatic leader. I think the most heart breaking part of the movie is that she turns to her sister for protection and that sister gives up on her. Of course her behavior is frustrating and intereferes with her new marriage, but it is also clear that something terrible has happened to this girl, which we learn in a series of flashbacks. Superbly acted and directed, this should be the indie darling contender at this year's Oscars, and it will haunt you for days after you see it.
November 21, 2011
This the best movie I have seen all year. It's a strange blend of drama and thriller that keeps you wondering what will happen next. Great performances by all the actors, especially Elizabeth Olsen. A must-see film.
November 18, 2011
Well written and a different sort of movie. It entertained without being formulaic. Enjoyed it.
November 18, 2011
Great writing and plot. Very intereseting.
November 18, 2011
Great acting.
November 18, 2011
Love this type of movie. Great plot, super acting and kept me on the edge of my seat.
November 17, 2011
Creepy! Quite a movie. Great performances.
November 09, 2011
A perfectly crafted film that focuses more on the psychological impact the actions have on the character rather than just the action itself. Both young new actress Elizabeth Olsen and John Hawkes gave GREAT performances that should not be forgotten comes awards season. A very good start for promising newcomer Sean Durkin.
November 05, 2011
Confusing movie and depressing at times. Acting was good. Sad ending.
November 03, 2011
An excellent movie.
October 30, 2011
It will be an Oscar moment for Liz Olsen....she and the film as a whole shone.
October 28, 2011
An excellent movie about a young girl trying to re-connect with her family after going through a very diffcult and traumatic period in her life. Elizabeth Olsen gives a stunning performance in this film.