Maze Runner: The Death Cure - User Reviews
Thank you for rating this movie!
Read your review below. Ratings will be added after 24 hours.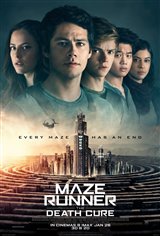 ---
Please rate movie 1 to 5 stars
Showing 1 to 50 of 52
March 22, 2018
Worst movie ever watch!
March 18, 2018
Low budget, poor acting, weak cast, unattractive poor story. A piece of garbage.
March 18, 2018
This one should out for a long time, don't know why it is still on, just a waste of your money and precious time.
March 17, 2018
People who gave this movie bad reviews went in expecting to dislike the movie. If you actually watch the movie it is very enjoyable and just as good (if not better) then the first two movies (which were both amazing!!!) Watched this three times in the theatre!!
March 15, 2018
DON'T LIKE IT!
March 14, 2018
They should stop making this movie series any more! No market at all.
March 03, 2018
Wow! Could not imagine people can say this is the best movie ever made. I think you are living in the bottom of a dry well and the sky in your eye is that small in your world, you should see more movies and explore the best movies that were ever made in the last 50 years before you can say this is the best one. really feel bad about what you are saying.
February 24, 2018
People who gave negative reviews did not see the for story line. This is literally one of the best movies ever made.
February 24, 2018
Since The Scorch Trials did not go as most fans of the book would have liked, I thought this movie really brought back up the series.
February 23, 2018
Sooo good, all the negative reviews went in biased or didn't see the movie. Amazing ending to the trilogy! Went to see it twice!
February 21, 2018
Not worth to spend money and time.
February 20, 2018
just a simple story
February 19, 2018
take my good advice, go to see the movie.
February 19, 2018
Best Movie ever made.
February 19, 2018
Must see movie
February 18, 2018
This movie for sure will win the Raspberry Award for the year 2018.
February 18, 2018
Worst movie of times. Doesn't worth a dime, forget about it.
February 18, 2018
Great ending to the series. If you enjoyed the first 2 then definitely go see it. People who don't like this series shouldn't be writing reviews on it. It's the 3rd movie...You think you would learn not to watch them by now if you didn't enjoy the first two.
February 17, 2018
worst series of movies ever seen, don't waste your precious money and time.
February 16, 2018
The movie ended with no end ever time, so ridiculous!
February 14, 2018
Surprisingly good movie - lots of action. Enjoyed it!
February 13, 2018
AWESOME
February 11, 2018
I read the three books and I knew how was to end and I still I went to see this movie. I had a good time watching the final chapter.
February 10, 2018
Good movie. I had fun watching the story.
February 10, 2018
How can this nonsense be No. 2 by box offices???
February 09, 2018
The only thing I like about this movie is Kaya, nothing else.
February 01, 2018
Definitely going to watch this 1000000000000000 more times.
February 01, 2018
Loved this movie so much :) nonstop action and super great acting!!
February 01, 2018
This movie is so good!!!! Everyone in the theatre really seemed to enjoy it (they were all different ages, this movies for everyone!) Fantastic ending to a amazing triology, could go watch this ten more times in theatres. Super impressed :)
February 01, 2018
SUCH AN AMAZING MOVIE!!!! #HATERSBACKOFF
February 01, 2018
Amazing! Wonderful! Best Picture of the Year! Saw it twice! OMG! On every single movie review the same spam pops up. If you like this series, then enjoy. If you hate it, avoid. It's geared towards teenagers, and has as much depth. Not over exciting, but hey, we suffered through the Matrix installments as well.
February 01, 2018
The spam bots have been working overtime again. This is not a 5 star movie. It's like a fourth installment of the Hobbitt. You're waiting for the thing to finally end and go away. It winds up the tale with the same rambling blandness the previous two installments offered and then it's over. Enjoy the popcorn, and the evening out, but you'll forget about the movie the second you depart.
February 01, 2018
I seen it twice OMG it's really the best move of 2018 going to see it one more time
February 01, 2018
What a fantastic, high-octane, and surprisingly emotional film! I became a fan. The story wasn't perfect, but it was so entertaining, funny, involving, and packed with superb acting talent. Great achievement!!!!
January 31, 2018
Enjoyed this whole series. A great ending to the trilogy of movies. :-) Loved it!
January 31, 2018
I really enjoyed this movie it is very well done and has great action and the actors were great as well I liked how it ended, they tied up all loose ends really well which was nice. The only thing I'm going to pick at was that I found that there was too many plot points at once sometimes and it was almost too much which led to it being two and a half hours long. I would have been just fine with it being just two hours but oh well it was still a great movie and I recommend it to anyone who enjoyed the other movies.
January 31, 2018
Awesome finale to series. Wish there was more to the series/ story,enjoyed the characters and action.
January 31, 2018
Definitely the best of all three movies. The story line was great and the acting had me tearing at time.. This movie was more about the acting and getting to know the characters and I like that part a lot. A must see movie.
January 29, 2018
i thaught the film was amazing. it was the best out of all three. go see it will not be disapointed
January 28, 2018
The book was much better.
January 28, 2018
Outstanding finish for a great franchise! Great action and superb special effects. They did not spare anything on this wonderful finale. Some epic moments and surprises made this movie even more enjoyable. Touching parts as well--I could hear people in the row behind us crying during certain parts. Very satisfying character arc conclusions--much better than the actual novel of the same name.
January 28, 2018
Not as good as the first, better than the second. Average sci-fi fare. Worth a watch, nothing to write home about.
January 27, 2018
I was hoping the third installment would tie up some loose ends and end the trilogy with a bang. What a fiasco. Confusing, plodding, misdirected and quite frankly, I no longer cared about the story. I stayed to the end of the movie, because popcorn refills were free. Wait for it on Netflix, should only be a week or two.
January 27, 2018
wonderful
January 27, 2018
amazeing
January 26, 2018
this Movie Epic Emotional Action Best Maze Runner & Best Film of 2018
January 26, 2018
Good sleeping pills if you can't fall asleep, I slept for more than 2 hours.