Michael Clayton - User Reviews
Thank you for rating this movie!
Read your review below. Ratings will be added after 24 hours.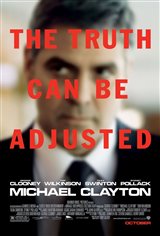 ---
Please rate movie 1 to 5 stars
Showing 1 to 42 of 42
February 03, 2012
there are no words to dersicbe how bodacious this is.
September 04, 2008
Clooney's best since Batman & Robin.
March 24, 2008
Very slow at the begining BUT keep watching it does get better. Great acting done by all. A movie I would never watch again but glad I saw it at least once.
March 19, 2008
This movie was kind of slow moving, but that's what made it suspenseful, as well as the GREAT ACTING and the cool backround music. EVERY scene is important so you better expect to pay really close attention to EVERY scene, even the smallest little conversation. It also had a great ending! I loved it! 4****s !!!!!
March 17, 2008
A lot of loose ends (oh look, horses, must stop the car and run up to them). Obviously edited to peices. Ending was good. 3***s
February 23, 2008
this movie is long, boring & makes no sense. maybe one needs to be on crack to understand it, watched half of it, fell asleep and turned it off. never again. what's up with the horses? the jaguar? who are all these people? and the book? wtf. watch it will win an oscar, because hollywood is messed up. what a waste.
February 09, 2008
Although I agree with the many of the comments that the movie was slow moving, it was riveting! The film was thought provoking and well written. It, in my mind was one of the best movies of 2007. Great performances by Clooney, Swinton and Wilkenson. Don't go see this if you are expecting an "actioner".
February 03, 2008
thriller of a movie; great acting; not too bloody..
December 22, 2007
Excellent movie with twists and turns till the very last scene.
November 05, 2007
It was interesting. A little long and the very last scene was just weird, but all in all an enjoyable drama.
November 02, 2007
It was quite confusing at times and a bit slow. Have no idea of who the boy Henry was or his "seemingly" talent. Clooney continues getting better all the time.
October 27, 2007
This movie was dreadfully boring. The story line was slow and very simplistic. There was no excitment, drama, action, or much of anything. It was direct and to the point but nothing much happened. I found myself waiting for the story to get more interesting but it failed to hold my attention. This one was not worth the money.
October 27, 2007
Excellent story, great casting, not a George C. fan before now but had a change of heart after this movie. The story keeps your attention from start to finish.
October 26, 2007
Very slow. That's 6 hours (or at least it seemed like it) of my life I won't get back. Did I say it was slow?
October 22, 2007
Loved Michael Clayton! Very well done! Like to see more movies along that line!
October 21, 2007
A well thought out, well directed, very well acted movie.
October 21, 2007
This was an exciting and enjoyable movie.The performances of the whole cast was first rate.Whilst George Clooney grows in stature all the time Tom Wilkinson almost stole the show.This is the first film I have seen Tilda Swinton perform in and I was greatly impressed. I look forward to a few more intellectual thrillers from the braver US film directors over the next few years.Good one Tony.
October 21, 2007
I thought the movie was excellent. Lots of suspense and the ending was a surprise. Tilda Swinton and Tom Wilkinson should be be nominated for their supporting roles. Tilda Swinton is brilliant as a woman who is driven and finds herself out of her league in the choices she has made.
October 20, 2007
Expected much more from this film but it was slow and boring,especially in the beginning. Sorry George.
October 20, 2007
Its a bit slow but over all it was a good movie, not one i would pay 12.50 to see again. I thought there would be more fixing.
October 18, 2007
I don't know why everybody seemed to think it was boring. Yes, it was slow moving, but that is what made it great. There were plenty of suspensful moments, they just turn out different than you expect! I thought it had a poetic quality, especially surprising for a Clooney film, so good on him!
October 17, 2007
Brilliant performance by George Clooney...definate oscar material.
October 17, 2007
A boring, slow version of Erin Brokovich without an engaging or likable main character.
October 16, 2007
Very Very slow....
October 16, 2007
Clooney is great and the movie is very entertaining.One of the better movies out there and actually treats the audience as being intelligent enough to follow a plot line that does not invovle car chases,super heroes,aliens,Transformers,Disney,etc.Stay home if you like those movies.
October 16, 2007
Nothing special. Slow moving plot and when it is about to speed up it ends. Regrets.
October 16, 2007
ok movie, but slow and not as much action as anticipated
October 16, 2007
Excellent psychological thriller, excellent acting and story. Don't expect any physical action.
October 15, 2007
A little bit slow but great acting and great story. George Clooney at his best.
October 15, 2007
Excellent flick. A real thinker.
October 14, 2007
I love George but this movies was so bad. If it was on tv my husband and i would have changed the channel.
October 14, 2007
Great movie. George Clooney is Awesome
October 14, 2007
worst movie ever made. I tried to sleep. I should have noticed only 8 people in the theatre. Doesn't even deserve one star
October 14, 2007
soso plot mostly predictable There should have been more info on the lawsuit and more action
October 14, 2007
Superb, lots of details which came together very well as the movie progressed, wonderful acting.
October 13, 2007
Awesome show!!! My girlfriend liked it even better than OLD YELLAR!!!
October 13, 2007
this has been done before
October 13, 2007
Long and Boring
October 13, 2007
Pretty good movie - good suspense/drama - Clooney, Swinton and Wilkinson give great performances
October 13, 2007
very slow and boring
October 13, 2007
Awesome show my girlfriend said she loved it even more than OLD YELLAR!!!
October 09, 2007
Great acting. Great ending. 5 stars.