Mile 22 - User Reviews
Thank you for rating this movie!
Read your review below. Ratings will be added after 24 hours.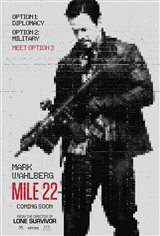 ---
Please rate movie 1 to 5 stars
Showing 1 to 32 of 32
November 22, 2018
It's a great movie for sure! Easy to follow. Some good action scenes. The only problem is the frequency between scene changes all the time. If you take the time and count you barely get to 5 seconds before the camera changes again and again. It actually gets to the eyes after a while. Plus it does no justice during the fight scenes. Too much scene changing. Tried to hard to make an already intense action movie more intense...
October 16, 2018
Great movie.
September 22, 2018
This movie was great. I would see this again. For what I went for
September 22, 2018
Nice movie, action from start to end.
September 16, 2018
At the end of the movie, I just sat there and stared at the screen and asked myself, "what the hell was that all about? It just leaves you hanging, do not see this movie, even if it free!
September 09, 2018
Walberg annoyed me no end, like he was trying too hard. Confusing, annoying, not worth it (to me) movie. I love action movies, but this one did not hit the mark for me. I think I was distracted by all the elastic snapping!!!
September 04, 2018
Over the top with killing and destruction.
September 04, 2018
Very confusing kill kill kill
September 03, 2018
So, if you like a movie of nothing but action, killing, crashes, inane dialogue, cursing and a hard to follow plot based on the above...this is your movie. Walberg plays a guy with no redeeming value; see at your own risk.
September 01, 2018
All cursing, car crashing and shooting. Twist at the end but otherwise disappointing
September 01, 2018
What a mess! Walberg reached his peak in The Fighter and has been going down hill ever since.
August 29, 2018
I could not follow the story line. Very disappointing.
August 28, 2018
Wahlberg just in it for the money on this one. Don't pay to see this.
August 28, 2018
I realize why he doesn't speak/act in his movies. He and Tom Cruze should stick to just action movies and develop new moves and new wardrobe. Jumping off the top of buildings is as old as an old man in leather jackets and tight Blk jeans...
August 27, 2018
Story line was not developed. It was just a lot of shooting and explosions with little plot to hold the movie together
August 26, 2018
I did not find this movie disappointing. I was able to hear their conversations and understand the plot. Having said that afterward I felt like seeing the movie again for clarity. But I was able to follow the storyline well. This movie is about a snippet of time being the time it takes to get to Mile 22. This movie is about and focuses on the character that Wahlberg plays. This movie focuses the character's personality traits. It is about a triple agent. It is about people in crtical jobs having personal issues. I liked the twist at the end. All the actors and actressrs did a great job. I recommend this movie.
August 25, 2018
A disappointment! Difficult to follow and little,if any, storyline.
August 24, 2018
Only good thing about this movie.... it was only 94 minutes wasted. Weak story, weak acting.
August 23, 2018
Difficult to follow the story line.....Jimmy Silva's character was unlikeable, even if he was a genius. To be painfully honest, couldn't stand this movie. The Trailer was very effective and enticing, but when it came to watching the movie, about 45 minutes into it, had to walk out. Sorry to have to say this. Am not a difficult person to please; however.....
August 22, 2018
A disappointing movie. Why? There is no plot. I'm serious, the story is non existent. Are there interesting characters? No. Is it violent? Yes, and almost gratuitously so. Is there action? Yes and no. The film rolls along from fight scene to crash scene under the guise of a ticking clock but the killing is repetitive and because we really don't care what happens to the characters, the action is boring. Don't say you were warned, folks.
August 21, 2018
Way too much constant cursing which was just too much and not necessary at all. Mark and others talked so fast yelling at others constantly you could hardly remember what they said or why. The constant popping of the rubber band was just so annoying and totally unnecessary. The fight scenes were great. Alleviating these many little issues would have made the movie much better.
August 21, 2018
Great action flick.Don't believe rotten tomatoes.
August 21, 2018
Great movie it's a must see.
August 20, 2018
Awesome movie, don't listen to the critics.. go see this movie!
August 20, 2018
This trailer looked so good but the movie was not so good. The characters seemed so disconnected to the movie. The movie had many unnecessary twist that added nothing more to the already thin plot. I was very disappointed!
August 20, 2018
Hated the way this movie was filmed! Made me nauseous. Storyline was ok but the characters weren't very likable and often wondered why certain scenes were relevant to the plot..and other than that it was a big thumbs down.
August 19, 2018
it was nonstop action you had you pay attention lots of twists and turns all in all a good movie
August 19, 2018
A disjointed story and just a bad violent movie that's "nothing new" in plot. Do not see this dog!
August 19, 2018
did not care for this movie, all action, hard to follow the story line, do not recommend.
August 18, 2018
Boring smash-up/shoot-up....convoluted story-line....and very short!
August 18, 2018
Always a blast to watch Mark do his thing. Great action, cool guns and badass tactical twists. Atomic Blonde did better closeup kill sequences, but there's no bathroom break in this flick.
August 18, 2018
Awesome flick ! Lots of action ,suspense ,and a great twist at the end . Great acting by all as well.