Molly's Game - User Reviews
Thank you for rating this movie!
Read your review below. Ratings will be added after 24 hours.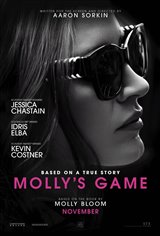 ---
Please rate movie 1 to 5 stars
Showing 1 to 44 of 44
November 07, 2018
STRONG WOMEN!!!!! #JESSICA CHASTAIN!!!!!
March 24, 2018
For some reason, the actress in the main character does not seem to fit in great - just my impression.
March 11, 2018
Incredible movie. Very well acted. Gripping. Emotional. Should have won awards.
March 08, 2018
Perhaps the best movie I have seen in the past year. Jessica Chastain's performance Oscar worthy as far as I am concerned. Loved the way how she narrated the scenes throughout, starting with the opening ski race as well as flash backs in her past life and right to the end. A very fascinating story that had me involved through. Idris Elba also was good.
February 17, 2018
LOVED IT
February 16, 2018
LOVED IT!!!!!!!!! #JESSICA CHASTAIN!!!!!!!!!
February 16, 2018
EXCELLENT MOVIE
February 12, 2018
I liked this movie. I am not a poker player but do gamble on horse racing. Even though the movie is a little long I never lost interest. They moved the story line along well and explained the poker action to non knowledgable viewers. It also worked on various levels, family relations, legal thriller and all the various situations Molley faced.
February 12, 2018
Loved it from start to finish. Jessica Chastain is a bad ass in this movie! From her acting, her outfits, her confidence in tough situations. Great portrayal of a female lead without any nudity ! Bravo Idris Elba has some great dialogues in this as well. Go see it!
February 05, 2018
Production was great!
January 31, 2018
This movie was excellent! Best movie Ive seen in years. And that its a trie story is unbeleivable. Molly was able to re-invent herself at every challenge she faced with grit, smarts and determination. Which is evident in that after retiring from running her poker games she became a CIA anti-terrorism analyst and Molly caught Osama Bin Laden a few years later!
January 25, 2018
Great story,want to see it again, Chic has a set.
January 21, 2018
Not quite as boring as Manchester By The Sea...but it really comes close.
January 20, 2018
Molly's lame.
January 19, 2018
I had no expectations about what this movie was about; don't even know how to play poker; didn't even know it was based on a true story. This was fantastic story! Well done and wow, to the real Molly Bloom. You got balls bigger than any guy I know. I'll be reading your book also!
January 19, 2018
seems like most viewers went to see Chastaine, not the movie.
January 18, 2018
Outstanding....much better than expected
January 17, 2018
Enjoyed the movie.
January 16, 2018
Really enjoyed this movie and thought Jessica Chastain was excellent.
January 15, 2018
Disjointed and a bit confusing. A t.v. movie and not a good T.V. movie.
January 14, 2018
Chastain is unsurprisingly terrible. All she can project is anger.
January 13, 2018
Excellent movie! It keeps you interested the entire time. Great acting!
January 13, 2018
At a time when virtually everyone is trying to clean up the country of opioids [also called Molly] this release is totally fuked up.
January 12, 2018
This was a great movie. Excellent portrayal of the real Molly Bloom by Jessica Chastain. Fast- paced and kept your interest throughout the entire movie!
January 11, 2018
Oscars hello this is your winner
January 11, 2018
Great movie. Exceeded expectations!
January 11, 2018
Overall good movie. It never bored me and never captivated me . I never knew that Jessica chastain could look so hot and could act on this level . She was amazing on al levels .
January 10, 2018
a good film . nothing real special but its not something ur going to want to leave just a little slow in parts acting is pretty good plots really good and poker! poker is super cool!
January 10, 2018
I thought the movie was great! It keep my interest throughout! I truly enjoyed it and may go see it again!
January 07, 2018
simply put a good film
January 06, 2018
Ok movie; alittle long. I zzzz'd out a few times. Really nice acting acting in 2nd half and great ending. Also, I play Poker frequently and people do at times play over their heads and addiction is also an issue. All that isn't particularly relevant except I can't imagine someone running a card game and being owed 2.8 million dollars and then going out of her way to protect the players. Poker is generally pretty cut throat.
January 06, 2018
Yet another movie where cold fish Chastain plays a icy, detached and uptight character. There is some impressive CGI effects that convince the audience that Chastain actually smiles at times. How bout that.
January 05, 2018
The guy at the window gave us the wrong movie,we going to see all the money in the world. Lucky this was a great movie.would highly recommend it.
January 05, 2018
Wow. Jessica Chastain at her best. Totally absorbing and entertaining. I am going back tonight to see it again.
January 03, 2018
After all the hype, I was disappointed. A half hour in, I was thinking Chastain's performance was wooden. Later on, I saw that this was kind of Miss Sloane II. Instead of a career-absorbed, coked-out lobbyist who has shut down emotionally, we get an illegal career-absorbed, coked-out (and boozed out) high stakes poker game operator who has shut down emotionally. Idris Elba is good. Kevin Costner, not so much. ----------------69/100.............guru bob
January 03, 2018
interesting theme..odd story..excellent movie with good cast
January 02, 2018
Terrific movie, acting and cript
January 02, 2018
Excellent movie!
January 01, 2018
GREAT STORY
December 30, 2017
Boring movie..
December 30, 2017
Loved the movie. Well acted by all. Jessica Chastain's performance was excellent.
December 28, 2017
Great film ! It held my interest right to the end .
December 28, 2017
Molly is hooooooooooooooooooooooooooooot
December 27, 2017
Excellent story and acting! Keeps your attention focused on the plot! Brilliantly written.