Music and Lyrics - User Reviews
Thank you for rating this movie!
Read your review below. Ratings will be added after 24 hours.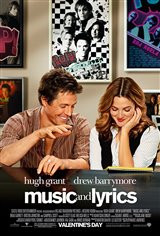 4.44 / 5
User Rating
Based on 3162 votes and 61 reviews
---
Please rate movie 1 to 5 stars
Showing 1 to 50 of 61
April 21, 2010
very funny movie and great chemistry among actore especially hugh and drew. i'm a sucker for romantic comedy so please make more movies like this.
November 02, 2007
pure cheese and pathetic - - I like Hugh Grant, but he has to pick better films - this is horrible
June 05, 2007
Don't get stuck on a plane watching this movie, you'll want to jump out at 30,000 ft.
April 30, 2007
very amusing, funny, and a very good one to see.
April 28, 2007
SOOO good I saw it twice and im planning on buying it.
April 27, 2007
waste of time & money
April 22, 2007
Very good film! One of the best ones I`ve seen in a while!
April 11, 2007
it was a good movie, i would go and see it again
April 05, 2007
Great Movie
March 30, 2007
Great Movie! I want to buy it :)
March 26, 2007
Cute movie. Had some very funny parts. Chick flick.
March 24, 2007
What a disappointment! Drew Barrymore is terrible in this film! I was hoping for a good night of light entertainment, but this film did not deliver... The only actor who was mildly entertaining was the woman who played Drew Barrymore`s sister. Don`t waste your money!
March 20, 2007
Such a great movie! It was so much better than I thought it would be. It`s quite funny and you walk out with a smile on your face! I definitely recommend it
March 19, 2007
I really liked it.
March 17, 2007
Exactly what you think it will be like, perhaps a little better even.
March 17, 2007
Did not enjoy it at all. The only part that I did enjoy was the "pop up video" scene at the end. Thank goodness I didn`t pay!
March 15, 2007
cheesy and predictable.. but what do you expect? it`s hugh grant and drew barrymore - entertaining nonetheless.
March 15, 2007
Perfect Valentine`s day chick flick. The jokes about the aging rock star were hilarious and Hugh Grant singing is even funnier than Hugh Grant just talking! Bravo!! I loved it!!!
March 14, 2007
Drew Barrymore and Hugh Grant just didn`t "have it" together. The jokes were not funny...predictable. Also, the music and lyrics that they wrote together did not seem contemporary...too unbelievable.
March 14, 2007
If you went into Music and Lyrics expecting some earth shattering, profound movie, you would have been sorely disappointed. If, however, you went in expecting another charming Hugh Grant movie, you would love this one. It`s simple, funny and cute, with just enough drama and tension to keep it from becoming a total bore. It was adorable, if unoriginal, and sentimentalists (or Hugh Grant fans) will not be disappointed.
March 12, 2007
preetty good
March 12, 2007
I LOVED IT! BEST MOVIE I`VE SEEN IN MONTHS
March 12, 2007
I Really Loved this moviee! Me and my mom went and saw it together. It is a chick flick, but someguys might like it.:)
March 10, 2007
It was nothing special. Acting was good, story lacked umph. Very predictable.
March 10, 2007
Pretty cool. It was like they were pretending a bit. It was a good movie over all but it was sorta predictable. I liked it. Go see it. If you miss out don`t blame yourself.
March 10, 2007
It could have been much better. Slow at some parts.
March 09, 2007
Well, I went to see this movie with a friend. It wouldn't have been my choice of movie, but I must say it was pretty funny, made me laugh on many occasions. It was pretty good. Gotta love the 80's lol!
March 09, 2007
I just love Hugh and Drew, they are some of my favorite actors. Hugh was espacially funny in this one.
March 07, 2007
WOW BRING IT ON MR.GRANT! I loved this movie, granted it may not be an oscar winner, but it is better in my eyes. Lighthearted, funny, feel-good and the best was to see Hugh Grant dancing. As my friends shared the same sentiment as myself, if I had just seen the opening scene I could have left the theatre quite happy!!
March 06, 2007
Its a feel nice romantic comedy for anyone who can remember the 80`s. Really enjoyed it.
March 06, 2007
i love any movie that hugh grant is in and to the one comment it was a terrible movie were you at. you dont know movies if you never like this one.
March 06, 2007
Typical chick flic, made me laugh, was good.
March 05, 2007
Realistically it was a terrible movie, but if you like chick flicks it was surprisingly funny... although I didn`t totally buy the romance, but I love Drew Barrymore and she was great!
March 03, 2007
funny .... !!!! a real treat
February 24, 2007
Clever dialogue. A real treat!
February 20, 2007
4 stars. Great fun.
February 20, 2007
I loved Music and Lyrics. It`s not about to win a spot on my favourite movie list, nor will it be nominated for anything, yet just seeing Hugh Grant dance, sing and play the piano was worth it. The opening scene in particular will go down as one of my favourites. The actors don`t have much to work with since their characters are not truly defined, yet they work well in it and its a great movie just to see for fluff. gotta love pop!1
February 20, 2007
five stars for it`s type
February 20, 2007
i love it..hahaha..i love all the songs in this movie even it 80`s..but the most lovely one is the last song..`A Way Into Love`....sssoooo..sweettt...
February 19, 2007
Awful!!! I hated every minute of it. Don`t waste your time. 1/5
February 19, 2007
I thought the movie was excellent....it had laughs...and a nice story line....I am not much of a Hugh Grant fan.....but I thought he did excellent.....as a matter of fact the whole cast did great.....I was impressed with Cora.....if she did the singing...she was Great.....I loved the ballad Hugh did at the end......my wife and I just loved the movie
February 19, 2007
Complete fluff. For a romantic comedy, it wasn`t that funny and was lacking a lot of romance. Romantic comedies are not made like they used to be.
February 19, 2007
This movie was good. Barrymore and Grant worked well together.
February 18, 2007
I enjoyed it, certainly not a five star movie, and perhaps not even a four star movie in general, but I liked it personally. Of course it was predictable, these movies are supposed to be. Of course it was "feel good", these movies are supposed to be. The dialogue was witty and the chemistry between Grant and Barrymore was surprisingly good.....he seems so much older :)
February 18, 2007
Funny and Entertaining. Grant was even likable in this movie.
February 18, 2007
this movie was really great it was the type of movie when you can sit down and just relax its was awsome
February 18, 2007
I liked it for the most part. Some the dialogue between them didn`t feel like the chemistry worked. the music was good.
February 18, 2007
Found it to be funny and not so predictable. Supporting cast also had some laughs. Very good romantic comedy without being too sweet.
February 17, 2007
cute and clever. I loved it.
February 17, 2007
pretty funny movie, enjoyed it but it wasnt amazing it was pretty predictable but hugh grant and drew barrymore worked great together. 3 1/2 stars