My Big Fat Greek Wedding 2 - User Reviews
Thank you for rating this movie!
Read your review below. Ratings will be added after 24 hours.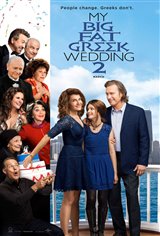 ---
Please rate movie 1 to 5 stars
Showing 1 to 41 of 41
June 15, 2016
this is a funny entertaining movie we loved it
June 15, 2016
I have yet to see the second but the first was good so I assume this one would be the same.
June 15, 2016
Loved the humour in 1 and loved 2 as well, sure gives insight into Greek people, very funny!
June 14, 2016
How can I pick 1 favorite part? I loved the entire movie! The movie fits any large ethnic family, the closeness, the lack of personal space and privacy. The entire movie was a reflection on my Latina heritage! BEST movie EVER-even my 14 year old autistic son says it's his favorite comedy!
May 08, 2016
Brutal! Nothing more to add.
May 04, 2016
What took so long; love it as much as the first maybe more; very funny, enjoyable. Saw it twice and am going again with another friend. It is wonderful to see a true to life show. Hope to a continuous series. Love the actors, hilarious!
May 02, 2016
Been there saw that. Cute but not as good as first one. So predictable and acting lame. Time to close the book on this story.
April 27, 2016
It was just as funny as the first one, if not funnier!!!!!!!
April 24, 2016
Cute but not as funny as the first.
April 22, 2016
Awesome movie about family values.
April 22, 2016
Possibly the worst movie I've ever seen. I predicted every plot point during the movie.
April 21, 2016
This was one of the worst films I have seen in years. I predicted almost every plot point as it came up. Boo, not applause!
April 19, 2016
Went with my daughter-in-law and we both really liked it. Yes, some of it was predictable but I loved watching and being part of the family. There is so few movies for women and families to watch together and I had a smile on my face when I left the theatre. Isn't that what we all want? Rating 4 stars
April 15, 2016
Loved movie. a bit predictable but I loved the Nostalgia
April 15, 2016
I saw this last night and couldn't stop laughing it was funny as hell one crazy thing after another
April 14, 2016
Best movie of 2016!! Awesome follow up to the first. We laughed till we peed and cried too. All the main actors and they still look great!
April 10, 2016
I have seen worse but I have certainly seen much better...wait for DVD
April 09, 2016
So funny! If you loved the first movie, you'll love this one, too. The scenes where the grandfather is learning how to use the computer is worth the price of admission. Please disregard the negative comments and see this movie. You will laugh and leave the theatre feeling joyful.
April 08, 2016
Really enjoyed this movie
April 08, 2016
Didn't laugh at all. Couldn't wait to leave. Very disappointed.
April 05, 2016
90 tedious minutes interrupted by (maybe) 4 laughs. They beat everything to death - some point could have been made in 2 examples is given 40 - slow and boring. If I had seen #I would have not seen #2 !
April 05, 2016
It's all about family!
April 04, 2016
First one was better. Still had a couple laughs but definitely a rental movie.
April 04, 2016
Thought first one was funnier but this one is still good and definitely worth seeing if you enjoyed the first. Great to see all the same actors return. If you want some light innocent fun go see it.
April 03, 2016
Very touching and heartfelt. Thoroughly enjoyed movie
April 02, 2016
Very funny and moving ! Must see the first one several times to get all the good jokes in this one Definitely a must :D
April 02, 2016
Best film for a girls' night! a funny, feel good movie! Reminds you to be grateful for your family! You'll laugh, you'll cry, and you'll laugh some more!
March 30, 2016
So bad, it deserves zero stars. Wanted to walk out, it was so pathetic.
March 30, 2016
Laughing from beginning to end, much better than the first one. Very romantic scenes in the car...best place to rekindle hot passionate LOVE.
March 29, 2016
I love this poster, too!
March 29, 2016
Did not watch yet, but poster is nice.
March 28, 2016
Better than BATMAN V. SUPERMAN! 5/5
March 27, 2016
Ok movie. First one was better. Several good laughs.
March 27, 2016
My husband and I had so many laughs and thoroughly enjoyed this movie. It's a go see movie: with family interaction, love, family coming together in fun and when needed.
March 27, 2016
Super entertaining. A must see.
March 27, 2016
This was billed as a comedy. I stayed for half the movie and I don't believe I laughed once. It was terrible
March 26, 2016
We really liked this movie. Great for a sequel. Many laughs.
March 26, 2016
What a worthless steaming pile of cow dung. I've never seen a movie try so hard to be funny and fail miserably.
March 26, 2016
well done; especially, for a sequel. Lots of laughs...Andrea Martin did it again. Definitely worth it
March 26, 2016
This may well be Joey Fatone's finest screen performance!