My Big Fat Greek Wedding 3 - User Reviews
Thank you for rating this movie!
Read your review below. Ratings will be added after 24 hours.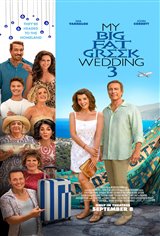 ---
Please rate movie 1 to 5 stars
Showing 1 to 36 of 36
September 29, 2023
Terrible script, poor acting.
September 26, 2023
I loved the first one and the second one wasn't bad, however number 3 didn't work for us! We love all the characters from the first movie and the new faces were okay. Just kept waiting for it to get better but never happened! There were "cute" parts and sentimental parts but not laugh out loud humor or even a chuckle! Not interested in seeing it as a rerun either! Sorry! (We are 3 elderly women).
September 25, 2023
I have to see the others to catch up now!
September 24, 2023
Absolutely loved it.
September 23, 2023
Loved the family memories and adjusting when a matriarch dies and the family struggles to be a family when the mother of the family has Alzheimer's to add to the unfortunate events. Truly inspiring. Loved it and anyone that has had that happened to their own family can feel the hurt, anxiety and togetherness we all strive for in life. Until it happens to you, you won't understand apparently. We truly enjoyed the acting and realism. Thank you
September 22, 2023
I laughed and cried and left the theatre feeling happy. Like catching up with old friends.
September 20, 2023
We really enjoyed this movie. Funny. Lighthearted. Entertaining. Just a feel good movie.
September 18, 2023
Not funny or cute, acting sucks, keep your money and watch it in 3 months on Netflix
September 17, 2023
Funny light for all no violence about love and close family big family ties and you see plenty of Greece.
September 17, 2023
I loved the scenes in Greece.
September 16, 2023
THE ABSOLUTE UNCONDITIONAL LOVE, THE ACCEPTANCE OF OTHERS NO MATTER WHAT, THE FOOD, THE MUSIC, THE SCENERY, AGAIN....THE LOVE.....THESE GREEKS RESOLVE FAMILY ISSUES IN MINUTES THAT TAKE OTHER PEOPLE MONTHS, YEARS, OR NEVER TO RESOLVE ....WHICH IS WHAT MAKES THIS A MUST SEE IF YOU WANT YOUR LIFE FILLED WITH LOVE.
September 16, 2023
My husband and I loved this movie. There were no car chases, explosions, aliens, or murders, thank heavens!!! We were pleased to see Nia Vardolos' love interest, Poupi Kakas, from "My Life in Ruins" added to the cast. Lots of laughs, beautiful scenery, and another amazing wedding made this a totally entertaining movie. We're thinking of seeing it again.
September 15, 2023
What was supposed to be a comedy didn't hit the mark. Boring, badly written, no story, just a lot of scenes put together that did not flow. An absolute waste of time. I have to ask why do it?
September 15, 2023
I have spent many times in Greece and found it easy to relate to the nuisances of the film having both parents who migrated here from Greece. It brought back wonderful memories of vacations and work in different parts of the country some of which were recognizable in the film. There were times when I felt a sadness because of the memories. On the other hand, it was hard for me to restrain myself from dancing in the theater to the music and the wonderful, gifted musicians. I was deeply touched by the honoring of the memory of Michael Constantine whose presence was brought to life in the film. Yes, we are loud and disruptive but have compassion in our hearts. Nia Vardalos reaches into the humanity of us from all ethnicities and human diversity. Thank you, Nia.
September 15, 2023
This movie tried so hard to be funny but was just dumb! The script was lacking & there were parts in the movie that didn't even make sense. It was lame too how they added a token trans person. The only plus - it was a clean movie, no obscenities or nudity…. At best, watch it later on Netflix, I wouldn't waste the money in the theater.
September 15, 2023
This movie tried so hard to be funny but was just dumb! The script was lacking & there were parts in the movie that didn't even make sense. It was lame too how they added a token trans person.
September 14, 2023
Loved spending time again with this fun Greek-American family! The scenery in Greece was breathtaking!
September 13, 2023
this was a waste of time, not funny at all. was a bore.
September 13, 2023
I laughed, I cried, I loved every minute of this movie! I almost didn't watch it, due to some bad reviews I read. I'm very glad I decided to judge for myself. I would go see it again. It's hard to find enjoyable movies that don't have violence, nudity, and bad language. I enjoyed this entire series.
September 13, 2023
I wanted and looked forward to seeing this movie= was not funny - was boring. Only the scenery earned the two stars I gave it.
September 12, 2023
1.5 hours of disjointed, pointless, humorless so-called entertainment. They took the popularity of the other movie, especially the original, and threw together a mess of a movie to sucker people into seeing this garbage. Characters just thrown together. NOT FUNNY!!! NOT ENTERTAINING!!!!
September 11, 2023
The wedding celebration was so poor.
September 11, 2023
Hope to see it again this week.
September 10, 2023
After reading so many bad reviews I went to see it with low expectations. But what an awesome surprise. Absolutely loved it!!!! Being a greek with elderly parents made me relate to it more. Hoping for a 4TH.
September 10, 2023
I liked the idea of going to Greece because the father wanted that but it just didn't flow right and the third wedding which is this is what it supposed to be about, was minor and not about the major family characters which I would've wanted
September 10, 2023
This movie is so terrible. It jumps from little scenes that don't even help the storyline. The wedding is lame. Couldn't they have put more into this part of the movie since it is called Big Fat Greek Wedding Three. I love John Corbett, but he only has a very few lines that are not even needed in the movie. I can't believe he agreed to be in this atrocious sequel. The jokes fall flat. When there is a crisis, ie. daughter flunking out of school, they just smile and go on to the next scene. I did enjoy the scenery and Andrea Martin is the one bright spot. I guess it is true that very few sequels are good. This is truly the case with Big Fat Greek Wedding 3,
September 09, 2023
Terrific fun! I see no reason for them not to make another one.
September 09, 2023
A truly wonderful movie, the best of the three editions.
September 09, 2023
No serious plot twists, no blood, no cursing, Just Fun. Tom Hanks and Rita Wilson brought a good product with this third iteration of a fun story. Unfortunately, no Windex. :)
September 09, 2023
Give it up.
September 09, 2023
Brings romance back to the movies! This is the picture we all need now.
September 08, 2023
Fun movie, great continuation of the first two movies.
September 08, 2023
boring
September 05, 2023
should have stopped after 1 jumped the shark
August 24, 2023
HEARTFELT AND HILARIOUS!