Night School - User Reviews
Thank you for rating this movie!
Read your review below. Ratings will be added after 24 hours.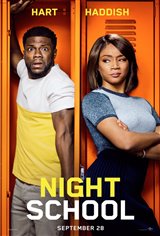 ---
Please rate movie 1 to 5 stars
Showing 1 to 42 of 42
January 25, 2019
Another average movie. It had its moments but overall pretty average.
December 23, 2018
Horrible
December 23, 2018
The movie was just funny. All of the characters in the night school were funny and had issues.
December 16, 2018
lol whoever wrote this is not for kids etc well NO SH!T !!! lol great movie, Love Chris Heart !
November 28, 2018
bad language, not for kids to see, always cussing, scrap the cussing and filthy language, no class at all
October 31, 2018
Kevin Hart and Tiffany Haddish were HALARIOUS!! This movie made me laugh from the beginning to the end...the entire time! They are a comedy dream team...so funny together. I laughed so much I had a headache when I left the theatre. :)
October 29, 2018
Wow this movie was very bad. Probably the worst movie Chris Hart has ever been in. Career killing almost.
October 24, 2018
Hilarious!
October 24, 2018
A light hearted comedy to escape reality for a little while.
October 24, 2018
Not bad at all. Better than I expected. Support cast helped a lot.
October 23, 2018
Was a Kevin Hart supporter, this is the worst movie that I have ever seen, walkout within 18 minutes of the beginning and get your refund. Tarran Killam, and the Teacher were the only redeeming Actor's. On the bright side...the new reclining seats are fantastic and this is still the best Theater around, many thanks.
October 22, 2018
It was funnier then I expected it was hilarious Kevin Hart hit one out of the park
October 16, 2018
STUPID FUNNY
October 14, 2018
Easy going funny movie, enjoyable, no stress.
October 13, 2018
The language was totally unnecessary. There were a few parts that were funny but not many. I usually like Kevin Hart but this definitely was NOT one of his best movies. I wouldn't recommend anyone to pay to see it. Wait for it to come out to rent or watch on TV.
October 10, 2018
spend your money at Panera and people watch A totally stupid film A waste of a good funny man
October 10, 2018
Really bad movie that appears to have been put together over someone's lunch break. And oh yeah, that last comment about how would a Muslim feel fit right into this movie, made no sense either.
October 09, 2018
0 rating!! Trashy movie poorly done. Stupid concepts of educators. I am a teacher. This was just ignorant. I wonder how the Muslims would respond if their faith was made fun of like this? Hmmmm
October 09, 2018
It was terrible! Should have been rated R for the filthy language, constant sexual content and general crudeness. Parents to an extent rely on ratings as a guide to what they expose their kids to. I was completely mortified that I took my teenage boys to this plus..... making fun of Christian establishments, prayer and motherhood? Shame on you Kevin. No more for us
October 09, 2018
Bad. Very, very bad. Juvenile laughs for easily amused minds.
October 08, 2018
Very funny! Kevin Hart does it again! You have to understand Kevin Hart's sense of humor to really connect with this movie. Well worth the money. I'm glad my guy took me to this for our movie date.
October 07, 2018
Bad movie, not interesting, not funny. Stupid script, coarse language.
October 06, 2018
This was so funny, uplifting and true in some aspects.. I laughed so much and truly enjoyed all the characters. I work for the school system.
October 05, 2018
Great Movie! Love the plot and message, and it was also funney. It's never too late to advance yourself in life. :)
October 05, 2018
Disappointing, what has happened to you Kevin Hart ?
October 05, 2018
Lousy story line, and not nearly as funny as the trailer. Save your money and see something else !! Plus, awfull language................
October 04, 2018
This movie was funny and could have been a really good movie if had not been for the horrible bad laugage and sexually conduct! I just don't understand why they have to use cuss words?
October 04, 2018
Movie was funny; but most of the language was totally unnecessary. If Cary Grant and Joan Blondell had made this movie in the 40's; it would be a real "classic" for generations. Would not have wanted my 13 year old to see this movie - in spite of what is said in the real world.
October 01, 2018
Love this.. I needed to laugh. Tiffany and Kevin along with each and every cast..amazing chemistry..super funny..
October 01, 2018
Not funny. I expected better. Dont waist the money. U would laugh more if u read a chapter of a joke book!
September 30, 2018
Not one of Kevin Hart's best movies. But over all was a pretty good movie
September 30, 2018
This movie is not funny at all and not a great script. Could have been better.
September 30, 2018
Comical from start to finish. Another hit from Kevin Hart.
September 30, 2018
TWO THUMBS DOWN AND 0 STARS
September 30, 2018
The best movie great form the beginning to the end so funny just 💘 it you have to see it
September 29, 2018
Tiffany Haddish was great in this partial serious role as a teacher.
September 29, 2018
Funny, down to earth, motivational and touching :)
September 28, 2018
It was very funny and touching.
September 28, 2018
You won't regret i promise you Soooo funny omg 😂😂
September 28, 2018
SOOO BAD.... save your money and go see something else.... couldn't wait for it to end and TWO THUMBS DOWN