Norman: The Moderate Rise and Tragic Fall of a New York Fixer - User Reviews
Thank you for rating this movie!
Read your review below. Ratings will be added after 24 hours.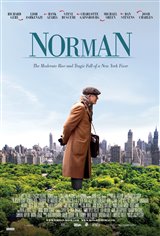 ---
Please rate movie 1 to 5 stars
Showing 1 to 7 of 7
June 06, 2017
Not an ordinary busy body. Norman endears himself to top banana and gets roughed up a bit. The thing of it is he doesn't lose his composure and keeps pestering everyone for a purpose, to get his political agenda forward. So he was probably an agent. But he never reveals this not even to the audience. Problem in the film is that payola or favors keep poor people poor. He gets tossed into a garbage heap by the Rabbi, he gets followed by a younger agent who repeats his schick verbatum, but it doesn't shake him up too much. He gets invited to a talk and realized he could get killed, but doesn't. He remains calm throughout.
June 06, 2017
Very good. Excellent film.
May 29, 2017
We loved this movie.It was truely entertaining,gripping and Richard Gere was fantastic.It was one of the best movies we have ever seen.
May 27, 2017
By far the worst movie that I have seen in a long time. Seriously considered getting up and leaving part way through the movie but kept hoping it would get better. It didn't. Truly regret spending both my money and time watching this.
May 23, 2017
This is possibly the worst movie I have ever paid to go to. Although it was well acted, we hated the characters and the flow of the movie. The music was horrible and put a different feel on parts of the film then the scenes commanded. I was ready to walk out after 15 or 20 minutes but hadn't yet finished my popcorn and coke.
May 06, 2017
Excellent acting...very interesting story of how one small act can change so many lives
March 05, 2017
My wife, my two daughters and I had the fortunate opportunity of seeing the premiere on Friday night March 3rd at the Miami film festival. We had the fortunate opportunity to see him live on stage before the viewing of the movie. My wife Brenda Levine has followed his career for 40 years didn't understand the movie at the viewing but then understood it more after reading this article about the movie's plot. We did go to the after-party in the hopes of shaking his hand and meeting him. We were disappointed in that, but highly satisfied by the whole experience. My wife had an obstacle in getting there because she's handicapped. All in all it was fun and the movie was great we give it ten Stars and hope for a big success and it was very entertaining and Richard is still as handsome as he was in the movies, "Breathless" and "American Gigolo". It was an opportunity of a lifetime Bravo! Congratulations! The movie is a winner because both Richard Gere and Joseph Cedar are winners!